Champions League Tactical Preview: Liverpool to beat Bayern and other battles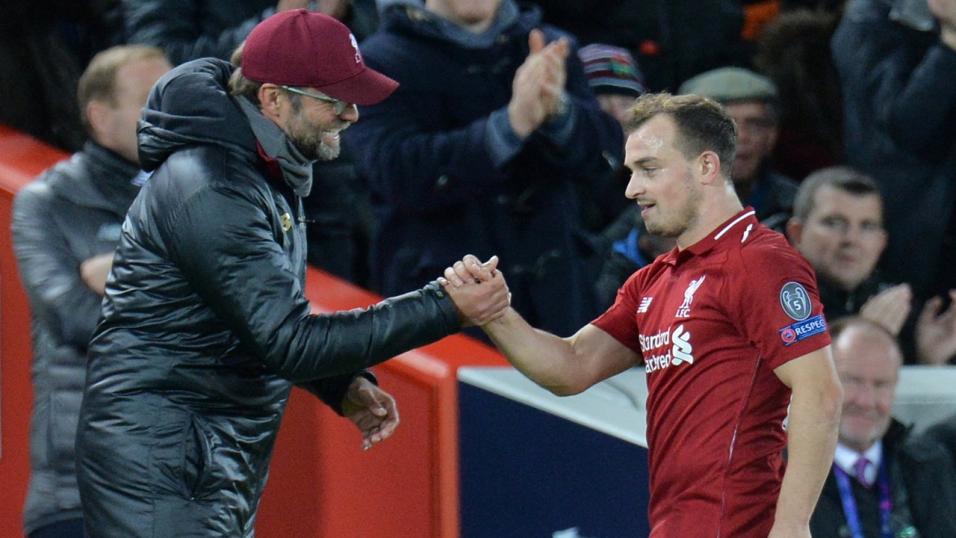 Klopp's Liverpool should beat Bayern on Tuesday
Alex Keble looks ahead to the second set of Champions League second round matches, predicting wins for both English clubs...
"Should Liverpool be at their usual gegenpressing best, they should put the German champions to the sword at Anfield."
Lyon v Barcelona
Tuesday, 20:00
Live on BT Sport 3
There should be goals in this one. Barcelona's back four looks vulnerable to the high-press and counter tactics of Lyon, while Lyon struggle to defend their number ten space, meaning in-form Lionel Messi can cause serious damage. The number of quick attacking players on the pitch in France far outweighs the defensive resilience of either team.
As both Paris Saint-Germain and Man City have learnt this season, Lyon benefit from being asked to absorb pressure and then break at speed on the counter; their possession football often becomes aimless in Ligue Un, with Memphis Depay, Bertrand Traore, and Nabil Fekir all benefitting from additional space.
Lyon's high press forced errors from Man City in their 2-1 win at the Etihad in September and from PSG in a 2-1 win earlier this month. Barca's Arturo Vidal is increasingly unreliable, while Sergio Busquets doesn't have the legs to cope with Fekir and Tanguy NDombele bursting past him.
But Barcelona can still hope to outscore their hosts. NDombele and Houssem Aouar both struggle to defend against narrow opposition, averaging just 1.6 interceptions per match between them this season. Aouar was directly at fault for PSG's opener a fortnight ago and he looked lost in a 1-0 defeat to Nice a week later. Messi, darting inside from the right, should cut through the Lyon midfield.
Liverpool v Bayern Munich
Tuesday, 20:00
Live on BT Sport 2
Bayern's Bundesliga form continues to improve and yet their defensive record is still poor; they have conceded 10 goals in their last six matches in all competitions, with a clear vulnerability emerging for Niko Kovac's side. Should Liverpool be at their usual gegenpressing best, they should put the German champions to the sword at Anfield.
Almost every single goal conceded by Bayern in their last six games has been the result of a counter-attack and/or the opposition forwards easily beating Bayern's offside trap. Mats Hummels and Niklas Sule consistently hold a disorganised line, rather than track the runners, while the high full-backs leaves one of the two centre-backs forced to charge out of position in a desperate attempt to close down. It is a shambolic situation that allowed the likes of Bayer Leverkusen and Augsburg to play simple through balls in behind.
Liverpool's 4-3-3 aims at getting Sadio Mane and Mohamed Salah behind the opposition defence as quickly as possible, and it's a tactic that has increased in importance since Fabinho became a regular. The Brazilian's clipped balls over the top look to stretch a defence. Bayern's high line makes them seriously vulnerable to the hosts' preferred method of attack.
Atletico Madrid v Juventus
Wednesday, 20:00
Live on BT Sport 3
Atletico Madrid's narrow, hard-pressing 4-4-2 is invariably a big success in the knockout stages of the Champions League, and despite a difficult season domestically Diego Simeone's side remain very difficult to score against at the Wanda. It takes penetration from the wings to break through the Atletico shell, as Vinicius Junior's match-winning performance for Real exemplified earlier this month.
Juventus tend to play narrowly, with Paulo Dybala the central figure behind two strikers to ensure attacks generally filter down the middle. This will create a stodgy, claustrophobic game in Madrid - unless Cristiano Ronaldo can get the better of right-back Santiago Arias as he peels out to the left wing.
Ronaldo has played much wider for Juve than he had done in recent years for Real. He will look to isolate Arias on Wednesday to shift the ball around the Atletico shell, and the smart money is on Ronaldo winning that battle. Arias has played poorly in his last three games, including when asked to deal with Vinicius on February 9. He was caught out of position ahead of the second goal, leading to a Real penalty, and was nowhere to be seen as Gareth Bale sealed the game with 15 minutes left.
Schalke v Man City
Wednesday, 20:00
Live on BT Sport 2
Schalke have developed a nasty habit of losing the ball in dangerous areas of the pitch, making numerous unforced defensive errors over the last month to leave the German club with a record of just one win from five. All three Bayern Munich goals a fortnight ago came from sloppy losses of possession, while general disorganisation saw goalkeeper Alexander Nubel sent-off in a 2-0 defeat to Borussia Monchengladbach.
These hapless defensive performances suggest Man City will rip through Schalke on Wednesday. There isn't much point analysing the key battles or intricacies of the midfield. Matija Nastasic, a former City player, has been particularly out of sorts; Sergio Aguero's movement off the front line will terrorise Schalke's under-performing centre-back.