Champions League Latest Odds: Madrid slight favourites to progress from United tie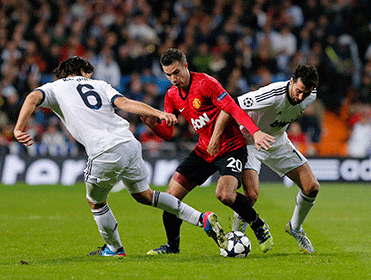 Can RvP help United past Madrid?
The Betfair market fancies Madrid to edge United in the second leg but the nine-time champions have taken a walk in the tournament winner market. Joe Dyer reports on the betting following the first week of Champions League knockout action
Alex Ferguson and Jose Mourinho may consider the Champions League last 16 tie between Manchester United and Real Madrid to be '50-50' but the Betfair market disagrees. 
Though close in the betting, the Spanish giants are rated 1.875/6 favourites to progress from the second leg at Old Trafford, despite United recording a heartening 1-1 draw in Madrid. 
And Real are a full four ticks shorter in the winner market where the nine-times champions are joint second favourites at 7.06/1 alongside Bayern Munich with Fergie's men 11.010/1 to win the Wembley final. Assuming their usual position at the top of the betting are Barcelona (3.052/1) who face AC Milan next Wednesday. 
With the first legs of four of the eight knockout ties played the betting winners and losers are plain to see. Juventus, backed as high as 36.035/1 (with small monies matched up to 60.059/1), are ranked as joint fifth favourites with United after seemingly assuring qualification to the quarter-finals following the 3-0 win at Celtic Park. The Scottish champions have been totally written off - trading at 1000.0 to win the tournament on the exchange, but a massive 2,500-1 on Betfair's fixed odds market. 

Borussia Dortmund, who rescued a point with an 87th minute equaliser to draw 2-2 with Shakhtar Donetsk in Ukraine on Wednesday night, round out the favourites at 9.617/2. Paris St Germain are the last of the likely winners according to the Betfair market.
The mega-rich Qatari-owned French club are 23.022/1 after defeating Valencia 2-1 at the Mestella on Tuesday night. The fly in the ointment for PSG backers is the late red card received by Zlatan Ibrahimovic which will rule him out for three games.