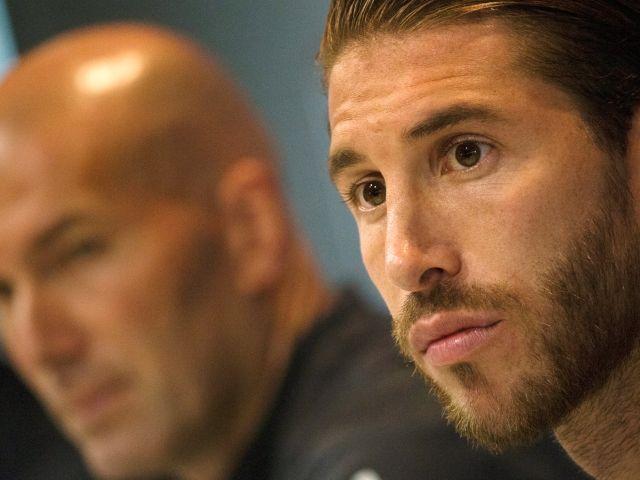 Sergio Ramos perfects his best angelic gaze ahead of the Champions League final
Stephen Tudor studies a quarter of a century of Champions League finals looking for clues as to who might prevail this Saturday in a battle between European royalty...

"Will Ronaldo cap off an extraordinary twelve months and flex his Action Man abs? Or will Gianluigi Buffon make hipsters cry with joy at completing his incredible CV?"
This year the Champions League celebrates its 25th birthday and guests of honour at its glamorous shindig will be two European giants who each boast an illustrious affiliation with the tournament. Reigning champions Real Madrid have lifted the big trophy a record 11 times (including its European Cup predecessor) and finished runner-up on a further three occasions. Juventus meanwhile won the continent's greatest prize in 1985 and 1996 while enduring heartbreak at the final hurdle six times.

There is no more fitting way then to commemorate 25 years of footballing grandeur on June 3rd than to have these European royals as the VIPs.

Yet their respective pedigree in this competition illustrates straight away one of the reasons why Real Madrid are slender favourites to come out on top. Los Blancos' 78% success rate in European Cup/Champions League finals reveal they have the class and sense of entitlement to complete their dream. Juventus' two wins from eight hint at a historic frailty on the big occasion.

Staying with the tournament's past their head-to-head record offers all-too-few clues with 18 previous Champions League meetings ending in eight wins apiece and two draws, though the Italians do have a slightly better goals tally (21 to Juventus, 18 to Real). As expected from two behemoths there have been no thumpings though, with the biggest score margin a competitive 3-1.

As for their recent individual form, good luck in deciphering anything from that ahead of this Saturday evening with both clubs having won their domestic leagues with style to spare. An away blip to Roma from Juventus aside, both teams are in full and imperious stride.

With so little to split the two perhaps then it's better to widen the lens to study the occasion rather than its participants; to a showpiece final that has developed its own unique characteristics since its inception in 1992.

Will Ronaldo cap off an extraordinary twelve months and flex his Action Man abs? Or will Gianluigi Buffon make hipsters cry with joy at completing his incredible CV? Twenty-four years of finals past could well tell us which is most likely.
Allow time to simmer

Divvying up the 65 goals in total reveals that two thirds have been slotted home during the second period and while there is nothing extraordinary in this considering the enormity of the fixture it is a trend that is exacerbating. In the last five years only 18% of goals have come courtesy of the opening 45 minutes suggesting that early nerves and extreme caution are becoming factors more than ever.

Under 0.5 goals in the first half is a tempting 13/8.
Possession pays

As other previews of this type have shown having more of the ball does not necessarily equate to increasing the odds for success. In the last five Championship Play-Off Finals for example four have been won by teams with ultimately inferior possession.

Here though - presumably due to the higher standard of talent resulting in better usage of the ball - possession is most definitely a plus. In the past 20 years 13 champions have controlled more of the tempo and with Juventus slightly edging out their Spanish opponents in 2016/17 for monopoly of the ball that's a huge plus for the Italians.
Penchant for pens

Since Liverpool's penalty shoot-out with Roma in 1984 - compete with Bruce Grobbelaar's 'wobbly legs' - this competition's final has ran its full course 11 times in 33 years, a remarkable statistic compared to the five spot-kick dramas seen in the Europa League Final during that time and paltry two in FA Cup finals.

This trend may have marginally decelerated since the tournament's rebranding in 1992 but with seven shoot-outs in 24 years it remains a distinct possibility that Buffon or Keylor Navas will emerge as match-winners.

This season Real Madrid converted twice as many pens as Juve but this is off-set by Buffon's impressive career record from 12 yards (29 denials in total). This - appropriately - reduces whatever happens after 120 minutes to a lottery so why not instead play safe and go for the 9/4 available for a draw then watch the ensuing theatricals already quids in.
A fair fight

The 4.4 yellow cards per game brandished in previous finals is admittedly over the average but perhaps that is understandable in games with so much at stake, while it compares perfectly reasonably with any top six clash in the Premier League you care to mention.

What does stick out however is the startling lack of reds with just two in the last 24 years - a full three times lower than the norm.

Reasons for this are entirely subjective but one theory that also could account for the high volume of cautions is that teams don't reach this pinnacle of club football without having the nous to spread out the warnings and sensing when the referee's patience is at breaking point.

The unlikely event of a sending off does take place Sergio Ramos in the spotlight - with three Champions League reds he is the third worst offender in the tournament's history.
Heroes in tracksuits

With 68 goals between them in 2016/17 it's hardly a surprise to see Cristiano Ronaldo and Gonzalo Higuain top the goalscorer markets but don't discount the chances of an improbable hero coming off the bench and stealing their thunder. One in ten goals since 1992 have been scored by substitutes - a figure notably above the average - and more pertinently still 83% of them have been decisive rather than being a cherry on top or consolation.
Why look back at the trends?
Since looking back at historical trends for the biggest games this year - analysing stats since the turn of the Millennium - Stephen has picked out 31 winners from 57 recommendations, a strike rate of 54%.