Champions League Draw: Premier League teams' best and worst scenarios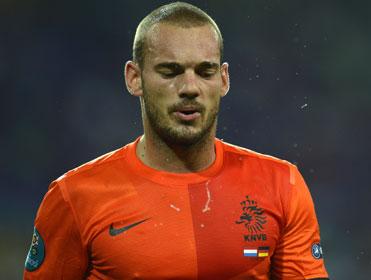 Galatasaray and Wesley Sneijder won't be easy round-of-16 foes
Lewis Jones shares his view on the dream and nightmare round-of-16 draws for the four Premier League participants...
The 16 remaining Champions League teams will learn their second round opposition on Monday when the ball are picked in Nyon, Switzerland.
UEFA has a ruling that no team can face a domestic rival or a side that they faced in the group stage. We have looked at the possible best and worst-case scenarios for the four remaining English teams.
Possible: Real Madrid, Paris St-Germain, Bayern Munich, Atletico Madrid or Barcelona
Best: Atletico Madrid 19.018/1 - Atletico may have qualified with 16 points from a possible 18 in Group G, scoring 15 goals and conceding only three, but they weren't tested against a top European side like Arsenal. If there is a slight chink in their armour, it is away from home as they could only draw 1-1 with Zenit in Russia and scrape past Porto 2-1.
Worst: Barcelona 5.95/1 - The Gunners have been knocked out of the Champions League by the Catalan giants in two of the last four seasons and suffered a heartbreaking final defeat in 2006.
Possible: Galatasaray, Olympiakos, Zenit St Petersburg, AC Milan or Schalke
Best: Schalke 310.0309/1 - United managed to win with an aggregate score of 9-2 over Bayer Leverkusen, and Schalke are 13 points worse off in the Bundesliga than Sami Hyypia's men.
Worst: Galatasaray 260.0259/1 - The toughest draw for United would be a trip to Galatasaray to face Didier Drogba and Wesley Sneijder, who executed the downfall of Juventus in the group stage.
Possible: Real Madrid, Paris St-Germain, Borussia Dortmund, Atletico Madrid or Barcelona
Best: Borussia Dortmund 19.018/1 - City were far from overawed last season when drawing 1-1 and losing 1-0 to Dortmund, who have arguably regressed in the last 12 months.
Worst: Real Madrid 6.411/2 - Away from home, City are defensively turgid, having conceded 13 goals in eight Premier League games. Rampaging Real, who have scored 64 goals in 21 games across La Liga and the Champions League, could realistically blow Man City away in one game.
Possible: Galatasaray, Leverkusen, Olympiakos, Zenit St Petersburg or AC Milan
Best: Zenit St Petersburg 330.0329/1 - It's a bit of a harsh reality for Napoli when you consider that the Italians were knocked out with 12 points but Zenit qualified with just six, scoring only five goals in their six games. They won't have the firepower to trouble Chelsea.
Worst: AC Milan 70.069/1 - With Jose Mourinho's former ties with Inter and the Mario Balotelli factor, the San Siro would be baying for blood if he took his Chelsea troops back to Italy.
Discover the latest articles
Read past articles