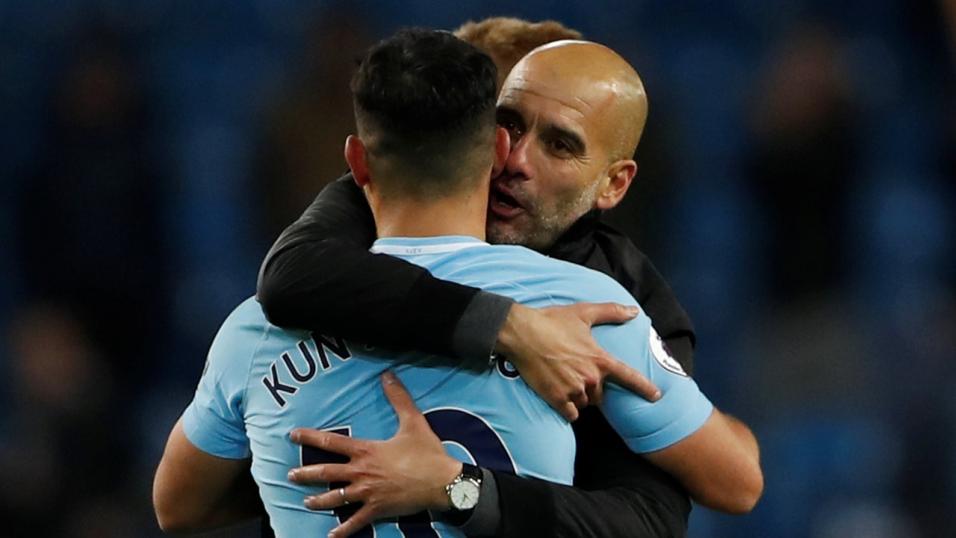 City's Manchester derby win underlined their strength, and they couldn't have wished for a more clement draw
Manchester City would be right to be pleased with the Champions League last 16 draw, but write off holders Real Madrid at your peril, writes Andy Brassell...
"The other huge boost from Monday morning's draw from a City perspective is knowing that one of Real Madrid and Paris Saint-Germain won't make the last eight."
Rarely can a Champions League draw - see it in full here - have had such an immediate and huge effect on the tournament odds. If he didn't take days meticulously preparing even for apparently weak opponents, we would imagine Pep Guardiola rubbing his hands after runaway Premier League leaders Manchester City drew Swiss champs Basel, and were thus installed as new favourites for the competition at [4.3].
Raphaël Wicky's team actually did brilliantly to qualify from Manchester United's group, and were stylish and impressive in beating Benfica twice. Don't be fooled, though. This is not the same Basel that made lives in European competition a misery for United, Liverpool, Chelsea and Tottenham. Funded more modestly than in years gone by, they have seen a raft of top talent walk in recent years including Mo Salah, Yann Sommer, Fabian Schär and others. They are rebuilding under the inexperienced Wicky and even have a fight on their hands to retain the Swiss Super League in the face of increased competition from Young Boys.
Big supplementary boost for City
The other huge boost from Monday morning's draw from a City perspective is knowing that one of Real Madrid and Paris Saint-Germain won't make the last eight. The market still fancies Unai Emery's side, second favourites at [6.4] despite their spectacular implosion on their last Champions League jaunt to Spain, on the back of that stellar front three of Edinson Cavani, Neymar and Kylian Mbappé. If you agree then Cavani, who has been the pick of the three, is an interesting bet for top scorer, also at [6.4].
This column finds it extraordinary, though, that El Real are all the way out at [9]. They should be favourites to roll over Paris, given their experience and versatility, not to mention Emery's men still being haunted by the ghosts of Camp Nou. Add to that the fact that Zinedine Zidane's team are built to really motor in the second half of the season - as is Cristiano Ronaldo these days, and his frustrating early season layoffs may again leave him some extra in the tank for the home strait - and it couldn't be a better time to back the holders.
Sevilla not to be underestimated
Their compatriots Sevilla (still licking their wounds from a 5-0 hammering at Bernabéu on Saturday) are highly unfancied, with their draw against Manchester United leading to them being pushed out to [220] in the Sportsbook. It assumes an awful lot about United's credentials. They swept through an easy enough group, and José Mourinho's last experience of this competition's knockout round - almost three years ago - saw him outwitted by Laurent Blanc and PSG, which is hardly something you'd have chiselled on your tombstone. Sevilla are unpredictable but have talent and a big margin to improve, plus a striker in Wissam Ben Yedder who only Cristiano Ronaldo has scored more Champions League goals than this season.
Sevilla might represent a good cash-out opportunity, as could the sides thrust into even-looking ties like Juventus, Spurs, Shakhtar, Roma, Chelsea and Barcelona. Out of that group, Chelsea at [30] and Juve [24], with the latter having kept five straight clean sheets having played Barça, Napoli and Inter in three of those games, are particularly tasty looking. Liverpool are intriguing at [17.5] with their firepower and a winnable tie against Porto, but Bayern Munich look short for the competition at [6.6] ahead of meeting a Besiktas side which was excellent in the group.
A general difference between haves and have-nots in the group stage always promised to deliver some huge last 16 ties, and the draw hasn't disappointed. City have been handed an advantage, but would do well not to count their chickens yet.