Champions League: Don't let Barcelona's Chelsea imitation fool you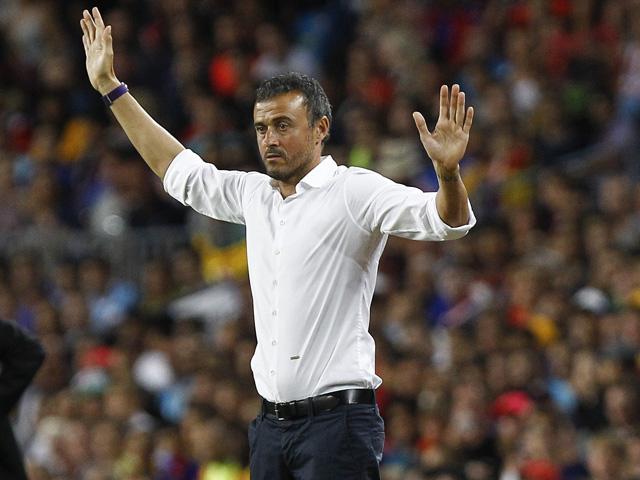 Luis Enrique was powerless to prevent Barcelona's heavy Supercopa de Espana defeat
Barcelona have been busy mirroring Chelsea's season opening in Spain, yet it is too soon to forecast their demise...
Here's something to cheer gloomy Chelsea fans up a little: they aren't the only of the four favourites in the Champions League winner betting market to have waded three games into 2015/16 without achieving a 90-minute victory.
While the 13.012/1-rated Blues have been beaten 1-0 in the Community Shield by Arsenal, held 2-2 at home by Swansea and humbled 3-0 at Manchester City, defending European champions and 4.1 frontrunners to retain, Barcelona, have endured a similarly troubling start.
Luis Enrique's side were held 4-4 by Sevilla in the UEFA Super Cup in Tbilisi - prevailing in extra time courtesy of seemingly exit-bound Pedro Rodriguez - thrashed 4-0 in the first leg of the Supercopa de Espana by Athletic Bilbao and failed to even salvage a face-saving win in the home leg, drawing 1-1.
The question this presents is: how concerned should Barcelona supporters and backers be by this early-season incompetence and defensive deterioration?
Punters certainly aren't panicking given that they remain clear of 5.95/1 second favourites Bayern Munich in the Champions League betting and have barely teetered in their billing as 1.748/11 jollies to retain their La Liga title, with Real Madrid a distant 2.6613/8 to dethrone them.
Obviously, the key difference between Chelsea and Barcelona's laboured getaways are that the Catalan club haven't participated in any of the competitions that they value most highly, with the UEFA Super Cup and Supercopa de Espana bottom of the priority list.
Yes, every treble-winning team have the ambition of triumphing in the three bonus competitions that their success gains them admission to, but Barcelona's senior figures did all that before after their 2008/09 sweeping of the board, so it isn't as much of a novelty.
They lifted the UEFA Super Cup in 2009 and 2011, and the Supercopa de Espana in 2009, 2010, 2011 and 2013, so can be forgiven for struggling to treat those fixtures with the same reverence as a La Liga decider or Champions League final. Indeed, it may prove a blessing to be granted such a stern warning against complacency before any serious damage was inflicted to their campaign.
Another important point to make is that the most alarming result of the trio - the 4-0 reverse at San Mames - was the one in which they adopted the most experimental defensive line-up.
None of the three players who feature most often at centre back - Gerard Pique, Javier Mascherano, Jeremy Mathieu - were picked in the positions, with Thomas Vermaelen and Marc Bartra instead given a chance, and Sergio Busquets wasn't screening in front of them.
The Pique-Mascherano-Busquets forward-disarming trident was reunited in the second leg and didn't concede until the 75th minute, at which point Barcelona had been reduced to ten men.