Champions League Same-Game Multis: Firmino to send Liverpool through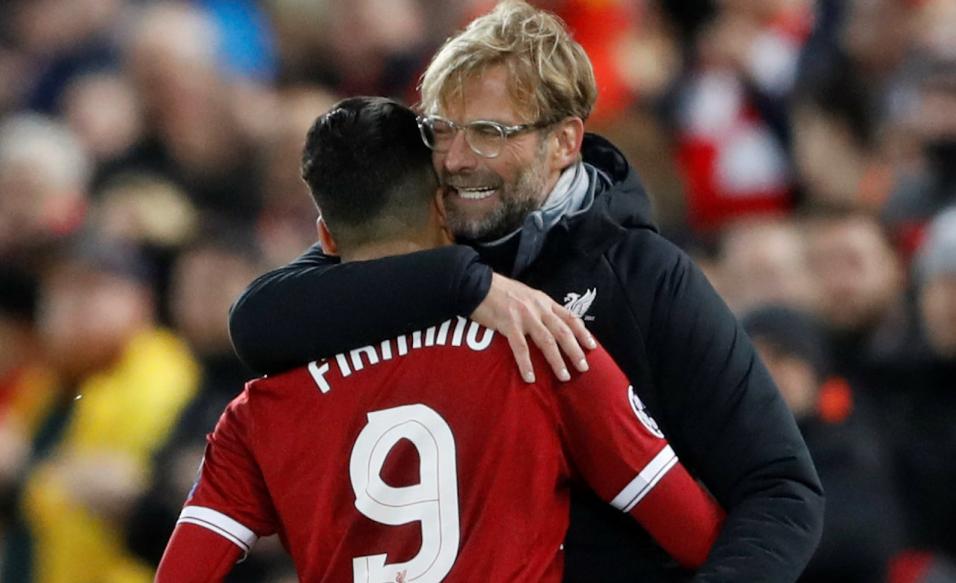 A Roberto Firmino goal would massively help Liverpool's chances of progressing.
Atletico Madrid go to Turin defending a 2-0 lead and Liverpool travel to Bayern in a beautifully-balanced tie. Jamie Pacheco has a good same-game multi-bet for each...
"I wouldn't want to speculate on how Liverpool are going to progress but I'd make them stronger favourites to qualify than the 17/20 they're available at so that has to be the first part of our bet."
Juventus v Atletico Madrid
Tuesday March 12, 20:00
Atletico can keep things extremely tight
Atletico Madrid produced one of the 'upsets' of the first leg when beating Juventus 2-0 at home, leading to a few disappointed punters who believed the side that has Cristiano Ronaldo is the likeliest winner of the Champions League, to throw away their virtual coupons. Not to mention leading to some pretty questionable celebrations from Diego Simeone.
But maybe it wasn't that much of an upset. Atletico are one of the best-drilled sides in Europe, have been for many a year and twice came perilously close to winning this competition over the last few seasons. There's also a possibility that Ronaldo or no Ronaldo, maybe Juventus aren't quite as strong as they might seem and that bossing Serie A every season, including this one, is no more than you'd expect given they have by far the strongest squad in the division. For starters, their defence isn't a patch on what it was in years gone by with no Gigi Buffon and the centre-backs very much the wrong side of 30.
At odds of 11/10 you can back Atletico to avoid defeat. This game is tailor-made for a side like them who is in their element when they can shut up shop, defend in numbers and play on the break with the pace of Antoine Griezmann and the walking nuisance that is Diego Costa. The longer Juve don't score, the more frustration will set in and that plays into Atletico's hands. Many will expect this to go to the wire but it's the Spanish side holding all the trumps and are more than capable of avoiding defeat here.
It's now four Champions League matches in a row where Diego Simeone's men haven't conceded and perhaps that's not so surprising when you look at how good they are as individuals- keeper Jan Oblak is surely one of the Top 5 in the world - and collectively.
This of course is one of the tougher challenges in European football but they'll be defending like their lives depend on it, not to mention resorting to a few underhand tactics including tactical fouls and time-wasting. 0-0, 1-1 and even a shock 1-0 win for Atletico are all lively runners here with that in mind and it would be no surprise if we ended with under 2.5 goals here, which is 3/4.
The double comes to 2.99.
Bayern Munich v Liverpool
Wednesday March 13, 20:00
It's funny how when Liverpool drew 0-0 at home a fortnight ago, the general impression was that maybe Liverpool hadn't pushed enough and that a failure to win the game gave Bayern the initiative with the second leg on home turf. I disagree.
If you're as good a side as Liverpool are, who can both defend well away from home and have goals in your locker, 0-0 is a pretty good result. It's stating the obvious but worth remembering that a score draw sees them through and that an away goal forces Bayern to score at least two.
Of concern for Liverpool fans is their away record in Europe this season with three straight defeats but then again, their defence is much stronger now than it has been at any stage of the season, especially now that Trent Alexander-Arnold is fit and playing so well. The fact they have Virgil van Dijk back after suspension is a huge boost, as well. They did after all keep five clean sheets in a row between early February and late March.
I wouldn't want to speculate on how Liverpool are going to progress but I'd make them stronger favourites to progress than the 17/20 they're available at so that has to be the first part of our bet.
Unless this is 0-0 after regular time with Liverpool going on to win in extra time or penalties, they'll have to score at least one.
Mo Salah, who has actually been on a bit of a lean run, is their top scorer so far in the CL with three and is the favourite from among the Liverpool players at odds of 9/5.

If you want to back the in-form man, then go with Sadio Mane, who has scored in six of his last nine games and is 12/5.
But the value is arguably Roberto Firmino, who has two in the competition, scored against Burnley at the weekend is the biggest price of the much-vaunted front three at odds of 3/1.
The double comes to 15.0.