Arsenal v Barcelona: Three things the Gunners must do to beat the Catalan superstars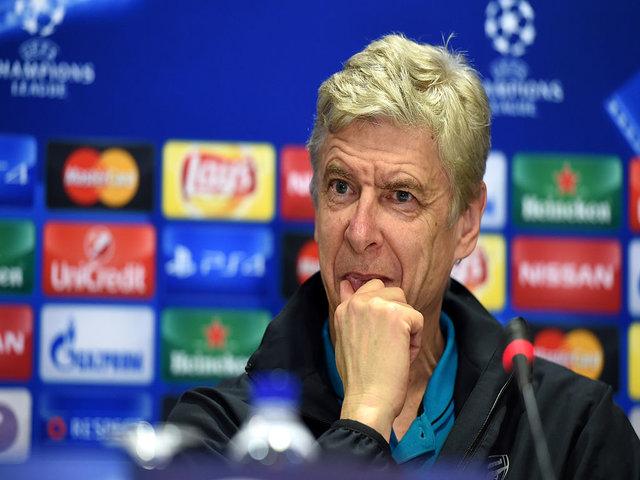 Arsene Wenger knows it will take a small miracle for Arsenal to knock out the holders
Alex Keble highlights three things Arsenal must do tactically to defeat Barcelona, including how Francis Coquelin should mark Luis Suarez and why a high pressing strategy is their best route to success...
"It requires great bravery to embrace a system that feels so suicidal, and thus Arsenal's key battle on Tuesday night will be against themselves."
Arsenal will bemoan their luck. They dispatched of Olympiakos in December with remarkable composure given their precarious position in group F and, having already beaten Bayern Munich 2-0 at the Emirates, could be forgiven for believing they deserved a simple tie in the second round.
Pep Guardiola's achievements at Barcelona were supposed to be a one off, but Luis Enrique's team have exploded into something more beautiful, more varied, and more precise in their latest incarnation. Their front three have synchronised with unprecedented telepathy this season, providing Barcelona with a goal threat unmatched in the history of world football; the world's best three players are, by chance, perfectly suited to complement one another.
Arsene Wenger will know that his side must produce the best 180 minutes of their careers to stand a chance of progress, but after that famous win against Pep's Bayern in December will, at the very least, believe in themselves. Here are three things Arsenal need to do to topple the European champions.
1) Avoid temptation to retreat, and press from the front

A tactical template for facing Barcelona has emerged in recent months after Deportivo, Malaga, and Atletico found success by ignoring their instincts - to fearfully retreat - and instead press aggressively from the front. It requires great bravery to embrace a system that feels so suicidal, and thus Arsenal's key battle on Tuesday night will be against themselves.
Malaga, Deportivo, and Atletico lost 5-6 collectively by harassing Barcelona's deep-lying midfielders and disrupting the rhythm of their passing (on average, they attempted 9.3 tackles and 5.2 interceptions in the opposition half). Enrique has added greater variety into Barcelona's game since his arrival at the club; the front three are given licence to roam freely at the top end of the pitch, awaiting the pass that can allow them to abandon tiki-taka and drive directly at the heart of the defence.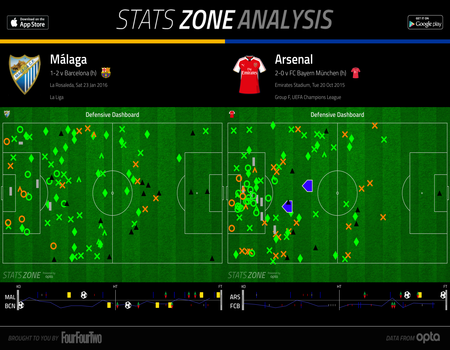 The remaining seven outfield players gradually build momentum before releasing the ball quickly into the final third; if you can unsettle them in this area of the pitch then Luis Suarez, Leo Messi, and Neymar struggle to get on the ball in the space (and start to drop deeper).
Arsenal are well suited to pressing frantically with a high back line (it is the foundation of Wenger's system, and often the cause of their downfall against stronger opponents) but in recent years they have begun to sit deep and absorb pressure, as in the victory over Bayern. This could be disastrous if repeated - just ask Gary Neville, whose ultra-defensive Valencia side were thrashed 7-1 by Barca last month. If they are prepared to press from the front, Arsenal can keep things tight. Back under 2.5 goals at 13/10.
2) Ensure Coquelin stays tight to Suarez

Since Barca's strikers are most dangerous when galloping into space on the counter, Arsenal will need to develop a tactical plan that prevents the front three from flourishing in spaces behind the home side's full-backs. Francis Coquelin will need to drop deep to form part of a wide back three on such occasions, meaning that he will battle head-to-head with the world's most in-form player - Luis Suarez.
Suarez scored more goals in 2015 than any other player in Europe's top five leagues (excluding penalties) and has netted 15 times in his last nine appearances. His tireless energy and remarkably selfless playing style have invigorated the superstars around him, sewing together those famous triangles as a revolving, all-round central striker; even by Coquelin's standards, it will take a monumental performance to stop him.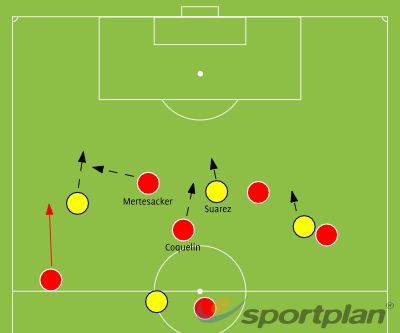 The Frenchman is one of the most positionally intelligent players in world football; he intercepts frequently (2.3 per match) because he can anticipate the pass before it occurs, but on Tuesday night it will be his ability to track runs - and guess the trajectory and timing of a through ball - that will be needed most. He must stay extremely tight to the Uruguayan and tackle aggressively; it should be a fascinating battle. Suarez to score any time is priced at 5/6.
3) Attack down the left, where Barcelona are most vulnerable

Arsenal attack most frequently down the left (39%, second most in division) and this tactic is intensified when left winger Alexis Sanchez is in the side (he links repeatedly on that flank with the left-leaning Mesut Ozil). It is here that Barcelona are perhaps most vulnerable, thanks to the absence of tracking back from the front three and Dani Alves's gung-ho approach to attacking.
Alves is well known for reneging on defensive responsibility, although the swarming Barcelona press rarely sees this get exposed. Sergio Busquets is expected to drift into this channel and cover the Brazilian when opponents counter, but he is often the only player occupying this zone; since Sanchez is superb at wriggling free from defenders to hurtle down the flank on the counter, he could team up with Ozil on this flank to out-manoeuvre Busquets.
It is surely their best method of attack, but remains a slim opportunity reliant on Sanchez - yet to hit form since his return from injury - to be at the top of his game. However, Wenger will be encouraged by the prospect of Ozil, so dangerous when floating freely in the final third, being left alone by Busquets as he scrambles over to Arsenal's left.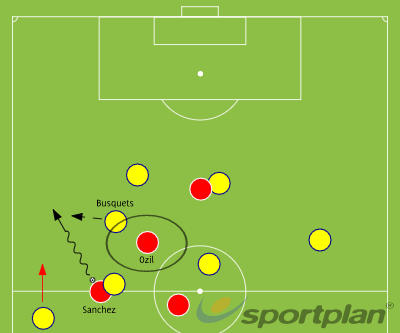 Discover the latest articles
Read past articles