Andy Brassell On European Football: Real Madrid not to be underestimated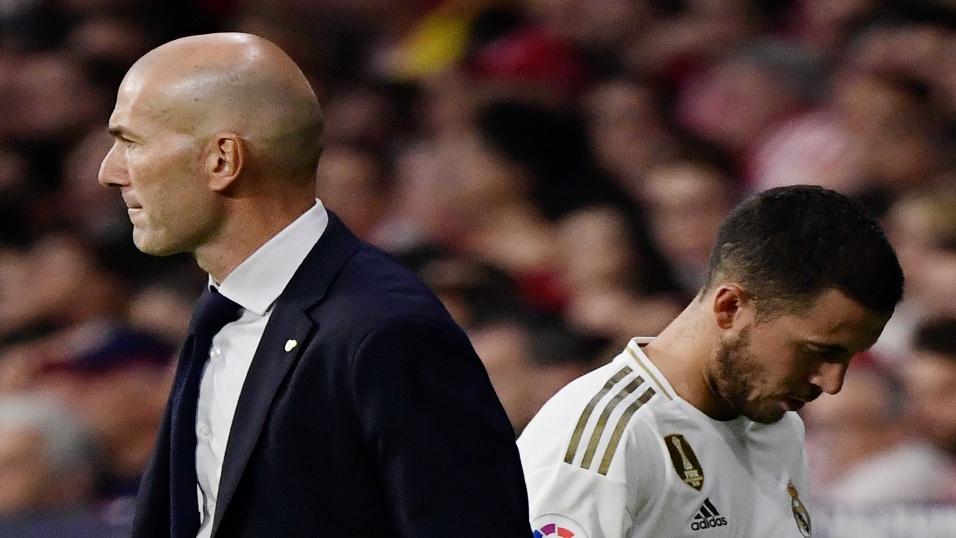 Ziendine Zidane (left) and Eden Hazard of Real Madrid
The Champions League last-16 continues and Andy Brassell considers the possibility of differing fortunes for Spain's big two.
"They remain unbeaten at the Bernabéu in Liga and Champions League this term and have the tools, led by the perennially underrated Karim Benzema (enjoying his best season in years), to unsettle City's suspect defence."
Recent wobble can't hide how serious Real Madrid are
Zinedine Zidane has had better weekends.
As his Real Madrid side slumped to defeat at Levante - which, in combination with Barcelona's 5-0 at Eibar, led to their great rivals overtaking them at La Liga's summit - he also received news of another injury to Eden Hazard. Ankle damage will keep the Belgian out of both Champions League legs with Manchester City, El Clásico at the weekend and, if it requires surgery, possibly Euro 2020 as well.
While the news is a dreadful blow to Hazard in a first season in Spain that is morphing from frustrating to nightmare, Zidane can take a deep breath and assure himself that it's all going to be alright. Granted, El Real's last two results have been extremely disappointing>, as they've dropped five points to bottom-half sides in games they had every opportunity to win.
Underestimating their chances against City would still be a major mistake, judging them by results against Celta and Levante rather than performances. El Real have been largely very good since autumn and will have a fresh Federico Valderde and Ferland Mendy to bring back into the XI after a weekend rest. They remain unbeaten at the Bernabéu in Liga and Champions League this term and have the tools, led by the perennially underrated Karim Benzema (enjoying his best season in years), to unsettle City's suspect defence.
With the resources and the record, it's hard to make a case for them as second-favourites on Wednesday.
Back Real Madrid to beat Manchester City at [2.9]
Bayern nerves offer Chelsea opportunity
Looking at the fixture list, Bayern would have been delighted with the way it had fallen. Before their testing trip to Chelsea as they embrace the Champions League knockout stages, they spent Friday night hosting Bundesliga minnows Paderborn, with the lowest annual budget in the league, as the perfect tune up for something a little more demanding in midweek.
What transpired sailed dangerously close to their worst-case scenario. Bayern twice threw away a lead - quite literally for Paderborn's first equaliser, where Manuel Neuer wandered way out of his goal and allowed Dennis Srbeny to walk one in for the visitors - and were staring down the barrel of an embarrassing and damaging draw when Robert Lewandowski swooped in to net a face-saving winner with two minutes of normal time to go.
It reminded us that Bayern are human, and it also underlined just how much this trip to England means to them. They were put in their place by Liverpool at this stage last season and Niko Kovač's reign never really recovered.
Under Hansi Flick they are now playing much more daring, vivid football but they (and their coach) need to prove themselves genuinely competitive in the back end of the Champions League all over again. It remains to see just how heavily their status of ultra-favourites weighs on them.
Back Chelsea to beat Bayern at [4.4]
Napoli recovery threatens Barcelona ambitions
This season has fallen way short of expectations for Napoli. Having entertained dreams of competing for the Scudetto back in August, reinforcing the squad with signings including Kostas Manolas and Hirving Lozano, a pre-Christmas slump either side of virtual insurrection against the club's board torpedoed not only their title hopes but their chances of even getting in the top four. It also ushered Carlo Ancelotti's tenure to a swift end.
Ancelotti's parting gift was qualification for the last 16 of the Champions League - and the wisdom he bequeathed his players in terms of how to apply themselves in the European arena. While there are myriad reasons for Napoli's regression post-Maurizio Sarri, with a squad reaching the end of its natural cycle, there can be no doubt that Ancelotti used his specialist experience to bring the team up to scratch in a Champions League context.
This is worth Barcelona bearing in mind. There may have been few draws they would rather have had back in December but Napoli have improved in recent weeks, with four wins in the last five Serie A matches (including victory over Juventus) plus progression to the Coppa Italia semi-final is proof of Gennaro Gattuso's influence, steering them back towards the top six. Barça, meanwhile, remain unconvincing on the road and the Champions League is a huge challenge for new coach Quique Setien.
Back Napoli to beat Barcelona at [3.4]