Champions League Betting: Five reasons Arsenal can beat their Barcelona curse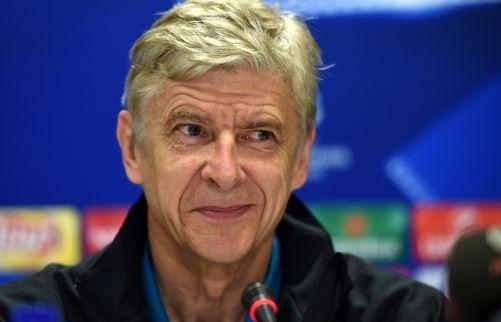 "My game-plan? I'm signing Messi in January..."
The Gunners hardly boast a great record against Barcelona in the Champions League, with just the one win in seven. Then there's Lionel Messi, Neymar and Luis Suarez to consider. Yet today's last 16 draw should not be met by doom and gloom in north London. Stephen Tudor picks out five reasons to be optimistic...
"With Leicester, Manchester United, Tottenham and Everton all clustered around the two legs it affords Arsenal the perfect chance to build up a head of steam."
Positivity is key
A blueprint for success lies in Arsenal's solitary victory over the Catalan maestros. In February 2011 Barcelona were a goal to the good in a rip-roaring clash at the Emirates that offered up opportunities aplenty for both sides. With little to lose - and with a further barrage at the Camp Nou to follow - Arsene Wenger made two positive substitutions in Nicklas Bendtner for Theo Walcott and Andrei Arshavin for Alex Song and suddenly the mighty Barca were rocking.
All the talk beforehand had been of Wenger eschewing his pure philosophy and making it a scrap. Instead he went like-for-like and with seven minutes left Arshavin stroked one home to seal a famous win.
Perhaps a further lesson might lie in scoring late. It gives Barcelona less time to act on their anger.

Arsenal always score
The Gunners have managed to score in all seven of their previous Champions League encounters which is an impressive feat in itself but it's on the three occasions where they've breached the Barcelona back-line twice where optimism resides.
Realistically two goals will be the minimum required to progress from this daunting tie but worryingly Luis Enrique's superstars have conceded more than once on only two occasions this season with the most recent example being last weekend at home to Deportivo La Coruna.
Brancoazuis have shown then that it can be done but Arsenal know this already.

The stars are aligning
Arsenal have limped through a period where injuries have ravaged their squad and been fortunate to encounter struggling sides in Sunderland and Aston Villa in the midst of it all.
By the time Messi and co swagger into town next February however the medical bay at London Colney will be largely empty with Alexis Sanchez, Mikel Arteta, Jack Wilshere, Tomas Rosicky and Danny Welbeck all expected to be back up and running and the pivotal pairing of Santi Cazorla and Francis Coquelin pencilled in for the return leg.
Barring any further setbacks a full strength Arsenal could conceivably be firing on all cylinders at just the right time.

Fixtures are cruel to be kind
Conventional logic has it that it's far preferable to have 'winnable' league games around Champions League fixtures. This logic only stands up for the group matches that come thick and fast in autumn and offers managers a chance to rest key players ahead of exhausting trips to the hinterlands of Europe.
In the spring the opposite applies with the players' match fitness peaked and topped up from game to game momentum then becomes the watchword. Challenge after challenge is sought rather than shied away from or, to put it another way, would you rather Laurent Koscielny man-mark Jordan Ayew then Neymar in the space of a few days - a jump equating to having training wheels on a BMX to riding a superbike full-throttle - or would you prefer he test himself against the explosive pace and clever movement of Anthony Martial before going toe-to-toe with the brilliant Brazilian?
With Leicester, Manchester United, Tottenham and Everton all clustered around the two legs it affords Arsenal the perfect chance to build up a head of steam.
Conventional logic be damned.
Exploit the space
We all know how Barcelona will set up. Joey Essex and Robbie Savage know how Barcelona will set up. 4-3-3 with their full-backs pushed right up as they dominate possession and hustle and harry when the opposition dares take the ball off them.
This though places an enormous burden on their centre-backs, a duo who can be got at through the pace and wiles of Sanchez, Welbeck and Giroud.
Be brave Arsene, commit to a system that allows this space to be exploited and - in a week when a little arthouse flick pops up on a few cinema screens across the country - may the force be with you.
Discover the latest articles
Read past articles