Champions League: Five reasons for Man Utd to be wary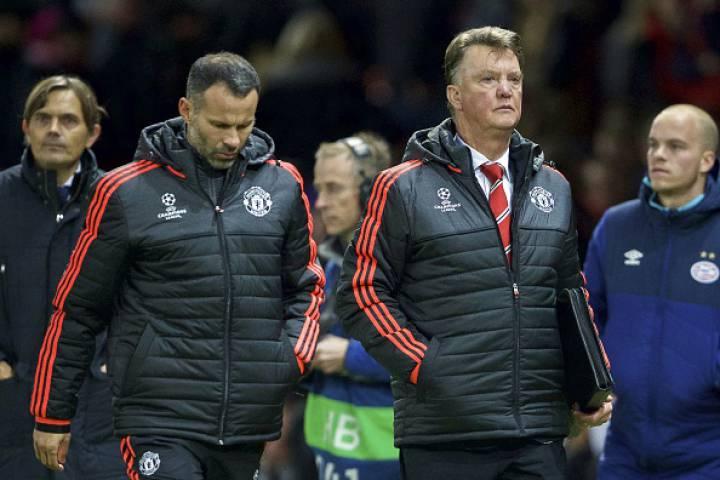 "Van Damme...Kompany...Poirot....that's it no?"
Louis van Gaal and Manchester United would be wise to take Club Brugge very seriously tonight because, as Stephen Tudor discovers, the Champions League play-offs are paved with hubris and heartbreak...
"Sometimes you have to graft for your dreams. Ludogorets understood this better than most."
Manchester United were undeniably fortunate to avoid a Valencia or Lazio and be paired with little old Club Brugge for their Champions League play-off the first leg of which kicks off this evening at Old Trafford. The 13-time Belgian league champions however are not the token resistance to riches and glory that many Reds are anticipating. As the examples below illustrate the final hurdle to negotiate before passports are stamped with Madrid and Munich can often trip the bigger clubs up. You can read our Manchester United v Club Brugge Preview behind the link.
So Louis Van Gaal beware - be as wary as you are of a good barber - because the play-offs are paved with costly hubris and heartbreak.
CFR Cluj v FC Basel 2012/13
The Swiss side had recently become the little engine that could, who came from seemingly nowhere - or to be more geographically accurate within a Toblerone's throw of both the French and German borders - to take several European scalps and become a Champions League playa in their own right. So perhaps they more than anyone should have appreciated the irony when given a taste of their own medicine here with a 3-1 reverse to the little-fancied Romanians over two legs.
The only club around whose name ends with a J (possibly) had shocked Roma and Chelsea four years earlier and further embellished their standing with two deserved victories over Frei, Streller and co to ensure only their third ever qualification for the group stages.
Cluj didn't rest on their laurels either defeating Manchester United in a memorable upset at Old Trafford before narrowly missing out on the knockout phase on goal difference.
Ludogorets Razgrad v Steaua Bucharest 2014/15
As debut Champions League campaigns go last season was an adventure scripted by someone with a vivid imagination for the Bulgarians who hail from a place that literally translates as 'obscure city'.
In the group stages Ludogorets came within an injury-time Stevie G spot-kick of attaining a famous draw at Anfield before getting right into Real Madrid's perfectly moisturised faces in a closely-fought defeat. A last minute winner to overcome a ten-man Basel meanwhile sent the industrial city of Razgrad into meltdown and put obscurity firmly on the map.
None of this would have occurred without triumphing in a long war of attrition over hard-as-nails Steaua in a play-off that was eventually settled by penalties.
Sometimes you have to graft for your dreams. Ludogorets understood this better than most.
MSK Zilina v Sparta Prague 2010/11

The Slovakian minnows over-achieved two years earlier by reaching the UEFA Cup group phase where they found themselves the lowest ranked of all forty participants. They still managed to beat Aston Villa, natch.
Now though, the stakes were incalculably higher as the club whose home capacity equates to a typical soiree at Simon Cowell's gaff had only Sparta Prague between them and a very unlikely bout of continental fame.
We say 'only, Sparta were Champions League veterans who had the t-shirts and Handel's Zadok the Priest as a permanent fixture in their stereo.

This then was classic David versus Goliath fare and a 2-0 away win in the opening leg sent a minor shockwave through the football fraternity. A further victory in their home fixture proved it was no fluke and suddenly Chelsea, Marseilles, and Spartak Moscow awaited the tiny outfit whose most famous alumnus is Marek Mintal. No, us neither.
Anorthosis v Olympiacos 2008/09
Having already seen off Rapid Wien in the second qualifying round Anorthosis Famagusta became the first ever Cypriot side to make it to the group stages with a sensational battering of Olympiacos that left the second leg almost redundant.
The Greek champions were stunned into subservience by the sheer scale of early ambition shown by the club nicknamed the 'Great Lady' who flew into a two goal lead inside the opening twenty minutes.
A late missed pen by future Fulham flop Konstantinos Mitroglou proved extremely costly for the visitors as Anorthosis ledge Vincent Laban slotted home a decisive third. History, and a 3-3 draw with Inter that made everybody chuckle, beckoned.
Braga v Udinese 2012/13

Propelled by the ageing goal-machine Antonio Di Natale, Udinese had comfortably secured third spot in Serie A the season before and now just Braga of Portugal stood between them and their Champions League destiny. Their opponents were certainly no mugs and boasted a fine recent European pedigree having reached the Europa League final two years previous but in Di Natale the Italians had goals galore while their back-line was suitably mean and watertight.
A brace of 1-1 draws eventually took it to spot-kicks where Braga edged the tense encounter gleefully grabbing the mind-boggling fortunes and glory on offer.
At least Di Natale scored his.