Carling Cup Special Big Interview: Peter Whittingham
Carling Cup

/ Editor / 23 February 2012 / Leave a Comment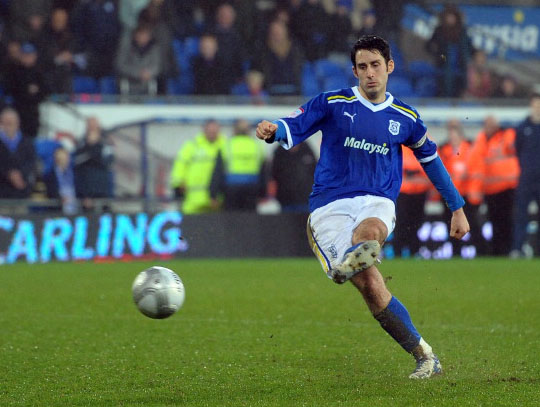 Peter Whittingham is one of Cardiff's best chances of a goal
"We'll have a plan. Our manager Malky Mackay always prepares us thoroughly whoever we are playing and I'm sure this will be no different. And then, let's be honest, we will have to ride our luck at times."
Promotion chasing Cardiff are out to stop Liverpool lifting their first major trophy in six years in Sunday's Carling Cup final. Betfair went to Wales to meet goal scoring midfield man Peter Whittingham and learn more about what's lying in wait for Kenny Dalglish.
Hi Peter, and good luck for Sunday
Thanks. It's going to be a terrific occasion because you can really feel the excitement among our supporters around the city now.

Liverpool are [1.16] to win the Cup so all the pressure is on them.
I'm not sure that's the case. Of course everybody around Liverpool is expected to win the game so there is pressure on them, but there's just as much for us. We want to do well for the club, our fans and the whole of Cardiff. Nobody wants to lose a Wembley final.

We didn't want to bring that up! It's happened to you twice.
Don't remind me. We went to the FA Cup final four years ago and lost to Portsmouth, and then two years ago we lost to Blackpool in the play-offs. It was horrible. It starts as a great day out but if you don't win it's not a good experience at all, so this is a good time to put things right, to be honest. The Blackpool game was especially bad. We led twice and should have won. You don't play again for two months so we had all summer to think about it, and then a year of watching them playing in the Premier League to keep reminding you about what might have been.

So how do you go about winning this one?
We'll have a plan. Our manager Malky Mackay always prepares us thoroughly whoever we are playing and I'm sure this will be no different. And then, let's be honest, we will have to ride our luck at times. Liverpool have so many great players that they will make chances, but we know we will have spells on top of the game too and when we do we have to take our chances. The good thing is we have people who can do that - Kenny Miller has scored goals, and important goals, for us and all through his career so it wouldn't surprise anybody if he popped up and scored.

You've been captain the last couple of games so you would lift the trophy.
That's a weird thought. To be honest I'd prefer if Mark Hudson passes his fitness test so he can play.

You mention Liverpool's great players - name names.
Well Steven Gerrard, of course. As a midfield player he's always been somebody that you try to emulate, but he's not the only one. Charlie Adam scored an amazing free kick against us for Blackpool the last time we went to Wembley, so we don't need telling about him either. What matters from our side is that you always enjoy testing yourself against real top players, and I think any of us are capable of stepping up to the plate and proving we can handle it.

You've been at Cardiff six seasons now. How has the club changed?
Beyond all recognition. To be honest when I first came it wasn't really up to scratch. I was leaving Aston Villa which had such top facilities, but Dave Jones told me the plan, and told me what he wanted to happen, and I got involved with it. Now Malky Mackay has kept it going. From what he had at the start of this season the progress has been amazing. To come in with eight or nine players and do what has happened since has been frightening.

Is that why you were happy when the club turned down offers for you in January?
Yes. The hardest decision was last summer when I was seeing good players and friends like Michael Chopra, Jay Boothroyd and Chris Burke leave, and Craig Bellamy went too. There were a couple of offers to go elsewhere kicking around for me. I spoke to the gaffer and he made me some promises that we would go again. It was a case that I'm happy here, let's give it a go. I still feel that way too. Having got this far and seen the club make so much progress I'd kind of like to see it all the way through, which hopefully is into the Premier League.

You mention the B word - Bellamy!
I know, it's amazing how football works that he'll be playing against us for Liverpool. I don't think anybody who was here with him last season will be surprised at the impact he has made since going to Anfield. He is a great player, and has fantastic attributes with his pace, but I don't think everybody appreciates the unselfish side of him. He was a brilliant person to have around our dressing room, and the examples he set about attitude and commitment in training have stayed with us. I'd wish him well on Sunday - if he wasn't playing against us!

Well we wish you well and thanks for your time. We've a free £50 bet for a charity of your choice.
The Ty Hafan hospice is the club's official charity so I'll nominate them. It's a big weekend for Welsh sport with the Six Nations game at Twickenham and then Nathan Cleverly's fight on Saturday night. He's a good lad - he came and joined in training with us last week. Being English and living in Wales I don't dare take sides in the rugby - so I'll put half on Cleverly to win in round five against Tommy Karpency and the other half on round six - both at odds of [10].

Read More UK & Ireland Football