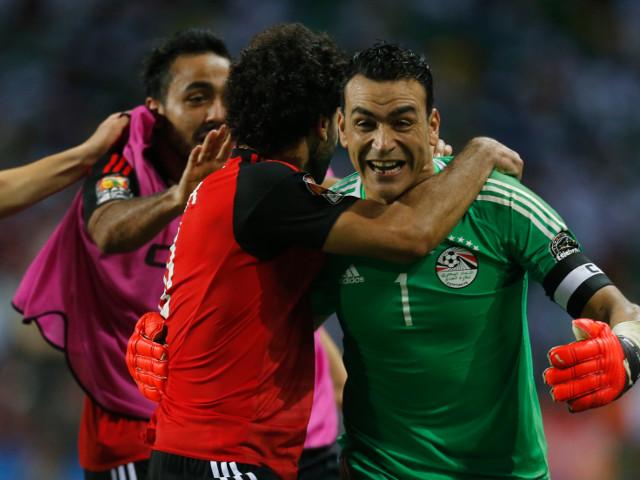 Essam El Hadary can win the Africa Cup of Nations for Egypt at the age of 44
Dave Farrar predicts Egypt will lift the trophy on Sunday afternoon against the not so indomitable Cameroon.
"I'm surprised to see the sides trading at pretty much the same price to win the game, and they're inseparable too in the Outright Market, with both available at around 2.0."
Egypt v Cameroon
Sunday, 19:00
Live on British Eurosport 2

Two traditional big names will contest the final of the 2017 Africa Cup of Nations, but it's certainly a surprise that both Egypt and Cameroon have made it this far. What both teams have shared is an unbelievable willpower, and in a tournament affected by poor organisation, public disaffection, shocking pitches and a general lack of occasion, that quality has proved more important than any other.
Algeria were undercooked, Ivory Coast overrated, Senegal froze, Ghana were too conservative, and DR Congo and Burkina Faso were more unlucky than anyone. Tunisia and Morocco threw in bad performances when it mattered and so we are left with the two sides who behaved as if they wanted it the most. It reflects very well on the finalists, but not the competition as a whole.
It will be a titanic battle for supremacy but not a classic final. The goal that Aristide Bance volleyed home in the semi-final was the first that Hector Cuper's side have conceded here, and that's been their approach all along. If we can score once, then we'll win. The semi-final was close run, but it's a tactic that has served them well.
For Cameroon it's been all about the power of the team over the individual. They are conservatively coached by the Dutchman Hugo Broos, but they work tirelessly to close down space, put pressure on the opposition, and limit creativity. These are two teams who could well cancel each other out.
A scrappy final would be representative of this tournament, and I think that the 2019 Africa Cup of Nations will be absolutely pivotal for the ongoing relevance of this once brilliant event. If we have another three weeks like this in two years time, then I think that the AFCON could be in trouble.
The sight of top-class African players, some of whom are among the best players in the top European Leagues, playing in underpopulated stadia on pitches that are an embarrassment hasn't been at all edifying, and it has to change.
The final should be well attended, and there's an outside chance of a good game: I've opposed Cameroon all the way through the tournament to my cost, but with Egypt going for an astonishing eighth AFCON title, and with so much experience of getting the job done in these finals, I'm going to oppose Cameroon again.
I'm surprised to see the sides trading at pretty much the same price to win the game, and they're inseparable too in the Outright Market, with both available at around [2.0]. Cameroon have a major chance of course, but the way that Egypt have defended here, and the way that they've largely picked teams off, has impressed me more. They should be favourites.
And on that basis, I'm going to sign off from AFCON 2017 by tipping Egypt to win the game in 90 minutes.
The draw is [2.76] which is all to do with the expectation of a tight game, and that means that we can back Egypt at [3.0]. I think that's too big, and while I'm tempted by 1-0 Egypt in the Correct Score market, I'm happy with a simple bet on Egypt to win.
Tipping wise, it all started so well: we had some big wins in the Group Stage, and ahead of the quarter finals we were looking good: both Senegal and DR Congo running in the Outright Market, and both with a big chance of the title. And then it fell apart. Hard to stomach, harder to work out, as reality bit, and bit hard.
A tournament that needs a makeover, a long way from a classic, but a final that could be a moment of history. That's something to cling onto, at least.

Recommended Bet
Back Egypt to beat Cameroon @ [3.0]