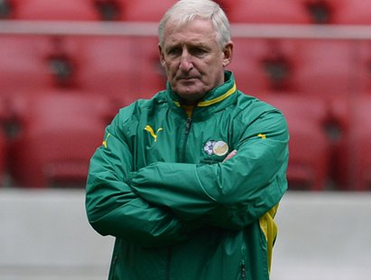 South Africa coach Gordon Igesund
The tournament finally begins on Saturday afternoon so we asked Jonathan Wilson to assess the chances of host nation South Africa in their opening encounter with Cape Verde Islands...
"In fact, control of possession and control of midfield have been features since Gordon Igesund took over as coach six months ago."

The Cup of Nations adverts and banners at the airport - and a noisy clutch of Togo fans with drums and whistles aside - there is little about Johannesbrug to suggest a major football tournament is about to begin, something some critics have interpreted as indicating a lack of interest in the competition.
The truth, though, is that most tournaments only gather momentum once they have begun - cynicism reigned even at the London Olympics before being obliterated by Danny Boyle's opening ceremony - and the fact that over 400,000 tickets have been shifted in pre-sales is encouraging.
The tradition in Cups of Nations is for games not featuring the hosts to be sparsely attended (something Mark Gleeson, the doyen of African football journalists puts down less to cost than to the lack of a culture of going to watch games) and, with travelling support largely limited to state-funded 'official' groups, the host nation always has an advantage more significant than on any other continent - since 1990, 25% of Copas America, 17% of Asian Cups and no European Championships have been won by hosts, while 44% of Cups of Nations have.
The mood around South Africa, though, remains sceptical, a situation not helped by the last two friendlies, which have brought a 1-0 defeat to a young Norway side and a goalless draw against Algeria.
The South African president Jacob Zuma, though, condemned the naysayers when he visited the Bafana squad in Soweto earlier this week. "There are too many critics in this country, and I was telling the team that others who are critics have never touched the ball and they don't know how it feels on the pitch," he said. "I was telling them that we are satisfied that the team is ready; we have seen it in the recent matches they have played. We are satisfied that the team is well prepared for the tournament and we came to say to them they must relax and not be tense and not listen to the critics."
That is rather more than political flannel. Recent results may not have been good, but South Africa had over 70% of possession against both Norway and Algeria. In fact, control of possession and control of midfield have been features since Gordon Igesund took over as coach six months ago. The foundations look good; all that is needed is a spark of creativity (how Bafana miss Stephen Pienaar) or for a goalscorer to hit a hot streak of form.
Neil Tovey, South Africa's captain on the only occasion they won the tournament - last time they hosted it, in 1996 - pointed out how static South Africa's front men were against Algeria, but that is something that can be addressed over the course of the tournament: get the basic shape right and there is at least a chance that the rest will come. Katlego Mphela, certainly, is capable of finding a vein of scoring form, while there is invention in the boots of Thulani Serero if he finds the confidence to unleash it.
Cape Verde, by contrast, are riding the crest of the biggest wave in their country's football history, having qualified for the first time by beating Cameroon in a play-off. They've failed to score in friendlies against Ghana and Nigeria since but played well enough in both games - a 1-0 defeat and a goalless draw respectively - to suggest they will not be overawed. Still, just three goals scored and three conceded in four games in the last six months suggests their priorities.
South Africa's style of play means they are also far from prolific, having scored just seven goals in their last eight games, while conceding six. South Africa at [1.66] isn't great value in the tournament curtain-raiser, nor is Under 2.5 Goals at [1.62].
Dutching Correct Score bets looks the way to go: 1-0 and 2-0 to South Africa are both [6.4] and it may even be worth going ultra-cautious with a covering bet on 0-0 at [8.6] - or if the game is still level after half an hour (effectively achieving what Cape Verde will set out to do) then back the outsiders in the Match Odds market.

Recommended Bet
Dutch 0-0, 1-0 and 2-0 Correct Scores @ [2.28]