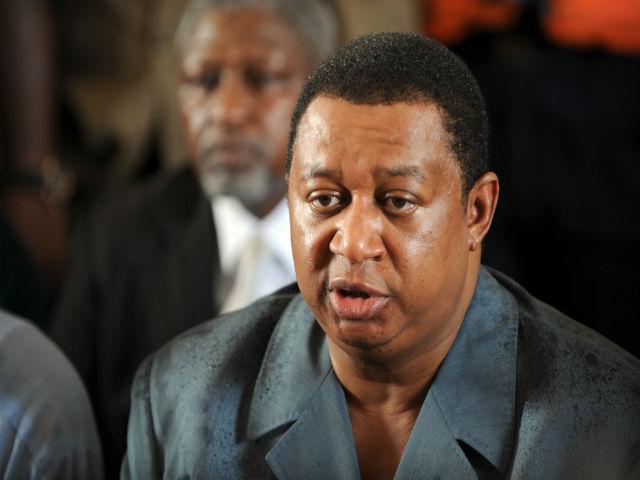 Mohammed Barkindo has indicated that oil freeze talks could stabilise the markets
Oil prices have been difficult to predict over the last few weeks, but new research and commentary suggest the value of the commodity could rise soon.
OPEC secretary-general Mohammed Barkindo recently told Algerian state news agency APS that the organisation may call an extraordinary meeting if progress is made.
The oil industry is known for its boom and bust cycles, which can make the commodity an attractive prospect for investors and spread bettors who are confident they can predict when upswings or downswings are around the corner.
Currently, oil is experiencing a sustained period of low prices that have seen the price of a barrel sink below $30. We've already explored some of the effects that oil prices can have on different areas of the economy.
Put simply, the value of the commodity is reliant on supply and demand. There has been a recent glut of production, but consumption has taken a hit in some countries. For example, China's ongoing economic slowdown has resulted in less demand for many commodities, including oil and steel.
Some oil-producing nations have also shown reluctance to restrict production, as they prefer to maintain a stranglehold on market share rather than enjoy higher prices. Longer-term trends include the fact that vehicles and machinery are becoming increasingly fuel-efficient, and people are more environmentally conscious in general.
However, prices could shift upwards if fewer oil companies can profitably complete exploration and new drilling projects. Rebel attacks in Nigeria have lowered the country's output and a forest fire that devastated the oil sands region in Canada earlier this year also affected North American production.
Many of these factors are temporary though, and analysts have suggested that prices could remain low for at least a couple of years. So where are the opportunities for spread bettors?
Short-term events that could affect oil

Despite the downward trend in oil, the commodity may bounce back slightly this week. According to Reuters, prices already rose 2% this morning (September 19th) after Venezuelan president Nicolas Maduro suggested a deal could be reached between OPEC and non-OPEC producers to limit output.
Brent crude futures were at $46.54 per barrel at 06:45am, which was up 77 cents on its previous close, while US crude jumped 78 cents to $43.81 a barrel.
Clashes in Libya are another factor that could boost the price of oil in the weeks to come. Ongoing difficulties in the region mean Libya's exports have been disrupted, with the loading of the first oil cargo from Ras Lanuf port in more than two years halted due to conflicts.
Looking ahead, there is an informal meeting of OPEC members between September 26th and 28th where delegates will discuss an oil production freeze. Previous talks have generally stalled because of holdout nations that refuse to restrict production.
Nevertheless, OPEC secretary-general Mohammed Barkindo recently told Algerian state news agency APS that the organisation may call an extraordinary meeting if progress is made, which could lead to new decisions on oil freezes coming to fruition.
Saudi Arabia, which has typically refused to disrupt its production, has indicated it may be open to negotiations, as current low prices have begun to sting producers' revenues.
Will we see prices rise this week? There aren't many big oil releases over the next few days other than the American Petroleum Institute's weekly oil supply report and Baker Hughes' US oil rig count.
That means spread bettors may rely more on socio-political and demographic factors to predict the ways the market will move this week.
What is Tradefair?
Tradefair is Betfair's new spread betting service, offering trading on thousands of financial markets such as Gold, EUR/USD, FTSE 100 and Twitter. Whether you think prices are going up or down, Tradefair lets you take a view.

Check out our latest Special Offers

Please note: Our services include products that are traded on margin and carry a risk that you can lose more than your initial deposit. The products may not be suitable for everyone - ensure you fully understand the risks involved.