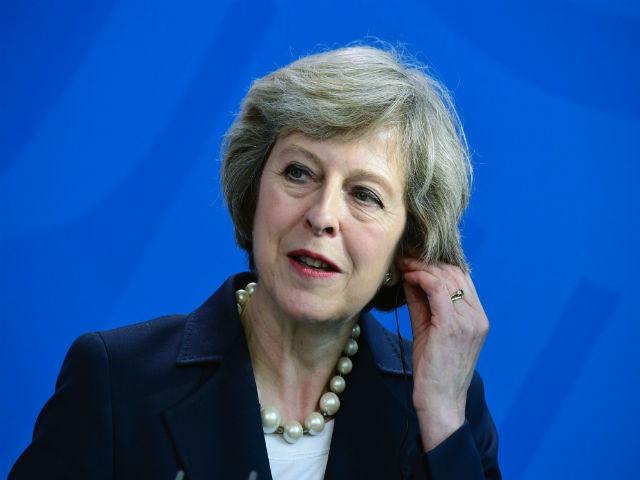 Theresa May confirmed the date that Article 50 will be triggered.
Recent Brexit and Deutsche Bank news has affected the forex markets this week, but which currencies have benefited from these developments? Let's have a closer look ...
"It is up to the government not to question, quibble or backslide on what we have been instructed to do, but to get on with the job." - UK prime minister Theresa May
The big news affecting currency markets this morning is that UK prime minister Theresa May has confirmed a date for triggering Article 50 of the Lisbon Treaty.

Speaking at the Conservative Party conference, May said the deed would be done before the end of March next year, meaning a full extrication from the EU should be completed by summer 2019 at the latest.

"It is up to the government not to question, quibble or backslide on what we have been instructed to do, but to get on with the job," she told delegates in Birmingham.

Unsurprisingly, Sterling stumbled on the announcement. While the outcomes of Brexit are largely unknown, most analysts believe leaving the union will have a negative effect on the UK economy. Whether this turns out to be true or not, the news is likely to have an adverse impact on markets in the meantime.

According to Reuters, the pound slumped to seven-week lows against the dollar today, having dropped to $1.2902, but recovered somewhat to be down 0.4% at $1.2941.

However, chief currency strategist at Daiwa Securities Mitsuo Imaizumi claimed investors shouldn't be too worried, as there is plenty of time to buy back the currency in the future.

"The sterling low was hit this morning in very low liquidity, and there's still two years to go before anything happens," he explained.
Deutsche Bank fine

Brexit wasn't the only news affecting forex markets this morning, however, with the latest developments in Deutsche Bank's negotiations with the US Department of Justice (DoJ) also causing ripples across currencies.

The DoJ fined the German banking giant US$14 billion (£10.8 billion) for selling toxic mortgage-backed securities, but reports have suggested Deutsche is close to agreeing a US$5.4 billion penalty instead.

Investing.com reported that Deutsche Bank's potentially improved fortunes helped the US dollar reach its highest value against the Swiss franc in more than a week, as the USD/CHF climbed to 0.9752.

Meanwhile, the US dollar also rose against the yen, reaching session highs of 101.78 before settling up 0.31% at 101.33. There may still be new twists and turns in the Deutsche Bank story though, according to Kaneo Ogino, director at foreign exchange research firm Global-info Co.

"I think the Deutsche headline risk is still there. It's not finished yet, with many things yet to be revealed," he told Reuters. "Cross your fingers that this rangebound trade continues."
The week ahead

We've explored some of the factors that are already affecting currencies this week, but what about future events? There are a number of key releases that could influence forex markets in the days to come.

One of the most important is the US non-farms payroll report, which comes out on Friday and is widely seen as a good indicator of the country's labour market health. A solid result could provide more impetus for an interest rate rise in the US before the end of the year.

Today, financial markets in Germany and Shanghai are closed for public holidays, with China shutting down for the next five days due to the Golden Week national celebration.

Elsewhere though, the UK and Japan are due to publish manufacturing data that will give insight into economic performance in the two countries, while the UK will also produce construction and services reports.

The Reserve Bank of Australia announces its base interest rate on Tuesday, although experts predict the rate to remain at historic lows of 1.5%. Over Wednesday and Thursday, the country will also release retail sales and trade data, which should provide information on the strength of the Aussie dollar.
What is Tradefair?
Tradefair is Betfair's new spread betting service, offering trading on thousands of financial markets such as Gold, EUR/USD, FTSE 100 and Twitter. Whether you think prices are going up or down, Tradefair lets you take a view.

Check out our latest Special Offers

Please note: Our services include products that are traded on margin and carry a risk that you can lose more than your initial deposit. The products may not be suitable for everyone - ensure you fully understand the risks involved.