Ed Hawkins on The Ashes: Nervous times for Root as England seek Ballance?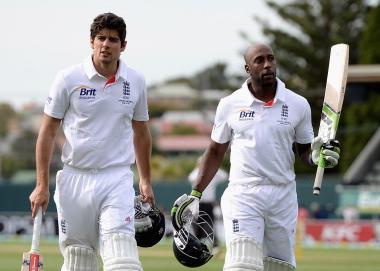 Cook and Carberry solved a problem
Our cricket correspondent ponders England's batting options ahead of the first Ashes Test and highlights the injured Shane Watson's heavy schedule as he wonders why he was not rested...
"England will be at least mighty relieved that they have settled on an opening partnership and Cook and Carberry will be given time to bed in."
It has not been the best few days for Joe Root. Shane Warne has said his technique was not good enough to open in Australia, claiming he would be "crucified", and then Michael Carberry, Root's rival for the berth alongside captain Alastair Cook, batted all day in notching an unbeaten century in the warm-up against Australia A.
Root now finds himself in a new 'fight', that of the right to bat at No 6. It goes to show how quickly a picture can change for a batsman sat in the pavilion, waiting for his chance to come. Before a ball was bowled in Hobart, Root looked assured of a place for the first Test in Brisbane. It would be at No 2 or No 6.
Now he is not so sure. Carberry is assured of his place opening the batting in Brisbane following his 153 from 228 balls. Such was his doinance that Root has suddenly been exposed. Instead he finds himself in a battle with Gary Ballance to come in at four down. If Ballance was to out-bat Root in Tasmania and then again in the final prep game against an Invitational XI in Sydney, then the selectors would have to make a difficult call.
Root had been described as "adaptable" by Cook but in the same breath he said that England were undecided over two spots for the XI for Brisbane. In the context it sounded as if he was referring to the three batsmen - Carberry, Root and Ballance - jostling for two spots but he could also have been referring to the last fast bowler's pace. Root will hope it is the former as pacer Chris Tremlett appears to be favourite after being picked in the tour match.
England will be at least mighty relieved that they have settled on an opening partnership and Cook and Carberry will be given time to bed in. Carberry's century has justified Warne's scattergun invective when everyone came in for criticism from Ricky Ponting to Cook.
Cook was pinned by Warne for not choosing enough attacking, or inventive fields, in the summer. When he said that Michael Clarke would offer weird and wonderful settings and that Cook would never dare, it was hard not to chuckle. He simply did not need to. Australia were that bad.
But amusing, irrelevant barbs aside, Warne has helped England. Or rather he has helped out his old mate Carberry. Proving he is not wholly partisan, Warne gave the England management the required nudge to recognise the switch they needed to be making. Warne has been a champion of his old Hampshire team-mate for years and Carberry credits the Australian legend with saving his career.
It is early days but the top England batsman series market is worth a look following Carberry's emergence. He gets a 7.006/1 quote after being in the high teens for small beer before his display.
Root is nudged out to 7.4013/2 as his crease time inevitably appears threatened. Ballance is available at 19.0018/1 for pence but we would expect the market to mature and 'wise-up' in the next few days.
Cook, who had a disappointing summer as he was crucified himself, is favourite at 3.8514/5. It is a quote which should drift to more than 4.003/1 one would have thought. His record in Australia, of course, is extraordinary and it would be unwise to reckon he will be in for a poor series just because he was undone by the Australians in England.
The conditions Down Under suit him perfectly. Often leaden footed and guilty of hanging his bat out to dry, Cook can nick off in seaming or swinging conditions. Not on the scorched earth of Australia. He stands and delivers and will pull and cut with confidence.
Watson injury Australia's fault
In various columns and match previews we have marvelled at the resilience and robustness of Shane Watson. In equal measure we have looked on bewildered at Australia's selectors who have kept picking him, despite utter exhaustion surely never far away. Well, they have finally paid the price. Watson is injured.
The Queenslander has a hamstring tear and is a doubt for Brisbane. James Faulkner is being ear-marked as his replacement. But it could have been so avoidable had Watson been afforded due care and attention.
His schedule this year has been crazy for someone who has a history of nasty niggles. Watson has been on the international treadmill since the start of February when he was in the West Indies with the Australia one-day squad. He had a handful of days off after that tour before flying to India for a Test series which finished on March 24. His time was truncated as he was sent home for bad behaviour but the mileage counter was still working overtime. From then until the start of the IPL on April 8 was one of his longest breaks.
IPL duty with Rajasthan finished on May 24 and he was soon in England for the ICC Champions Trophy from June 8 to June 17. The Ashes followed in July and from that series it has been non-stop. From the start of the one-day series in England on September 3 to the final limited-overs bash in India on November 2 (not forgetting six Champions League contests in India), Watson has played 20 matches in 61 days in three countries. Factor in practice and travelling days and he has barely had a minute to himself.
Frankly, it is dereliction of duty on the part of Australia's management. As their one genuine Test class all-rounder, Watson offers crucial balance to the Australia team. He is a lynchpin. The glue which holds them together. Anyone would think that Michael Clarke didn't like him.
Australian Wallet
Remember, that to bet on The Ashes you will need to transfer money to your Australian Wallet. Find out more in our video. 
Discover the latest articles