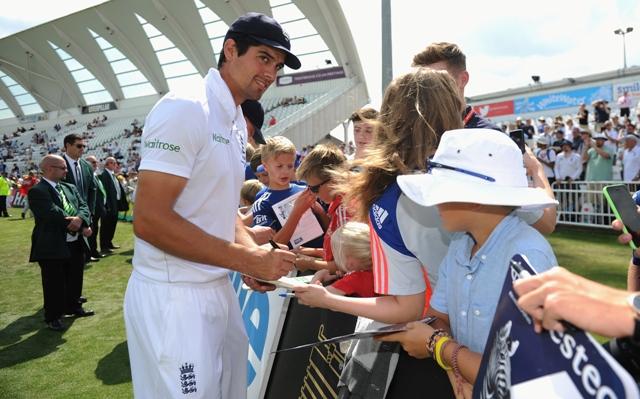 Cook celebrates England's win at Trent Bridge
Ed Hawkins tries to work out what is going on inside the heads of England and Australia as a meaningless contest at The Oval approaches...
"Few could criticise England that if in a period when Australia got on top their reserves of determination were found to be wanting"
For a sporting rivalry as ancient as the Ashes it is rare that an event occurs that could be considered surprising or uncommon. It might, for example, be Glenn McGrath not predicting a whitewash or the English press failing to call for the sacking of the captain, coach and tea lady after a single defeat.
At The Oval from next Thursday, however, something unusual will transpire in the context of a series which dates back to 1882. For the second time in consecutive home Ashes contests England will go into the final Test not needing to win.
That has happened only once before since 1977. We are not privy to the dating history of Alastair Cook's folks but given that he was not born until 1984 it's fair to guess that they hadn't even been on their first cinema date by then.
It is unfortunate then that England have struggled to dominate in recent Ashes history because there is nothing that makes a punter twitch more than the unknown. Well, almost. A dead rubber comes pretty close so the combination of the two in Kennington will ensure few will be confident of the outcome.
How Australia perform in meaningless Ashes Tests when they have already won the series is a question which has been easy to answer down the years such was the regularity with which it was posed. Australia, you might recall, had something of a reputation for 'taking their foot off the gas' when the urn was safely retained.
It was a little unfair. In the last 14 such matches they won nine, losing only four. If they were the crumbs which sustained English supporters in the two-year hiatus between series ("well, if we play like we did at The Oval we'll be fine"), they were minute morsels in the diet of beleaguered fantasists.
It is rather amusing to think back to such occasions when Australia, who often included the great McGrath and Shane Warne in their ranks, could have been considered unreliable in such circumstances. It is also an indictment of how one-sided the series' used to be when no-one in their right mind might wondered how England would fare if the roles were reversed.
So, how do England stack up in dead Ashes Tests when they have already won the series? Not so well it transpires. Since 1979 there have been five such matches and England have won just once, losing twice. As a study period it is too small to draw a significant conclusion but it could be the beginning of a trend which could be classed as untrustworthy.
England, are, of course, making all the right noises ahead of the fifth Test. Joe Root, perhaps auditioning for the England captaincy, said he and his team-mates are "desperate" to win to avenge the 5-0 humbling in the preceding series.
We don't expect Root to say anything else and it will provide succor for those who believe England to be value at [2.42] to make it 4-1. After all, it is not stretching the imagination to claim that the only impediment to England twisting the knife into the belly of a doubled up Australia, who are [2.78], is any dip in intensity of professionalism.
It is hard to judge, though. Test cricket is darn tough and few could criticise England that if in a period when Australia got on top their reserves of determination were found to be wanting. This is a long series.
There is a warning from the past. In 2013 England were talking themselves up as being similarly keen to assert their superiority with a 4-0 win. It was potential historic stuff then, too, as no England team had ever won a home series by such a margin. "That's our motivation," said Cook.
It was nonsense. England treated the Test as chance to experiment. They picked Simon Kerrigan, the Lancashire spinner, as they fielded two spinners at home for the first time since 2009. Chris Woakes was handed a debut instead of the more experienced Chris Tremlett. The result was dull, lacklustre cricket and a draw. A repeat is [4.7].
England were bullied by Shane Watson andSteve Smith and were grateful for poor weather denying Michael Clarke the opportunity to take the Test by the throat. Instead he gambled. Set 227 to win on the last afternoon England reached 206 for five. That score gives a wholly misleading impression of where the balance of power lied.
If we are nervous about England, then we have to feel the same about Australia. They, too, have been saying the right things. Here's Mitchell Marsh, the all-rounder, allaying any fears that Australia won't be off for Clarke's final Test.

"As an Australian team you go out to win every Test match, and even though the series is over we've got a lot to play for in this match as everyone knows," Marsh said. "To send our skipper out on a winning note is a big emphasis for us, so we'll be doing everything we can. We've been working extremely hard off the field to try and get it right on the field. So we'll be doing everything we can."
So they'll be doing everything they can then. Australia's backers and supporters might be curious to know why they weren't doing said "everything" at Edgbaston or Trent Bridge, chiefly showing the commitment to the cause by batting with even a modicum of sense and respect for each other.
It is an uncomfortable truth that Australia have not tried or worked hard enough when the series was alive. That is an indisputable fact. It is also true that the camp is an unhappy one as the myriad of press reports in England Down Under attest. Clarke is not with the side in Northampton for the tour game and Brad Haddin has gone home. They are fractured.
Infected with indolence, insecurity and tension Australia are hardly likely to find life easier. They are not good enough to suddenly be able to turn it on.
A wager on either side comes down to a question of trust. Who do you trust more to show resilience and fight? That underpins almost every Ashes contest of the last 130 years. Maybe we are not entering unknown territory after all.
Ed Hawkins P/L
2015: +£232.80
2014: +315.10
2013: +250.80
To £10 level stakes (unless otherwise stated), based only on available prices. Does not include back-to-lay in-running match advice or commission rate.
Follow Ed on Twitter @cricketbetting