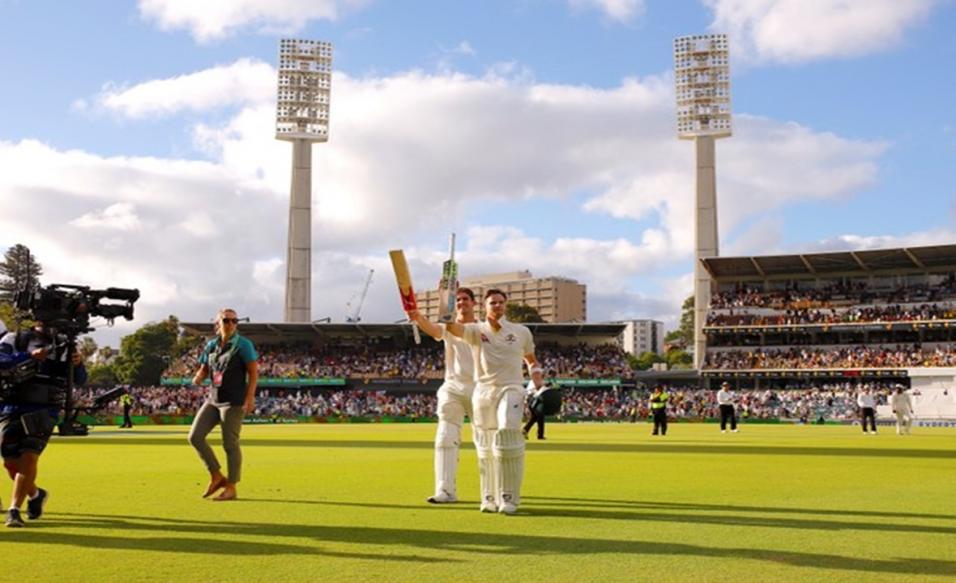 Smith and Marsh's record-breaking partnership will resume on 301
Australia have taken total control at the WACA and are odds-on to wrap up the series over the final two days. However with rain in the air, England's hopes are not completely lost just yet...
"Often we see the rain threat overstated in cricket markets...If Australia declare around lunchtime, leading by say 300, that leaves them five sessions...plenty on what we've seen so far."
Latest score: England 403, Australia 549-4
Match Odds: Australia 1.66, England 130.0, Draw 2.54
England's hopes of retaining the Ashes hang by a thread after a relentlessly one-sided day in Perth. Having resumed on 203-3, the hosts added 346 runs for the loss of just one wicket and, with little incentive to declare yet, must be expected to score at will in the morning. 700 is very much on the cards if they want it.
However while winning the series is now near-impossible - it would require Australia to open doors in this match that simply don't exist - all is not completely lost. If they can salvage a draw and win the final two tests, England would retain the Ashes. To seize this final chance, their batting and resilience must vastly improve on their efforts to date.
Their hope primarily lies with the weather and predicting it correctly will be the key to getting the late betting right. There is rain forecast tonight and showers over the final two days. Recognition of that forecast is why Australia's odds drifted during the final session but I would caution against jumping aboard this bandwagon.
So often we see the rain threat overstated in cricket markets. If not relentless - and that isn't the forecast - very little time may be lost and a bit of cloud cover will in any case make wickets more likely. If Australia declare around lunchtime, leading by say 300, that leaves them five sessions and around 150 overs to complete the job. Even if they lose a third of those, 100 overs should be plenty on what we've seen so far.
Before backing England to achieve what would now be a heroic draw, remember the hard numbers of this series. England have only reached 250 twice in five innings, batting only 464 overs. Take out that amazing 237 Malan/Bairstow partnership from the first innings and that would read a lot worse. The average contribution of numbers 8-11 is merely 42.
Granted, this pitch is flat and there was no evidence whatsoever yesterday of conditions getting harder. Whether that was down to England's relatively tame bowling remains to be seen. The extra pace of Starc, Hazlewood and Cummins was menacing during the first innings, while Nathan Lyon is sure to get a lot more turn than Moeen Ali has out of the surface.
Until we actually see that Aussie threat in action, and indeed whether the rain is a constant threat, the draw will remain popular in the market. At current odds though, it makes no appeal and I'm happy to mostly stick with the positions already advised. Fortunately, I managed to get a well-timed partial lay of my big, poorly-timed pro-Australia bet from the first day.
#Ashes bet update from @paulmotty. Laid Australia 25 units @ 1.37 - therefore covering half the original stake of earlier 50 unit position. New p/l:

Australia +20.75 units
Draw: -25 units
England: -25 units https://t.co/VydSP64K6t

? Betfair Exchange (@BetfairExchange) December 16, 2017
I'm perfectly happy to be carrying that position now and, likewise, do not recommend any changes to the similar bets advised in my last two end-of-play updates. By reaching 400, Australia also delivered my seventh consecutive innings run winner of the series.
If you're looking for a new interest ahead of the morning session, consider these three options. Australia are 2.32 to reach 675 in their 1st Innings Runs. As they've got no reason to quickly declare, and can bat England out of the match, I expect this will shorten throughout the morning. 700 is my guess for the declaration.
Remarkably given that he's on 229 not out, Steve Smith isn't totally certain to be Top Australian Batsman. Mitchell Marsh is chasing on 181 and is a very powerful slogger. If you fancy him to outscore his record-breaking captain, 5.6 is available.
And finally Test Match End - betting on which session the match finishes - could become a lively market now. Naturally given the chance of a draw, Day 5 Evening is odds-on favourite but we're not even certain to reach a fifth day! Look out for big prices - say 8.0 or bigger - about Day 4 Evening and Day 5 Morning. I am not expecting any great resistance from England.

Bets already advised
Lay (oppose) the draw 8u @ 2.26
or
Back Australia 5u @ [2.14]

Follow Paul on Twitter @paulmotty and follow his live Ashes commentary @BetfairExchange