Ashes Top Bowler Betting: Starc and Hazlewood give hosts clear edge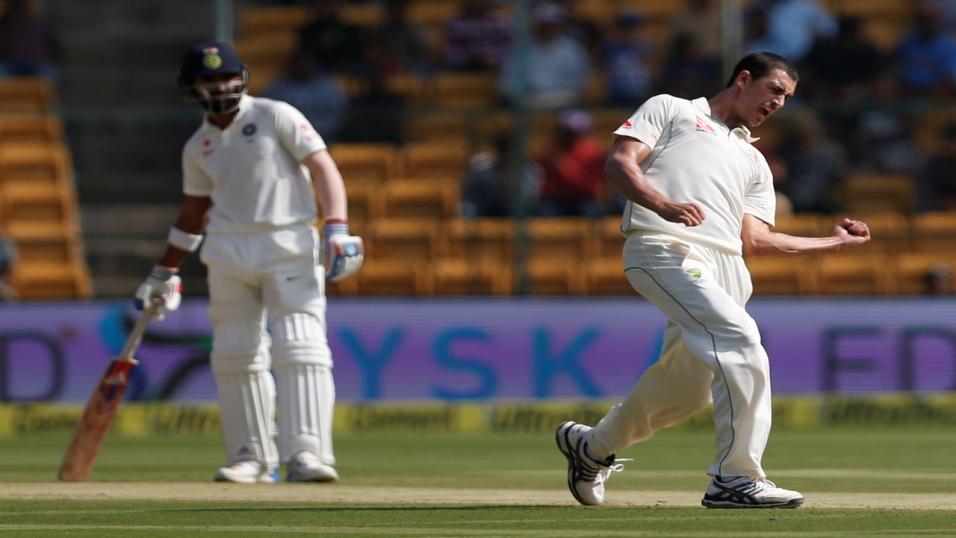 Starc has found form in the domestic competition
As our build-up to the Ashes continues apace, Ed Hawkins assesses the bowling strengths of the two sides where the hosts are likely to enjoy a clear pace advantage...
"Starc, in what must surely be the most impressive warm-up of all time, took back-to-back hat-tricks in the Shield. Hazlewood dutifully went about his business nipping one out here, one out there and generally looking like the real deal"
With just under two weeks to go, the Ashes picture is beginning to look a little clearer. Both Australia and England appear to have settled on their respective pace batteries, albeit by rather different methods.
Yesterday Australia withdrew Mitchell Starc, Josh Hazlewood, Pat Cummins and Jackson Bird from the final round of Sheffield Shield matches and sent them to Brisbane.
It was a sort of 'return to your constituencies and prepare for government!' sort of moment - apart from the bit that none of the four are from Queensland. But it sure was a statement of intent and was probably timed to make England feel that extra bit insecure.
Oh how the tourists wish they could appear so confident. Their route to deciding, actually, that's the wrong word, settling on their pace line-up has been more fraught. Steven Finn, the replacement for Ben Stokes, has been replaced himself after snapping a cartilage in his knee (ouch!) and then Jake Ball became a victim of the granite underfoot in Western Australia when he sprained an ankle.
Of course, the Aussie press seized on this. More disaster for England. Well, maybe. Personally as someone considering where to put my money this series, England being Ball-less makes them more attractive. He has a Test average of 114. And the series odds barely moved. Australia remain 1.434/9 with England 4.3100/30.
So instead of Ball and Craig Overton going head-to-head in a bowl-off against Cricket Australia for a spot alongside James Anderson and Stuart Broad, Overton has, rather like an England supporter given a free ticket to Brisbane and someone else's credit card, woken up in a dumpster and exclaimed 'bloody hell, how did I get here?'
The analogy is deliberate. Poor old Overton might have wished to get himself settled first before putting his career on the line, teetering between a glorious international career and the trash can of the county circuit for the next ten years.
Still, Overton has something about him. His 6ft 5in frame is de rigeur for an international bowler these days, so we shouldn't get too caught up about appearances. But what did catch the eye was how he kept it tight against the CA XI. In the first-innings he picked up just the one wicket but his economy was 2.66. Second time around he was a real menace, claiming two wickets for just ten off seven overs. That is excellent news for England.
Look beyond Anderson and Broad for top bowler value

There will, naturally, be some interest in his price for top England bowler. There is small change available at 12.5 but if there is some flow there are far worse shouts around.
This is because we are not overly keen on Anderson or Broad for wickets. Both have been there, done it and been hit out the park in Australia, although Broad would argue that he has been more effective than Anderson Down Under. Neither appeal at 2.26/5 and 3.02/1 respectively.
Chris Woakes, who razed CA XI in the second innings in tandem with Overton is 4.03/1 and it is fair to say the value has gone on him. He is an interesting bowler because we are not sure what his role will be. Before Overton's rise he could have been the guy to come on and try to hit the high 80s. But now he might be asked to get some shape on the ball. Does that make him more or less likely to take wickets?
A showdown likely for top Aussie

That is a similar conundrum to when trying to find a winner on the top Australia wicket-taker market. Essentially this looks like a match bet between the fast and furious Starc and the art and craft of Hazlewood.
Starc, in what must surely be the most impressive warm-up of all time, took back-to-back hat-tricks in the Shield. Hazlewood dutifully went about his business nipping one out here, one out there and generally looking like the real deal.
Not surprisingly Starc is the jolly at 2.3411/8 with Hazlewood slightly bigger at 2.89/5. It is a tricky call. In the last 12 months Hazlewood has more wickets than Starc but he has played three more Tests. Yet that could be the most important factor of all. Starc is injury prone and no-one would be in the least bit surprised if he failed to play all five.
On strike rate, Starc has the edge in the last 12 months pipping Hazlewood with 55.2 to 59.7. In Australia, encompassing both men's careers, Starc is out in front on wickets and strike rate. His 148 victims play Hazlewood's 118 with a rate of 5.9 balls fewer.
With these two fit and firing and wityh clear form on their side, this is where Australia have the most obvious edge on England, who are one more niggle from serious problems.
Ed Hawkins P-L
2017: +23.99pts
2016: +18.1pts
2015: +38pts
2014: +31.5pts
2013: +25pts
Based only on available prices. Does not include back-to-lay in-running match advice or commission rate. Figures 2013-2016 on 1pt level stakes. New points system (0.5pt-5) introduced for 2017. Includes Hawk-Eye stats column p-l
Discover the latest articles