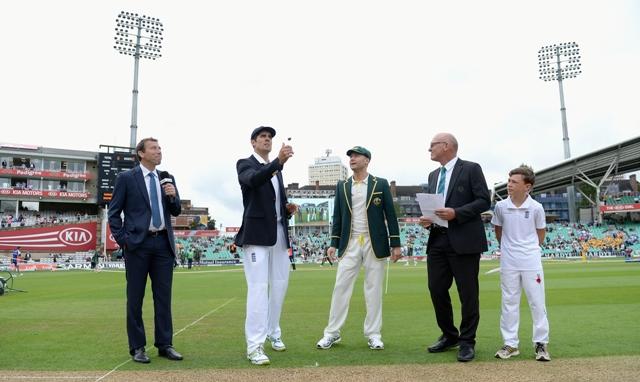 Cook flipped on day one at The Oval
Ed Hawkins was surprised by the captain's decision to bowl first and suggests that the draw price gives punters their best chance of a trade at The Oval...

"Cook, a chorister and esteemed piano player, cleared his throat for gangster rap and cracked his knuckles to smash out Great Balls of Fire in the vein of Jerry Lee Lewis. What next? Set fire to the piece with lighter fluid?"
Before the fifth and final Ashes Test there were more than a few worried words being exchanged about the impact of a dead rubber. Could England match their intensity of the previous contests? Could Australia discover some?
The less neurotic might have pointed out that it didn't actually matter. If England couldn't quite stoke the fire in their bellies to the same temperature then surely Australia, cowed and ready for home, would be even less effective than before.
What we didn't expect, though, was a personality transplant for Alastair Cook. If you win the toss in most Test matches, you bat first. If you win the toss at a Test venue which is renowned for favouring batsmen, you bat first. If you win the toss at a Test venue which is renowned for assisting spinners on the fourth and fifth day, you bat first.
This was unbridled hubris from Cook, the like of which we have not seen. A man who has been pilloried for negative captaincy - including batting on to the brink of stalemate instead of sensible declarations - has been knocking back the good juice with such abandon that he appears to have lost his senses.
Reckless is not a word one would readily associate with Cook, a chorister and esteemed piano player. But this was him clearing his throat for gangster rap and cracking his knuckles to smash out Great Balls of Fire in the vein of Jerry Lee Lewis. What next? Set fire to the piece with lighter fluid?
It is all very irritating if you have backed England. When Michael Clarke called incorrectly - the poor pup can't do anything right - those who had availed themselves of the [2.5] were plumping up the pillows on the sofa and preening their finery in readiness to sit pretty for the next five days. England could bat into an unassailable position on a belter of a track , demoralise Australia further and then wrap-up a historic 4-1 victory.
But no. Cook has showed that he has got caught up in the glory of it all. Or, to put it another way, he has believed the hype, namely that England are an unstoppable wrecking crew no matter what pitch they play on and Australia are, regardless of the conditions, set in concrete at the crease just waiting to be smashed to smithereens.
It is pretty arrogant. Cook and England saw a bit of grass and felt the mugginess in the air. So confident were they that Australia were inserted in the belief that all they need do was run up and bowl. Hell, they'd done it in the last two games so why not again?
It hasn't worked out that way chiefly because conditions at The Oval have never been similar to Edgbaston or Trent Bridge. It is a salutary lesson that it is not form or supposed psychological ticks that are king in this game, but conditions. They rule. No matter where you go in the world there are mantras which should not be scoffed at.
This series has proved that time and time again. When the ball swings and seams England are good, world beaters even. Their opposition, providing they hail from lands where deviation through the air is greeted with such awe as black magic, shrink in their skins as if the sky is about to fall in.
No doubt it will be proved true when England visit the UAE for the next Test assignment against Pakistan. It won't swing, it will spin. And England will suffer, especially if Cook, still delirious from the sumer of 2015 and all that, reckons bowling first on a raging burner in Dubai is a capital idea. And when the next Ashes series rolls around on fast, bouncy pitches they will be up against it.
The trick is to never get too high or never get too low. Cook has come a right cropper. A forgivable sin possibly as the chap is no doubt excited about what his team have achieved considering they were supposed to have been beaten out of sight by now.
Perhaps we should have seen it coming. His tearful post-match natter at Trent Bridge suggested that a formerly dour interviewee was about to let it all hang out. The irony is that he phoned each of his squad to check in the days before The Oval that there would be no let-up. Cook, grinning inanely and wild eyed, gave the game away at the first opportunity.
England are now horribly up against it. It could inspire great things but to listen to Graeme Swann, who spoke intelligently and honestly about what it's like to play in matches you don't need to win, one would guess not.
Swann said that there would be fewer nerves in the England camp. They would not go to bed worrying that tomorrow they could lose the Ashes. It was a significant edge that would be missing.
England have drifted to a whopping [10.5] with Australia [1.84] and the draw [2.7]. Most punters will hope that there is room for manoeuvre with the latter. Don't hold your breath.
In terms of trading this series has been a complete write off. Once a team has got on top they have stayed there, suppressing and eventually suffocating their foe.
Cardiff was probably the one exception. But you had to be quick. England were reduced to 43 for three before roaring back. At Lord's Australia thrashed the home side so by the end of day one they were almost out of sight.
By comparison to Edgbaston and Trent Bridge that was a game of veritable riches for those who like to duck and weave. Both those contests were effectively over within an hour.
Can England come back to restore parity? To keep us interested? Well, there should be no reason why they cannot score well themselves. The pitch is good, Australia's bowlers are tired and the scoreboard pressure which did for them at Lord's will surely be diluted if Swann is to be believed. If indeed there is no pressure, they can bat with freedom.
An England total of 400 will push the draw price well odds on. It might not come back if the weather forecast for the final two days - rain on both - worsens. But even then it could be argued the ship has sailed. The draw was [5.1] on the first morning.
Making money from here requires chutzpah and audacity. Now, where could we find some of that?
Ed Hawkins P/L
2015: +£243.30
2014: +315.10
2013: +250.80
To £10 level stakes (unless otherwise stated), based only on available prices. Does not include back-to-lay in-running match advice or commission rate.
Follow Ed on Twitter @cricketbetting