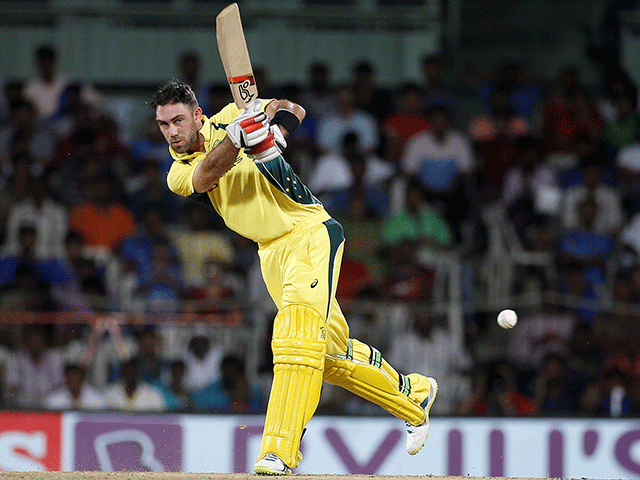 Maxwell is a possible No 6 for Australia
Ed Hawkins knows that England are up against it Down Under but it's worth remembering that the hosts have issues of their own to solve...
"Stokes's statement was, in short, a statement about why he wouldn't be giving a full statement until there was anything to give a statement about"
Whatever you think of Ben Stokes alleged fisticuffs outside a Bristol nightclub, it is impossible not to argue that the all-rounder is doing a terrific job of ensuring the focus remains on England and their Ashes preparations.
That, to be frank, is never ideal for a country whose cricketers have often been reduced to pea hearts Down Under, when the booze flows and the Fair Dinkums get on their back when they're in the outfield, at nets, walking from the hotel, out for dinner...
This week there have been no less than four Stokes stories doing the rounds. He was papped smoking a fag on a player's stag do, his kit manufacturer decided to sack him costing him a tidy £200,000 (which seems poor value to me but what do I know?), he then made a public apology to former glamour model Jordan for mocking her disabled son and then, just in case that wasn't enough, we had another statement.
This was made on behalf of Stokes by his agent Neil Fairbrother. The statement was, in short, a statement about why he wouldn't be giving a full statement until there was anything to give a statement about. Good to know. Tucked away in this latest press burp was his sincere wish that he did not distract his team-mates. Right. So, run that last bit by me again?
Maybe Stokes is going beyond the call of duty and is running a complex psychological ruse to take the pressure off his England brethren, taking a lead from Jose Mourinho's book. Ie, acting like a dick so all the attention is on him and the lads can just go play.
Whatever it is, the focus has not been on Australia. Which, of course, suits the Aussies just fine. While all and sundry with an interest in the Three Lions rings their hands about Stokes (don't forget our surprising stats package on him, by the way) getting on the plane or not, what Australia are up to has been completely forgotten. England's problems have cast a shadow over the whole series.
So it was rather good of Mark Waugh, the most glorious batsman ever to have bestrode the turf and now national selector, to offer a reminder that, get this, Australia have some worries, too. Of course no-one noticed because they're all still waiting for Stokes' next statement but punters who are considering steaming in on the Aussies at [1.50] for the series win might delay their finger click.
Australia don't know who is going to play at No 6 or 7. The former is an issue because they don't possess a genuine all-rounder because of an injury to Mitchell Marsh. And the latter means they don't know who their wicketkeeper is going to be.
England trump Australia here. Even if whatshisname is not involved, Moeen Ali will comfortably be the best all-rounder on show. As for the gloveman, Jonny Bairstow has risen to the challenge superbly over the last year.
Indeed, anyone who follows limited-overs cricket will be slightly disconcerted to hear that Australia are considering Marcus Stoinis as a possible No 6. Now, even if the ball does not swing in the least, England will be mighty pleased to see a thrash and bash bully, and not a particularly effective one at that, come in at four down.
Waugh also talked of the possibility of Glen Maxwell, Travis Head and Hilton Cartwright being given the nod. Again, these are players who have hardly shown aptitude for ODI international cricket let alone Tests.
When it comes to who will keep wicket, Waugh was throwing more names in the air. "Matthew Wade did a pretty good job in the subcontinent, he's had some tough places to keep on in Bangladesh and India, he's done a pretty good job without scoring the runs," he said. "He's disappointed with his scoring of runs since he's been back in, because that was one of the reasons we brought him back, to get some runs out of that middle to lower order.
"That hasn't happened, so he hasn't nailed that down, so that opens a spot up for conjecture. Peter Nevill's definitely there or thereabouts, we've got a young guy in Alex Carey who's making good inroads, and even someone like Tim Paine, his glove work's been excellent when he's been given the chance in the T20s."
Confusion reigns then. As does a seeming reliance on the shorter formats to provide longform performers. And we haven't even mentioned Steve Smith's shoulder injury yet. It's worth remembering all of that when the Stokes noise starts up again.
Ed Hawkins P-L
2017: +26.5pts
2016: +18.1pts
2015: +38pts
2014: +31.5pts
2013: +25pts
Based only on available prices. Does not include back-to-lay in-running match advice or commission rate. Figures 2013-2016 on 1pt level stakes. New points system (0.5pt-5) introduced for 2017. Includes Hawk-Eye stats column p-l