Ashes Betting: England prayers could be answered in Adelaide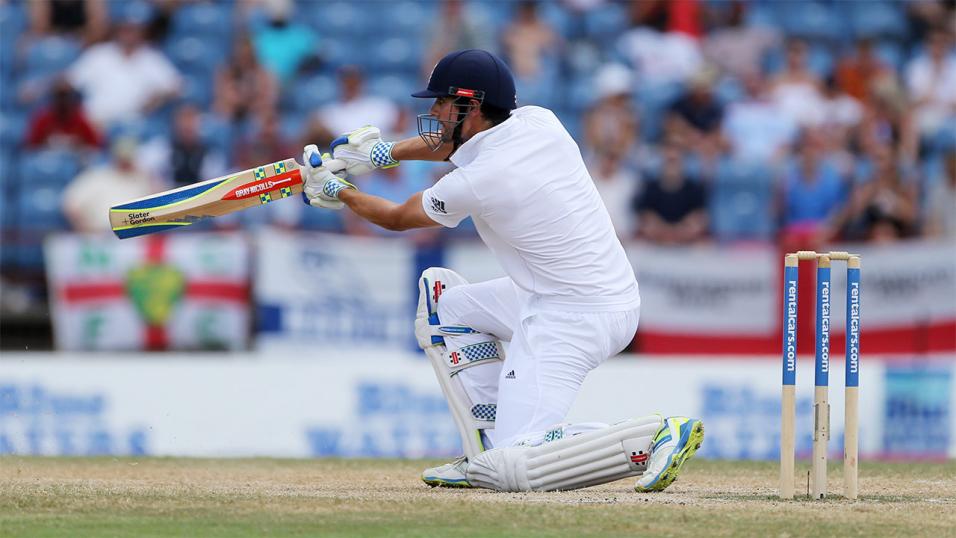 Cook has to find form
Ed Hawkins takes stock of the series outright and correct score odds after one game and suggests that all is not lost for the outsiders...
"The beauty of Adelaide is that, possibly, it gives punters to bet on one team at vastly inflated prices on a wicket which could otherwise be described as a leveller, when one probably isn't needed"
It is just as well England are heading to the city of churches. They are in need of a hotline to the Almighty. Adelaide, venue for the second Test which starts on Saturday, represents their best chance of winning a match on this Ashes tour. But lose, and the series has almost certainly gone.
Given that Australia are 1.222/9 from 1.402/5 for the urn after a 10icket win in Brisbane and England are 3.9 to equalise in South Australia, it appears that England could be on their knees for some time, hands clenched firmly together so their knuckles turn white only for it to transpire that no-one is listening.
It hardly helps that one game in this is already beginning to look like every Ashes tour, bar the heroics of Andrew Strauss' team, of the last 30 years. Injured players, others embarrassing themselves with off-the-field shenanigans, another prayer for a talisman to come in from the cold - this time Ben Stokes - and the ubiquitous beating in Brisbane.
But is it really another miserable tale of yore for the English? The suspicion is not, although that is largely held together by a wicket that waits in Adelaide that is supposed to suit the tourists more than it does the hosts. But more on that later.
What it is also based on, and whisper it, is the notion that Australia aren't actually that good. This column has been banging on about it for some time but once you see it with your own eyes it is easier to believe. There sure as hell is nothing for England to be afraid of. Well, apart from Steve Smith.
Removing Smith cheaply, one feels, will be the difference between England making it competitive and Australia being out of sight by Melbourne. Without his century at The Gabba, then Australia's unbeaten record since 1988 at the ground could have been under threat. Maybe had Moeen Ali - we actually think he was out, by the way - been given a different decision England might have eeked out another 100 runs or so to use in the fourth-innings.
Granted, we are talking about a couple of swings of a hundred runs. And it is also true that in recent Ashes series - particularly Brad Haddin on England's last trip - one man has often made the difference. But granted also that we're trying to talk up the outsiders here. Australia are 1.75/7 for the Adelaide Test, which is absolutely no fun at all. They supposed to look like short odds-on chances. And they don't.
That seems impossibly short about a team which has is slightly less holey than England. Their batting is far from fearsome. Cameron Bancroft looks likely to nick off, Usman Khawaja is a walking wicket to off spin, Peter Handscomb is vulnerable to the full and straight while poor Shaun Marsh is already under threat if Darren Lehmann's pre-Adelaide wish for an all-rounder chat is to be believed.
England, of course, have similar problems with their batting. This is what makes Alastair Cook's dip in form potentially disastrous. Joe Root, unlike Smith, might not be capable of doing it on his own. Nor will he have much time with England's tail as robust as a Tesco bag in a wind tunnel.
The bottom line is that these are two bog-average teams. And the beauty of Adelaide is that, possibly, it gives punters to bet on one team at vastly inflated prices on a wicket which could otherwise be described as a leveller, when one probably isn't needed.
If it seams and swings as it has done in the past in day-night Tests at the ground then James Anderson (who seems to be fit) and Stuart Broad should be confident of being a two-man wrecking crew. Chris Woakes, who was desperately disappointing at The Gabba, should also be a threat.
Now, of course Australia's Mitchell Starc and Josh Hazlewood could do the same against England's equally suspect batting. But, again, we're talking up the outsider here. It seems to be a fifty-fifty call which team will get the best of the conditions for bowling.
Another price which takes our fancy is the England +1.5 Tests. We mentioned this in our series preview, expecting it to be value now following Australia taking a 1-0 lead. It's currently 2.982/1 and that could look pretty big if the second Test goes as expected.
There are also opportunities on the correct score market if you believe that neither batting unit has the capability to knuckle down for a five-day stalemate. So the 5.85/1 about Australia 4-1 has to be name-checked. Likewise, er, um cough-cough, 3-2 England at 22.021/1. But maybe even England aren't praying for that.
Ed Hawkins P-L
2017: +23.29pts
2016: +18.1pts
2015: +38pts
2014: +31.5pts
2013: +25pts
Based only on available prices. Does not include back-to-lay in-running match advice or commission rate. Figures 2013-2016 on 1pt level stakes. New points system (0.5pt-5) introduced for 2017. Includes Hawk-Eye stats column p-l
Discover the latest articles