Ashes Series Betting: Australian bravado masquerades as nerves at another defeat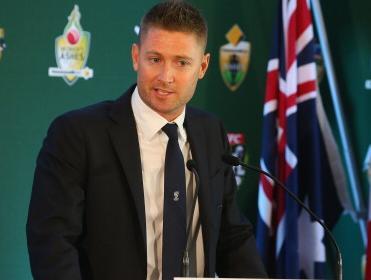 Australia have talked a good game but Clarke's team have barely improved
Ed Hawkins argues that the hosts have not had time to improve enough to overturn a 3-0 deficit and expects England to come home with the urn...
"What Australia required after the 3-0 humbling in the summer was a time for introspection, getting players fit and finding some ballast for the middle order. In other words, the proper two-year cycle of Ashes cricket."
There will be more than a whiff of déjà vu when Australia and England meet for a second five-Test series in five months. Nostrils will flair and pulse and, at times, it may well be overpowering. Well, for the Aussies at least. England remain superior.
Of course they are. The turnaround has been so short that, barring a plague of illness or injury, it cannot possibly be any other way. It is to the credit of the Ashes 'brand' that there is fire in the bellies of both nations for digesting the same fare.
Certainly it would be an error to confuse the gurgle of anticipation Down Under for a genuine belief that England dominance - they have won four of the last five - is set to an end. Perhaps it is nerves. The cat calling and sniping from Australians is typical but it betrays a deep-rooted worry that they are nowhere near ready.
It is difficult not to feel sorry for Australia. What they required after the 3-0 humbling in the summer was a time for introspection, getting players fit and finding some ballast for the middle order. In other words, the proper two-year cycle of Ashes cricket.
That they have not had that makes them a vaunted betting opportunity. A lay of them at 2.6413/8 to upset an 2.285/4 England side, who are one of the most efficient, tough and best-prepared teams in world sport is cast-iron.

Bowling resoucres stretched
Australia's problems have probably deepened since the summer. There was much talk that this series would be a rude awakening for England because of the emergence of fast tyros like James Pattinson, Jackson Bird and Mitchell Starc. It was a fair point.
They are all injured, though and Australia have been left with tried and trusted Ashes flops. Ryan Harris, Peter Siddle and Mitchell Johnson have not been good enough to earn Australia a series win in the last three so why should this time be any different?
Harris, who was the top wicket-taker in England despite playing only four Tests, was the only one of that trio not available for the first series in that sequence because of injury. And he will be swathed in bubble wrap in the hope he will stay fit. It is perhaps a forlorn one because he has never made it through such a hefty schedule before in his career. If he does break down, Australia have little back-up.
Siddle is a bowler one cannot help but like and he is an asset with his lung-busting spells and red-faced tenacity. Johnson on the other hand is easy to dismiss. He is quick and his left-arm action makes him awkward. More often than not, though, he forgets to pack his radar and his boasts of "aiming for English throats" sound impressive until the crosshair succeeds in only finding their backsides.
There are also injury concerns over Michael Clarke, the skipper, and Shane Watson. Watson is the most important player on either side and if there is going to be a surprise then it could all spark from him. The foolishness of overworking him - from the start of the one-day series in England to the final limited-overs match in India on November 2, he played 20 matches in 61 days in three countries - is baffling. Unsurprisingly, he has a hamstring strain.
Australia's chances of taking 20 wickets more than once look slim then. It is no wonder they have won only four of their last 17 Tests, including a sequence of six consecutive defeats which was halted by a draw in Manchester.
Bailey gamble
Their prospects of big runs are only slightly better. The search for a solid No 6 which was so vital has failed to unearth a pragmatic option. They have gambled and picked Tasmania's George Bailey, a one-day specialist with a first-class average of 38.
Bailey could be an inspired choice but at the moment he is the 'meat' in a very soggy sandwich with Steve Smith at No 5 and Brad Haddin at No 7. Smith, despite some impressive performances in England, can surely not make consistent runs at such a high level with a technique which resembles that mass of tangled wires behind the tv console.
When sliding to defeat in England, Australia often found themselves in trouble at three down and England knew they had exposed the soft underbelly. A young, inexperienced side was prone to horrendous sessions and that was why they failed to post ore than 300 in six innings.
All this does not mean that England are going to run away with it, however. They are not that sort of side. They are too circumspect to hand out the 5-0 beating which 'experts' like Sir Ian Botham have hyped. There have been enough holes in their preparation to suggest that in the first Test, in Brisbane, and the third, in Perth, where their record is awful, they are vulnerable.
The resolve is there in spades, though and unlike Australia they can cope with the odd niggle to key men. Kevin Pietersen has been troubled by a sore knee and Matt Prior's calf has been playing up but neither man are threatened by series-ending issues.
England's research
The tourists will have to improve their batting to make sure they return with the urn. In England they were strangely profligate - managing to pass 350 only four times as Australia worked out plans for their batsmen. There can be no doubt that England's technical support staff, which almost needed another plane, will have answers this time around.
It could be as simple as having fast and true pitches to work on. Alastair Cook, a run machine on his last visit, and Ian Bell, strokemaker supreme, will relish the quicker pitches. Cook will be able to return to the cut and pull shots which have served him so well while Bell could be about to enter a period of one of the top three batsmen in the world.
The Correct Score market will be popular and a 2-1 England success appeals at 9.28/1. A 3-1 win is 8.615/2, squeezed from the favourite slot by 2-2 which is 7.26/1. That is a runner and makes more sense than backing the draw at 5.59/2 on the outright because it would be amazing if the series ended 0-0 or 1-1.
If you do play correct score please ensure you have a '1' after Australia's name. They have failed to win a home Ashes Test only once since 1892. They are a poor side, but not that poor.
Recommended Bet
Discover the latest articles