Hawk Eye on South Africa v Pakistan Fifth ODI: Six markets decoded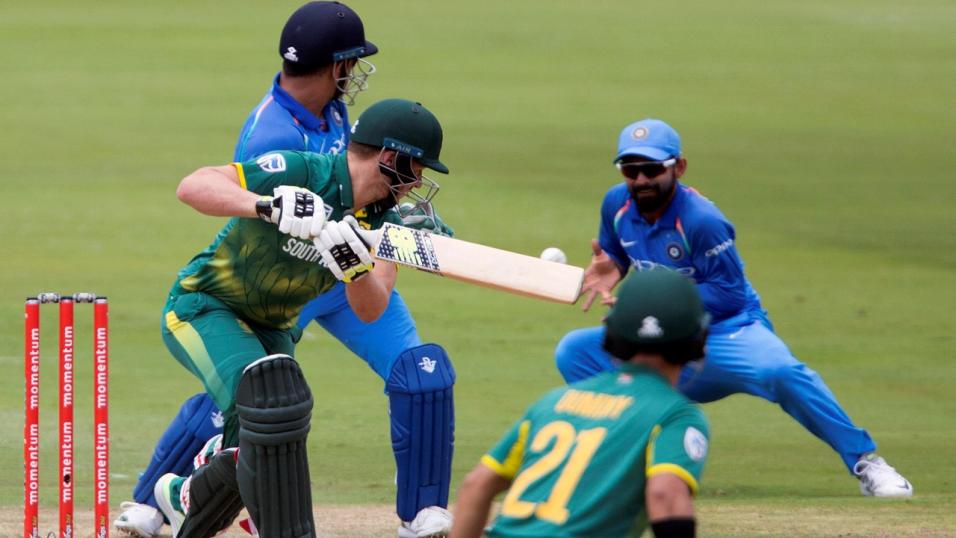 Miller has misfired
Ed Hawkins explains his thinking behind value-hunting on the maximums market ahead of the decider on Wednesday
"The rationale behind most sixes bets is to replicate the match odds but with finer margins. So if South Africa are favourites to win, they are jollies on sixes"
South Africa v Pakistan
Wednesday 30 January 11.00
TV: live on Sky Sports
Are Saffers right favourites?
Here are some scorelines of a four contest 'series': 4-5, 2-4, 3-2, 1-1. On that basis who would you make the favourite? The home team? The away team? Or a choice affair?
These are the six-hitting match bets for the series so far between South Africa and Pakistan. If you had wagered the Saffers at jollies in every single game, you'd be looking at a sizeable loss.
But South Africa are still favourites for the decider at Newlands, Cape Town. We're not sure that's right with prices of 10/11 about the hosts making us squirm uncomfortably. Pakistan are 5/4.
This column has racked up good profits on sixes bets over the last 12 months, most notably notching in the New Zealand-India series in the first two matches when the Kiwis, wrongly, were made the outsiders.
So far a sixes bet has not been struck in the South Africa-Pakistan contest, largely because we couldn't find our edge on the market. Per game averages are extremely informative on this market and there was a slither between the two. Presently, South Africa average 3.6 sixes per match overs the last 12 months and Pakistan 3.1. At the start of the series it was 3.6 versus 3.2.
Now, given the scores so far in the series - not to mention home powerman David Miller failing to notch a single maxi - and those averages it would be fair to reckon choice affair is the way to go. We suggested this at the start in this column.
Losers more likely
You would be right, perhaps, to admonish, for not advising Pakistan consistently on this market. At odds against in every game it would have been perfectly reasonable to have claimed they were value.
That we didn't was, frankly, down to greed. We want a glaring rick in our favour on this market instead of one more nuanced.
Theories will abound as to why South Africa are favourites with the numbers as they are. And it could be put down to simple home advantage.
We have always felt that their supposed superiority was to 'blame'. But with the series tied at 2-2 that doesn't seem to hold so much water.
The rationale behind most sixes bets is to replicate the match odds but with finer margins. So if South Africa are favourites to win, they are jollies on sixes. It would stand to reason that because they are the better team they are more likely to show more muscle. After all, there are fewer more equivocal sights of dominance than a batter launching a bowler out of the park.
However, New Zealand's six-hitting efforts against India must surely make the punter think again here. They have been outplayed and trail 3-0. On the sixes match best scoreline they lead 2-1.
This was to be absolutely expected on six-hitting averages. They had a clear advantage and, as we have said before, no team has hit more sixes at home than the Kiwis in the last 12 months.
Most interestingly, being kicked from pillar to post each game has boosted their six-hitting. It has been noticeable how a lot of their sixes have come with the game already up. Fast bowlers trying to blast away at the death because they have nothing to lose.
And to really torpedo the 'match favourite must be six jolly' theory, India have batted fewer overs because their bowlers have been ace. They have had fewer maximum chances.
Split stakes for top bowler bet
Here's a tricky one. We rate Usman Shinwari and Shaheen Shah Afridi at 2s for top Pakistan bowler (based on the number of times they win the market). How best to split the two?
Price, easy. Well, not so. Usman, who topped in game four to level the series, is 7/2. That's the same odds as Afridi.
Both are slippery pacers who could wreck the opposition under lights. Do we split stakes (for the first time ever on this column) and go with both?
That may be the smartest thing to do as we can't separate the pair. A half-point each it is.

Hawk-Eye P-L
2019 - points p-l: +13.26 (18 points staked)
2018 - points p-l: +5.86 (87 points staked)
2017 - points p-l: +5.29 (26 points staked)