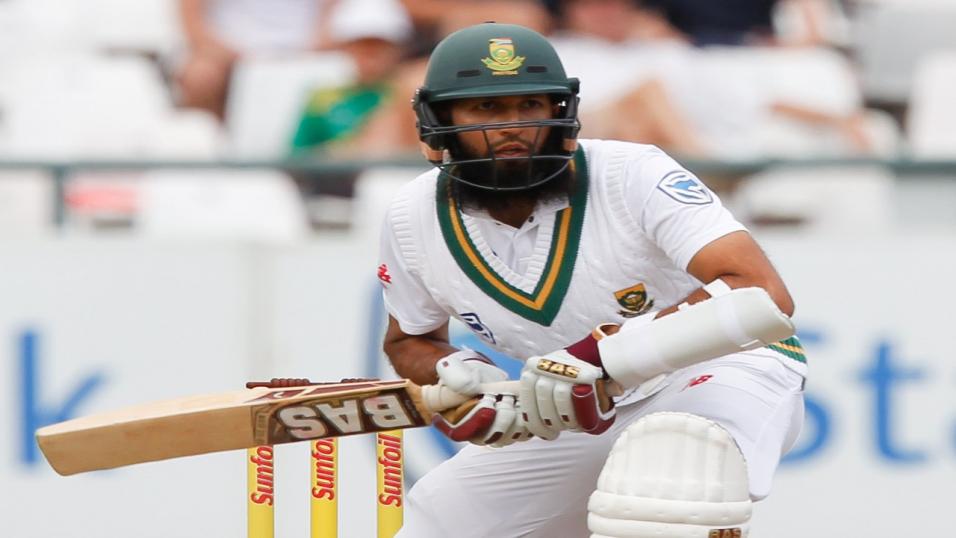 Amla has an amazing record at CEnturion
Ed Hawkins reveals the home batsman's extraordinary record at the ground ahead of the start of Saturday's second Test...
"In just 16 innings he has amassed 1,202 runs with six centuries and five fifties. He has failed just five times"
Spreadsheets, average this, average that, percentage points, true odds and false odds. Blah, blah. Sure, Hawk Eye loves the numbers but this week we're going to start with a story.
It was 2008 and your correspondent was on the London Underground. If memory serves the station was Victoria and the final Test of the summer between England (naturally) and South Africa was but a week away. And then I spotted him.
The rangy stride, the angled look, the magnificent beard. It was Hashim Amla. Just wandering around the joint without a care in the world, blending into the capital crowd despite his South Africa issue tracksuit saying that this was no ordinary mortal.
As any cricket tragic would do, I approached him for a conversation. Amla looked slightly taken aback, probably because I just shouted his name at him. And, seemingly, no matter where you're from everyone know you never make eye contact on the Tube, let alone converse. He shook my hand surprisingly softly for a man with iron wrists. Then I said "Flat wicket at The Oval, score lots of runs on that one."
Writing that now, it sounds like a demand. It proved to be one anyway. I backed Amla for top South Africa first-innings runscorer. Largely because I thought the fast nature of the surface would suit his style and technique. He made 36, falling 11 short of copping in a surprisingly low South Africa total. He then made 73 in the second-innings.
Now you would have thought that Amla would have been in my black book for ever more. Won't trust him again, etcetera. Not a bit of it. Ever since that starstruck London moment I have often looked for ways to bet him.
Any Test match at Centurion has always proved to be the most profitable route. The fast nature of the surface suits his style and technique. Amla, my mate, has a sensational record at the ground. In just 16 innings he has amassed 1,202 runs with six centuries and five fifties. He has failed just five times.
So naturally we are going to have to point out that with a record like that, Amla has to be value for first-innings honours at 7/2 with Sportsbook, possibly bigger on the Exchange when the market matures.
With such a weight of numbers behind him it is take your pick time. He is 5/4 on the Betfair Sportsbook for a first-innings fifty, 4/1 for a century in the same dig (this would be a superior call to a top-bat bet given Centurion's rep for runmaking) and 9/1 for a man of the match award. He is even money to beat 8/11 AB De Villiers in a runs match bet.
In 2016 we backed Amla for a first-innings fifty against England. He duly obliged. And - numbers, blah, blah - that is probably the smartest call of the Test because he should be much shorter.
Alas, there is some risk attached for our annual Amla wager. There's a problem. And it's a bit of a biggy. He isn't scoring any runs. In his last two Tests he has score only 12 runs. And he hardly lit up the stage for Cape Cobras in the domestic T20. Perhaps he's just been waiting for his return to Centurion.
Rabada the man again
For the first Test we were strong on Kagiso Rabada to finish as top South Africa wicket-taker in the first-innings at Cape Town. He didn't manage it, instead sharing honours with Vernon Philander in a dead heat.
Do we go back in again? Yes. For Newlands we rated him about a 5/2 chance when he was 16/5. Now he's chalked up at 3/1. And Centurion should suit him more than Newlands. Or rather, Centurion should not suit Philander as much as Cape Town.
Centurion is about pace and bounce instead of seam and swing. Rabada is a better exponent of the former qualities. He has 18 wickets in two Tests at the ground. Philander 22 in five.
Hawk-Eye P-L
2018 - points p-l: +0.84 (3 points staked)
2017 - points p-l: +5.29 (26 points staked)
To 1pt level stakes