Cricket Betting: Are England more unpredictable than Pakistan?
Pakistan v England

/ Frank Gregan / 20 February 2012 / Leave a Comment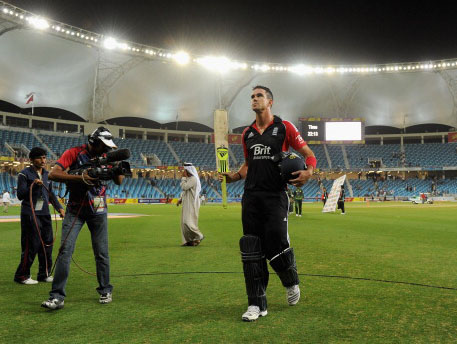 Kevin Pietersen scored a majestic century in the 3rd ODI after weeks of being totally out of form
"England, form and logic are three words that don't fit into the same sentence these days."
From Test match flops to ODI champs, the last two weeks have shown the best and the worst that this England cricket team has to offer, says Frank Gregan.
If you're reading this article there's pretty much two things that can be guaranteed. You're a cricket fan and you like having a bet. That's fine, the two go hand in hand and there's no doubt that having a financial interest in a game adds to the enjoyment. It's a great sport to have a punt on, it makes the hours studying the endless data on the game both enjoyable and fruitful.

Unless that is, you are an England supporter, then you probably have more idea about the composition of next week's lottery numbers than how your team is likely to perform in any given contest. Following England with your heart is fine, following them with your wallet is bonkers.

England, form and logic are three words that don't fit into the same sentence these days. Supposedly the best Test team in the world, they somehow managed to get totally mullered against Pakistan making the prospect of facing Misbah ul Haq's men (who had won 13 out of 14 of their previous ODIs) in a one day series about as appetising as a beetroot and custard sandwich.

England didn't exactly go into the series on the back of any decent one day form. They had been whitewashed 5-0 in India during their last series and any Betfarian who saw England being dominant against the Pakistanis this time around should look to start a new career as a fortune-teller.

Prior to the third ODI, Kevin Pietersen hadn't scored a one-day century in over three years. He had played 38 ODIs since his last ton and averaged just short of 25, scoring three half centuries along the way. Far more relevant than all the stats was how out of sorts he had looked during the Test series, he didn't seem to have a good innings in him. He was bamboozled by spin and looked about as confident at the crease as a spotty teenager trying to bag a prom date. Then suddenly he's transformed, he was nothing short of majestic as he carved the Pakistani attack apart on his way to a near faultless (not forgetting the life he was given on 45) century.

But it wasn't just KP, it was a team performance, they were superb. How does that happen? That's not a rhetorical question, it needs answering and not fobbing off with some blarney about the vagaries of sport at the highest level. Somewhere along the line there needs to be a level of consistency. Of course a side is not going to win every game, of course a team is going to throw in the odd erratic performance, one where seven or eight of the side under-perform at the same time but these should be one offs, not everyday occurrences. There seems to be no middle ground with England: it's all about the sublime and ridiculous.

So what does tomorrow's fourth ODI have in store? Which England will turn up, the mighty lions or a bunch of apathetic bunnies? England are [1.92] with Pakistan marginal outsiders at [2.06] and under normal circumstances, taking into account form and logic, England are tremendous value. But as has already been explained, England, form and logic are not three words to hang your hat on. That said, it's impossible to recommend anything other than another England victory given how well they have played in this series.

The one thing that English supporters are good at is getting carried away. Egged on by the media, they ride the boom or bust rollercoaster, one moment the team is "dynamite" next week it is "dog poo!" On the back of this little upturn in fortunes in the one day arena don't be surprised if English supporters are encouraged to look forward to World Cup glory in 2015. Let's not get carried away, we've heard it all before. Unfortunately, there is one vital ingredient required to win a World Cup that England lack - consistency.