Pakistan v Australia Test Series Betting: Underprepared Aussies face enormous task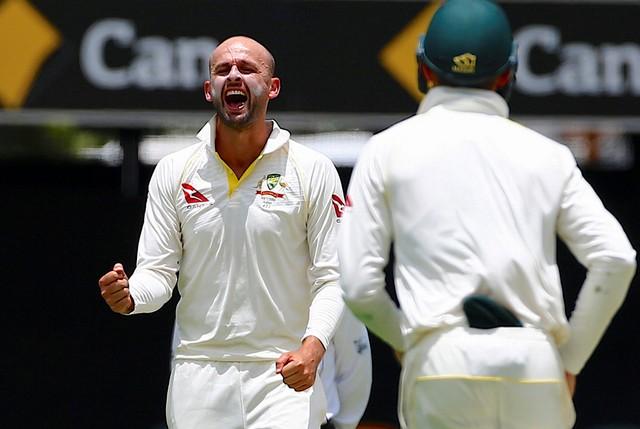 Nathan Lyon will have to be at his best
Ed Hawkins analyses the upcoming contest between two mismatched teams and wonders whether the hosts are really as good a bet as they seem...
"Pakistan have, as you would expect, a fantastic record against non-Asian teams in the UAE since they upped sticks there in 2010. They have lost only three Tests in 18, winning 11"
Pakistan v Australia
Sunday, October 7, 07:00
Tourists up against it
Pakistan and Australia meet in a two-Test series in the United Arab Emirates on Sunday week - and punters' pointers are poised to go big on the hosts with everything loaded against the Aussies.
To reckon Australia are up against it is an understatement. They will have to buck significant recent trends in the world game, their own history of failing against spin bowling and do so without, of course, Steve Smith and David Warner who remain persona non grata.
The planets are coming into line it would seem for a heavy bet on Pakistan. Sarfaraz Ahmed's team are [1.92] to win the first Test in Dubai. Australia are [3.25] and the draw is [5.3]. With a toss bias at the venue in favour of the side batting first, if it goes Sarfaraz's way then the surge of money for Pakistan could be enormous, even with the price shortening significantly post-toss.
It is understandable. As discussed previously, touring teams are struggling to compete in Test series. Shorter tours with no warm-up matches, the erosion of technique caused by the shorter formats and the simple fact that players find it hard to adapt to conditions to which they find alien mean that there have been only eight wins by away teams in 44 Tests in the last 12 months. That's a [5.5] shot. Those stats are a little skewed, however. Four of those were by Sri Lanka, three of which came in Asia.
Australia's recent record on turning surfaces make for horrible reading. They failed to win in Bangladesh last year although that was considered something of tick because of a 2-1 defeat in India, a 3-0 loss in Sri Lanka and a 2-0 reverse against Pakistan in the UAE all in the previous three years.
As easy as it is to pillory a team, whether it be England or whoever, for utterly failing to combat a phalanx of bowlers they rarely see on pitches they rarely set foot on, it is much harder to work out what can be done make them competitive, until you revisit the debate about scrapping the toss. Longer tours are not possible. Even arduous spin camps in the dustbowls of the sub-continent are not workable because of commitments to franchise tournaments.
Cunningly, Pakistan have not named a single spinner to face Australia in the solitary warm-up. How the hell are Australia supposed to prepare for such a challenge?
Pakistan have, as you would expect, a fantastic record against non-Asian teams in the UAE since they upped sticks there in 2010. They have lost only three Tests in 18, winning 11.
Pakistan a risky bet?
Still, why do we get the nagging feeling about going big on Pakistan at skinny odds is a risk? Probably because, just as our fingers are hovering over the 'back' button theirs is hovering over self-destruct.
The performance in the Asia Cup was hugely disappointing as they failed to convert sensational form from Twenty20 to even make the final. They have lost their fielding coach, Steve Rixon, whose parting shots involved claims of unprofessionalism and stupidity by the board. Not one to stand on ceremony, Steve. With Rixon gone, fielding standards dropped to schoolboy level with Pakistan taking only 30 per cent of chances.
Perhaps more disconcerting is the form of Sarfaraz, who admitted he hadn't slept for six days because of the Asia Cup fiasco. Sarfaraz, a lynchpin for the batting, is suffering because of overwork. Pakistan rarely name a reserve wicketkeeper so he has to play the warm-up matches, too. He is spread thinly across all formats andhasn't missed an international since he was appointed captain. It is beginning to take its toll.
Pakistan have, at least, made some bright calls on squad selection. Mohammad Amir has been axed with his poor record in the UAE noted - seven wickets at 56. Mohammad Abbas, so impressive in England, is now considered the chief seam and swing threat. Wahab Riaz is likely to be used as a shock bowler with the old ball but Yasir Shah and Shadab Khan, the spin threats, will surely be the game-changers.
Australia are without Josh Hazlewood and Pat Cummins, two of their top four wicket-takers over the last two years. Nathan Lyon, who tops the list in that period, does travel. One suspects that he will have to produce the performances of his life to protect a squad which has very much a one-day feel to it.
Ed Hawkins P-L
2018: +15.9pts
2017: +12pts
2016: +18.1pts
2015: +38pts
2014: +31.5pts
2013: +25pts
Based only on available prices. Does not include back-to-lay in-running match advice or commission rate. Figures 2013-2016 on 1pt level stakes. New points system (0.5pt-5) introduced for 2017. Includes Hawk-Eye stats column p-l