One-Day Betting: England could produce shoots of recovery at Rose Bowl
ODI preview

/ Ed Hawkins / 08 September 2009 /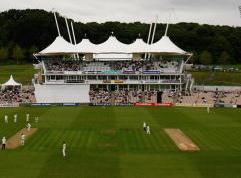 The Rose Bowl should be good for batting
"England are not a very good one-day side, Australia are not much better and that is why the matches have been quite close"
England have to be the value bet at inflated odds in the third one-day international against Australia, particularly if the toss goes their way, says Ed Hawkins
During Monday night's televised Pro40 match, former England all-rounder Dominic Cork was asked to explain the national side's sloppy 50-over performances. "The problem is," he said, "we can't seem to put a total on the board or chase one down."

As cricketing predicaments go, that is about as serious as it gets. Cork, of course, was confused as he over-egged the scramble that England find themselves in the seven-match one-day series against Australia. Already 2-0 down, they travel to the Rose Bowl on Wednesday to attempt to get off the mark.

They are [2.48] to do so with Australia, who have notched victories by four and 39 runs respectively, no better than [1.66].

To try to make sense of Cork's excitement, it is best to have a look at the facts before making catch-all statements. They are these: England are not a very good one-day side, Australia are not much better and that is why the matches have been quite close. For those reasons the hosts have to remain the value call.

These states may only be temporary. England are always likely to struggle until they unearth better players while Australia are without two of theirs, Ricky Ponting and Brad Haddin. It gives the series an inconsequential feel for spectators while both teams have looked nervous and edgy so far, particularly with the bat.

This best explains why both sides have left the batting powerplay until late in the innings. Batsmen are shy of taking responsibility, hoping someone else will take the game by the scruff of the neck, and effectively playing lazy cricket. The mindset is: we know we'll have to accelerate later so we'll leave the powerplay until then to make it easier.

Expect both batting powerplays to come much sooner in Southampton on a wicket which should favour the willowmen. Hardened county cricket followers will scoff at that sentence because the Rose Bowl has had a reputation for being the opposite. Things have changed. In five Friends Provident Trophy matches there earlier this season, the team batting first posted 300 or more four times, there were six centuries and 12 half-centuries.

Backing the side that bats first to score 300 or more could offer great value for this contest, as could backing more than 82.5 for highest individual score. A more mature 'century scored' market could see around [2.60] hovering below the 'yes' button.

Trying to work out who will score the runs also excites. England could bring in the fit-again Joe Denly at the expense of Ravi Bopara, who seems to lose a stroke a match. Australia could shuffle their pack, too. What about Mitchell Johnson replacing opener Tim Paine, who has been slower than dial-up?

A perusal of the List A records of England's batsmen at the Rose Bowl leaves one distinctly unimpressed. Andrew Strauss averages 16 in five matches while Matt Prior has a mark of just six from the same number of games. If those figures rule out the pair for top-bat honours, then they also rule in Owais Shah. Once dubbed 'the shah of Iran myself out', the Middlesex man is again under pressure for being caught short in the defeat at Lord's. But he averages a very impressive 45 at Hampshire's ground.

The best ground average of all the batsmen on show, though, belongs to Shane Watson, a former Hampshire player. His tally of 188 casts a veritable shadow over the rest. Michael Clarke, his skipper and also a Hants old boy, never got to grips with the surface and averages just 20.8.

England have played only three matches at the Rose Bowl, winning two. One of them came last time out against India when they posted 288. Ian Bell, a master of scoring runs on easy pitches, hit a century.

If they get the chance to bat first again, they should take it. Of those six Friends Provident Trophy matches, five were won by the side batting first. If they don't, they could be in trouble. In the last 12 months - this one's for Mr Cork - England have eight times bowled first and they have won only twice.
'.$sign_up['title'].'
'; } } ?>