Ed Hawkins: Sorry West Indies offer England shot at rejuvenation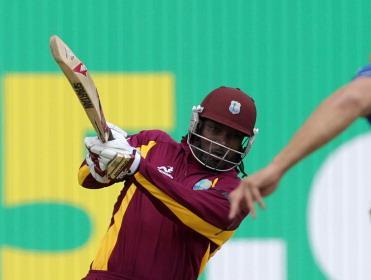 Gayle is absent for the hosts
Our cricket correspondent previews the three-match ODI series in the Caribbean, which starts on Friday lunchtime, live on Sky Sports
"Since West Indies won the NatWest series in England in 2007 they have won only two series (versus Sri Lanka and New Zealand) out of a possible 23 against top eight nations"

Recommended Bet
England to win 2-1 at 2.727/4
There is no better tour as a cricketer when in need of rejuvenation than the Caribbean. The sun, sea and sad slide of West Indies cricket ensures a fillip to flagging fortunes like no other destination on the world map.
So despite the 12-1 thrashing against Australia in the darkest of winters, England will arrive relaxed and with sunny dispositions ahead of the three-match one-day series, followed by three Twenty20s. They will be favourites to win both.
However, they are not as hot as perhaps they should be. Betting confidence is at rock bottom with English cricketers. No wonder, of the 40 matches in all formats in the last 12 months a 'lay' would have ensured a profit in 27 of them. 
For success in the ODI series they are 1.75/7 with West Indies 2.1211/10. It would not be unreasonable to expect them to be 1.608/13, although that is more because of West Indies' shocking recent record than English power. England are 1.84/5 to win the first ODI on Friday in Antigua, where all three matches will be hosted. 

Woe for Windies
Since West Indies won the NatWest series in England in 2007 they have won only two series (versus Sri Lanka and New Zealand) out of a possible 23 against top eight nations. It is a stunning example of just how scraggy the Windies have become.
These days they are considered competitive opposition for Bangladesh, Zimbabwe and Ireland. Indeed, the Irish took a match off them in Twenty20 in Kingston last week. 
Their task is made harder due to the absence of Chris Gayle. He will be left out of the squad because of a back problem in the hope that he can be fit for next month's World Twenty20. 
Undoubtedly West Indies are a weaker team without Gayle blazing away at the top of the order, and they certainly lose that x-factor which punters are wary of: 'what if Gayle has one of his good days?'. 
Surprisingly, though, their win percentage without Gayle is not as bad as you would imagine. It dips only five per cent to 38 since his debut in 1999. They have lost seven of their last ten, however, without him against top eight sides. 
Still, West Indies impotence at this level surprises. If you look through the potential roster there are players capable of winning games on their own. Sunil Narine, the spinner, Dwayne Bravo and Kemar Roach are all in the top 20 of ODI bowlers in the last two years. That's two more than England (James Anderson) can muster.
Unfortunately Roach, like Anderson, is not involved. He has a shoulder injury and in his absence much is likely to depend on the admirable Ravi Rampaul and young buck Jason Holder, who has appeared in the IPL.
With the bat, Kieron Pollard, another box office player, is injured so Dwayne Smith, Darren Bravo, Marlon Samuels, Denesh Ramdin and captain Darren Sammy must bat with maturity and responsibility that has so often been lacking. They have the ability to do it so the fact they often fail to knuckle down is a mystery. 

Young England
Perhaps facing a young and naive England outfit will focus their minds and give them a sense of superiority. Harry Gurney, the left-arm pacer, spinner Stephen Parry and Worcestershire bat Moeen Ali could all make their debuts.
It is supposed to be a bright, new era for England, billed as such largely because of the Kevin Pietersen controversy. It is, however, something of a fallacy. England have been trying to get along without KP for some time in this format and in the last 12 months he missed 11 out of a possible 15 outings.
There are enough senior players to justify the faith in England. Stuart Broad, the captain, Eoin Morgan, Ravi Bopara, Tim Bresnan and Jos Buttler are probably only a little more talented than some of the Windies 'stars' but they have the better application.
The difference between the sides could be Ben Stokes, whose emergence on the Ashes tour as an all-rounder who could be relied upon to sprinkle some star dust over proceedings was a major boost. He was excellent with the ball in the one-day leg of the Australia tour and his career average of 28 marks him as a class performer.
There is undoubted skill with the bat, too, despite an ODI average of 17. A Test average of 34 after only four matches and one century suggests he should be more than capable.
An illiquid series correct score market makes a 2-1 West Indies win favourite at 2.68/5. So the 2.727/4 about England winning 2-1 is the greater value. A 3-0 victory for the tourists is 5.59/2.
Do be aware that both teams could experiment. The respective camps have talked up the series as warm-up for the World Twenty20. Indeed, it was all Broad could talk about as the squad flew out from Gatwick.
"We don't spend a lot of time together as a T20 side, so we've got to make use of these next three weeks," he said. "We are going to Bangladesh in three weeks' time with an opportunity to show something different.
"When you've lost so many games over the last six months, it hurts, so we've just got to get back to winning to be honest. Twenty20 is about match-winners and taking the game by the scruff of the neck, so that's the challenge for this young group now.
 
Recommended Bet
England to win 2-1 at 2.727/4
Discover the latest articles