The pressure keeps ratcheting up on Alastair Cook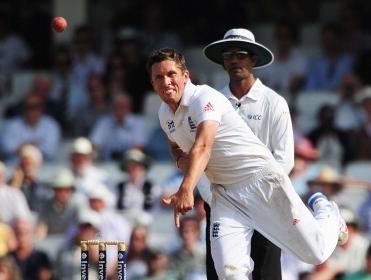 If Simon Kerrigan plays he'll be under a lot of pressure
Being captain of your country should be one of the proudest moments in anyone's sporting life but for Alastair Cook, that pressure just keeps building. Alex Johnson looks at the second test.
England look set to include spinner Simon Kerrigan in the side, who has done little this season domestically to suggest that he has made much of an improvement since last summer's disastrous debut against Australia.
Before a ball was even bowled at Trent Bridge, these two sides looked evenly-matched on paper.
And so it turned out as the docile Nottingham pitch ended any chance of a result.
The teams will therefore enter the Lord's arena all square, with pundits and players alike still with little or no idea as to who might come out on top.
Both skippers have asked for more pace and bounce at headquarters and, while they might get their wish to a certain extent, it still has all the makings of another high-scoring affair.
Both England and Sri Lanka scored heavily in their contest at Lord's earlier this summer and, with the batting talent on show this time around, there is every reason to suggest that a few more players might make the honours board by the end of the clash.
England do have an excellent recent record in north London, having won seven, drawn two and lost just one of their last 10 five-day games at the famous ground.
They have also enjoyed considerable success against the Indians, with the hosts having won three and drawn two of their last five encounters with the sub-continental giants since 1990.
Indeed, India have not won a Test at Lord's since 1986, when some of the current side had not even been born, and so they will be keen to address that situation over the next few days.
England look set to include spinner Simon Kerrigan in the side, who has done little this season domestically to suggest that he has made much of an improvement since last summer's disastrous debut against Australia.
It will be a big gamble to play the Lancastrian if he does get the nod and another failure could be terminal to his Test career.
But is it really necessary to play a spinner at the home of cricket?
The last time these two sides met at Lord's, England won by 196 runs and spin was not a factor, despite England boasting Graeme Swann in their ranks and the Indians selecting Harbhajan Singh.
The seamers took the majority of the wickets, with James Anderson and Stuart Broad prevalent for England, while Ishant Sharma took four scalps for the Asians in England's second innings.
All three bowlers look set to play a major part in proceedings once again, while Liam Plunkett could come into his own if the groundsman has been kind with the surface.
While the first Test ended in a predictable draw, it was not without its moments and two 10th-wicket century stands provided some light relief.
However, Joe Root's century and Anderson's heroics with the willow down the order only masked another England batting collapse and, had the number 11 made only his Test average, then Alastair Cook might now be back in the ranks with another loss on his captain's CV.
India's bowlers were as woeful as England's in trying to dismiss the tail and, thankfully for Cook, his side's wagged furiously for once.
Ben Stokes and Matt Prior were disappointing with the bat and will need to contribute this time around, while it is clear that Cook's lack of runs is becoming an issue and the longer it goes on, the worse things will become.
But the Essex batsman's recent record at Lord's is woeful, with scores of 28, 17, 12, 8, 21, 32, 3, 7, 79 and 26 in his last five Tests.
He has scored three centuries on the famous sloping pitch, however, and another one this week would remove some of the pressure that is weighing heavily on the left-hander at present.
There were plenty of positives for England from Trent Bridge, with runs from Gary Ballance and Sam Robson, while Murali Vijay's assured century helped the Indians establish themselves in the series.
It was difficult to gauge much from the contest, however, due to the placid nature of the pitch but Lord's should provide a better surface for everyone and the pacemen will be rewarded for bending their backs a little more than they did in the Midlands.
The farcical end to the opening match of the series at least saw a smile put back on Cook's face as he claimed his first, and what will probably be his only, Test wicket.
But will it still be there after another five days of battle in London?