Crunch time for Alastair Cook and Co.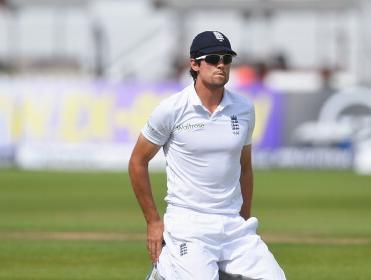 Pressure...Alastair Cook is learning all about pressure
Alastair Cook's goose wasn't cooked this week but he needs a big score against India to get the critics of his back.
Stuart Broad looks like he needs a rest while Ben Stokes appears to be batting with his head in the clouds and it would be no surprise to see Chris Jordan back in the side.
England take on India in the third Test on Sunday in what could prove to be a pivotal match for a number of England players.
It appeared as though Alastair Cook was drinking in the last-chance saloon before England crumbled to defeat on the final day at Lord's but surely now he has drained his glass and is well and truly in the taxi home.
Only the lack of any real alternative has saved the skipper's bacon and any repeat of the gutless implosion by England's batsmen in Southampton will surely be terminal for his captaincy chances.
But the Essex man is still there and must now try to raise his and his troops' morale for the trip to the Ageas Bowl for what is surely one of the most important games of his five-day career.
The big move for the hosts is the decision of Matt Prior to pull out of the rest of the series, with Jos Buttler now donning the gauntlets.
There were a few pundits who felt the Lancashire man should have been given the nod this summer anyway and, if he can transfer his one-day form to the Test arena, it could be the shot in the arm that England need.
But there is so much going wrong with this England team at present it is tough to see how one man can lift them out of the doldrums.
The senior players are not performing and, while the new faces are holding their end up to a certain extent, it needs a concerted effort by all concerned to fight back on the south coast.
Stuart Broad looks like he needs a rest while Ben Stokes appears to be batting with his head in the clouds and it would be no surprise to see Chris Jordan back in the side.
He did little wrong to be dropped in the first place and has proved himself a valuable member of the side when selected with useful runs and solid back-up to James Anderson and Broad with the ball.
Anderson was strangely out of sorts at headquarters and his heavy workload might be starting to show, but he remains England's best hope of bowling the Indians out and will probably get through plenty of overs in the coming match.
While it has always proved tough to beat India on the sub-continent, they have usually been a soft touch away from home but, having come through the test of batting on the proverbial 'green top' at Lord's they will be full of confidence for the third match of the series.
Ajinkya Rahane's first-innings century was a master class in how to bat in difficult conditions and he looks in great nick, while Ravindra Jadeja has added another dimension to the tourists' side down the order that England simply cannot cope with at present.
Bhuvneshwar Kumar continues to shine with both bat and ball and made use of the helpful conditions when his more illustrious England counterparts failed, and he looks set to be handful when battle resumes on Sunday.
But it was Ishant Sharma who made the real difference last time out, proving that the Indians can find runs and wickets from all sources throughout the team.
He had looked fairly insipid until decimating England second time with a blistering spell.
It is true he was helped by some of the strangest shot selections seen in recent Test history but he dangled the carrot and England's donkeys were happy to take the bait.
India's stars are currently putting their hands up when it matters, while the England players are hiding at the back of the class, fearful of catching the teacher's eye, but there is nowhere to hide in Test cricket and they have been exposed all summer.
In truth, there is probably not too much between these two sides and England do have the ability to hit back, but it will take a momentous effort, with confidence low and a captain living on borrowed time.