Alastair Cook needs to start strong in the first test against India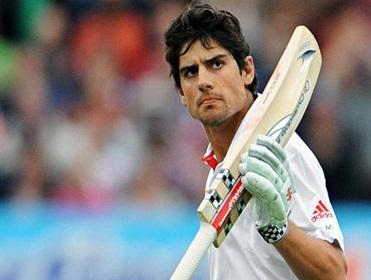 This is how Alastair Cook looked when not under tremendous pressure...
Alastair Cook needs to hit the ground running in the first test otherwise the noise surrounding his batting and captaincy may overshadow what could be a fantastic series.
These two teams were vying for top spot in the rankings three years ago and it was England who came out on top with a 4-0 scoreline on that occasion.
It is said that the first session of the first Test of a series is always the most important.
Never have those words been truer than for Wednesday's opener between England and India.
England skipper Alastair Cook is under tremendous pressure due to recent results, his own poor form and outside criticism of his captaincy skills.
If the hosts bat first then Cook will be first in and the spotlight will fall on his batting technique once again, while the knives will be out for the Essex man if England bowl and fail to take early wickets.
History is on Cook's side, however, as Trent Bridge has been a happy hunting ground in recent years, with five successive home Test victories at the Nottinghamshire venue dating back to 2008.
One of those triumphs came against the Indians in 2011 but they did lose to the sub-continental giants on the same ground in 2007.
Cook, however, has not enjoyed himself at the venue and has failed to hit the heights with the bat there. He will need to turn this around this week or the pressure will be ramped up another notch or two.
Selection issues for England surround Ben Stokes, who looks set to come in for the unfortunate Chris Jordan, who has done nothing wrong during his short time with the national side.
Durham's Stokes has a bit of the x-factor about him though and proved it with a superb century in Perth last winter as everyone else around him crumbled.
Matt Prior is an injury concern, with Jos Buttler called up as cover, but reports suggest that the Sussex man will be fit to play.
Barring a few knocks against Sri Lanka, runs have been hard to come by for the England top six but, with the likes of Gary Ballance, Moeen Ali, Joe Root and Sam Robson now in the ranks, there is a core of young talent ready to fill the boots of the old guard.
This will be their biggest Test of the summer, and it is a great chance for the quartet to nail down their spots in the side.
James Anderson's form will be key to the match as he is the one bowler who India fear above all others.
With no top-class spin option for Cook, it will be the Lancastrian who he turns to for wickets and, if the ball swings, the England slip fielders could be busy.
Anderson took 10 wickets in last summer's Trent Bridge victory over Australia and loves bowling on the ground.
Gautam Gambhir is back for India and should open the batting. He will be needed as MS Dhoni's side is in a similar state of transition to England.
Youngsters Shikhar Dhawan, Murali Vijay, Rohit Sharma and Cheteshwar Pujara are all new to English conditions but the latter is a class act, and it would be no surprise to see him shine this week.
The India attack does not look that threatening with Ishant Sharma now the leader of the pack and, with no Zaheer Khan to guide them along, the collective unit looks inexperienced and one that could be taken apart.
Ravi Ashwin provides options with both bat and ball and is the one class spinner in the sides this summer.
England have struggled to finish teams off down the order in recent series and Ashwin's ability to bat with the tail could be a crucial factor in Nottingham and for the rest of the series.
These two teams were vying for top spot in the rankings three years ago and it was England who came out on top with a 4-0 scoreline on that occasion.
Many of the personnel have changed since then and they are both now below the likes of South Africa and Australia in the five-day pecking order.
However, the rebuilding has begun and Trent Bridge will provide a clue as to which set of youngsters can handle the pressure of top-class Test cricket.