Alastair Cook & MS Dhoni want better pitches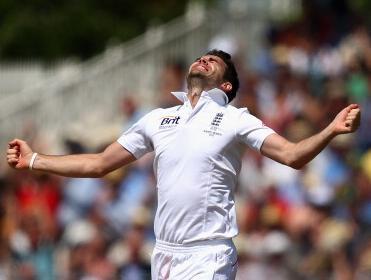 James Anderson worked hard but needs help from the groundsman
It has been billed as a key series for both England and India but if the pitches are this dead then it won't tell either team much...
Moeen Ali can do a job but it is folly to think that you can get through a Test series without a front-line slow bowler.
Cricket is supposed to be an even contest between bat and ball.
However, the Trent Bridge pitch for the drawn first Test between England and India was so far in favour of the batsmen that the only surprising statistic was that there were not more than the 1,344 runs scored.
Two last-wicket stands of more than 100 proved just how docile the surface was, and both skippers have called for faster pitches throughout the rest of the series.
Whether they get their wish only time will tell but, with the weather seemingly set fair for a while, the hope will be for more pace and bounce at Lord's later this week.
Both captains went into the match under pressure and defeat for England could have signalled the end of Alastair Cook's stint as captain - he probably has James Anderson to thank for keeping his job.
But, for once, it was not through having ball in hand that the Lancastrian excelled, but a career best 81 in a partnership of 198 with Joe Root ensured the hosts could not lose the match.
Anderson also worked hard when bowling and was well supported by the rest of the seam attack but England's desperation to get a top-class spinner into the team was nomore evident than in India's second innings.
Moeen Ali can do a job but it is folly to think that you can get through a Test series without a front-line slow bowler.
With that in mind, Simon Kerrigan has been recalled for the second Test and all who support England will hope he shows his true colours at headquarters and not the pale imitation of a bowler that we all witnessed against Australia last summer.
There were pluses for England in the Nottingham match, with Joe Root showing that his maturity as a five-day batsman may be ahead of schedule, while Sam Robson and Gary Ballance also got stuck in when the pressure was on.
Stuart Broad was excellent with both bat and ball and England must resist the temptation to throw him the captain's armband if Cook does get the hook during this series.
He is a vital member of the side and adds balance down the order, with his rapid 47 during England's first innings acting as a catalyst for England to fight back after another worrying mid-order collapse.
Ben Stokes looked lively with the ball in his first match back since injury but, along with Matt Prior, will need some runs in the middle order to arrest the current trend of mini-collapses, which are hindering England's chances of winning Tests.
And they will now head to Lord's without a win in nine matches while India have not tasted success in 15 five-day games outside the sub-continent.
It is a relatively new-look India side but one that has talent in abundance, with Murali Vijay's century at the top of the order setting the tone for a solid display by the tourists.
Bhuvneshwar Kumar excelled with both bat and ball in only his seventh Test and looks to have something about him.
Skipper MS Dhoni held things together in the first knock before the tail-end heroics ensured that England would have to work hard to stay in the match, but the fact that Ravi Ashwin was left out of the side was a huge mistake.
Like their England counterparts, the India seamers toiled away for little reward and the game was crying out for spin to try and winkle the lower-order batsmen out.
Anderson is far less at home facing spinners than seam and Ashwin might have been the man to make the breakthrough and send England packing for around 300.
That would have made all the difference and surely the talented all-rounder will come into the side at Lord's.
Despite the game petering out into a tame draw, it was enjoyable at times with runs coming from unusual sources but, with the pitch beating both sides in no uncertain terms, the hope now is that the rest of the series will be played on surfaces that will let the players prove which is the best side, something that both captains have asked for.