Hawk Eye on New Zealand v Second Test: Unpicking Kiwi's perfect pace attack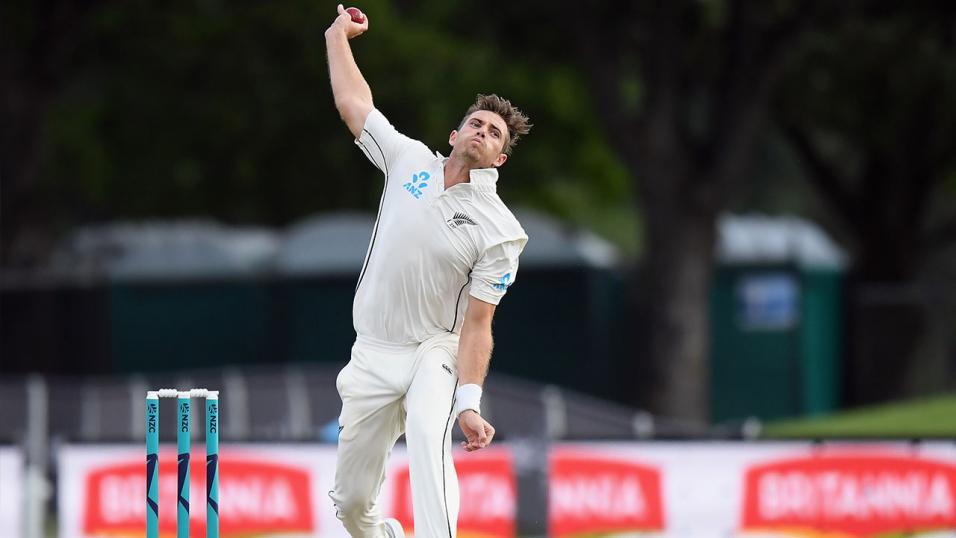 Southee superb
Ed Hawkins analyses New Zealand's home attack to find a top bowler winner for Christchurch from Friday
"Southee has 33 wickets in nine Tests with a strike rate of 35.6. Compare this to Wagner's record: 19 wickets in eight with a strike rate of 44.8"
Boult v Southee v Wagner
There is no more competitive market than top New Zealand bowler in the first innings of a Test match. The pace triumvirate of Trent Boult, Tim Southee and Neil Wagner is rightfully feared and revered by batters and punters respectively.
Between them, the trio have won more than 89% of the time in the last two years. Boult has win rate of 25%, Southee 31% and Wagner 33%. As we try to work out who is the more likely to do most damage at the Hagley Oval, we're grateful for Sportsbook ruling out Boult. Their price of 5/2 is slightly too short.
But how do we make up our minds between Southee and Wagner, who are both rated at 3/1? Southee possibly has an advantage having played in the first Test, and won man of the match, while Wagner missed out to be present at the birth of his first child.
With Wagner enjoying the greater win rate, it should be child's play that we get with the man who relies on brute force and pace instead of the more subtle arts. But when we filter home records in first-innings conditions in the last two years, Southee emerges as the master.
He has 33 wickets in nine Tests with a strike rate of 35.6. Compare this to Wagner's record: 19 wickets in eight with a strike rate of 44.8. Southee also has a better strike rate in first-innings in six Tests at the ground.
In an ideal world, Wagner may have to wait for a return considering Kyle Jamieson's excellent debut. His four wickets in first-innings denied Southee another notch on the market. But we would be surprised if New Zealand didn't drop Ajaz Patel for Wagner considering the average of 60 for spinners at the venue.
Jamieson could well torpedo the data again. He is rated at 4/1 by Sportsbook. If he continues in the same vein New Zealand will have an embarrassment of riches in the pace department.
Last two years NZ top batsman wins/matches
Williamson 6/24
Watling 2/23
Taylor 3/23
Latham 5/25
De Grandhomme 0/22
Nicholls 3/24
Blundell1/5
Southee 1/19
Last two years NZ top bowler wins/matches
Southee 6 t/19
Boult 5/20
Wagner 7 2t/21
De Grandhomme 1 t/12
Henry 1/6
Patel 1/8
Jamieson t/1
This week's episode of Cricket...Only Bettor asks: what's wrong with Virat Kohli?
Come on Kohli
It might be a good time for Virat Kohli to remind everyone who he is. Donald Trump's embarrassing attempt to pronounce is name might stir him in action.
He needs some sort of kick up the backside. He's costing us cash this series and he hasn't passed fifty all tour. This despite there being little technical evidence that he is out of form.
Kohli is 9/4 for top India first-innings runscorer with Sportsbook, a price that is hugely attractive considering his two-year win rate of 43%. Not as attractive as the 3.4012/5 available on the exchange, however. Throw in inexperienced team-mates like Prithvi Shaw, Mayank Agarwal and Hanuma Vihari in such testing conditions and he really should be going close.
If your faith has been tested once too often, the 11/10 that he scores a first-innings fifty is value. But only by 0.3% on implied probability in the last two years.

Last two years India top batsman wins/matches
Kohli 11/26
Pujara 5/26
Rahane 2/25
Ashwin 1/21
Jadeja 1/15
Pant 1/11
Agarwal 2/10
Vihari 1/8

India top bowler wins/matches
Bumrah 2 t/12
Shami 2 2t/24
Ishant 5 t/23
Ashwin 7 2t/21
Jadeja 1/17
Umesh 2/13
Hawk-Eye P-L
2020 - points p-l: -10.4 (25.5 points staked)
2019 - points p-l: +30.25 (133 points staked)
2018 - points p-l: +9.86 (89 points staked)
2017 - points p-l: +5.29 (26 points staked)