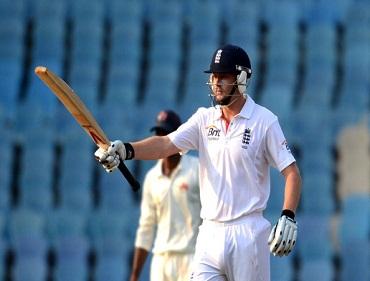 Can Jonny Bairstow stand up to the Indian challenge?
Despite a comprehensive victory in the First Test, the Betfair market has India at better than evens to beat England in Mumbai. Michael Vaughan says grab it before it goes
"There will be a result - the pitch was used three weeks ago and will spin and bounce - so if you're taking the draw out of the equation, it's India all day long."
The First Test was pretty much over as a contest on that first day. People talked about England clawing the game back with a couple of late wickets, but the damage was done by then.
The only players who came out with any credit were Cook, Prior and Swann. To beat India away from home you need at least five players to play well, with two playing exceptionally.
The batsmen will need to follow the example of the skipper. He didn't play any high risk shots and was watchful throughout, while keeping the scoreboard ticking.
For England to be in with any chance of victory, they need to be in the game at the end of day one and that means either winning the toss and be 300-odd for three, or to have India seven down.
Line-up
Ian Bell has gone home to be with his wife and new child, which means either Jonny Bairstow or Eoin Morgan will come in. 
Bell was looking fragile, so either player would arguably improve the batting anyway, but it's got to be Bairstow for me. Everything he has done so far, he has done well - he played well against South Africa and has shown he can play spin.
Obviously, playing India in India is a bigger challenge than anything Bairstow has faced before, but he deserves a crack.
On the bowling front, I'm sure they'll play Monty, particularly in the light of Andy Flower admitting it was a mistake not to play him in Ahmedabad. 
There is also a question mark over Stuart Broad's fitness (and form). Ian Botham has called for Stuart Meaker to be given a go, but I don't see the Surrey paceman overtaking Graham Onions in the pecking order.
Onions is one of the top three seamers in the country and, if Broad is still sick, he should play. But if Broad's fit, I would stick with him, for now.
My bets
Given India's dominance in the First Test, I'm astonished the Betfair market has them at [2.02] to win. There will be a result - the pitch was used three weeks ago and will spin and bounce - so if you're taking the draw out of the equation, it's India all day long.
I've read a lot that this wicket will suit England more because it will provide assistance for the seamers, but that's not a one-way street. Zaheer Khan will enjoy a track like that, meaning it could be even harder for the England batsmen than before.
I'm going to have more of a gamble with the Top Batsman bets on this Test. He could get nought or a ton of course, but I'll back Kevin Pietersen at [4.8] for England.
As for India, he's not in great nick, but a price of [6.2] for Sachin Tendulkar in his last game in Mumbai is too hard to resist.
It's been yet another tough week of training, physically. I've got three big lifts - again - for my Argentinian Tango, but I'm feeling confident after the good scores last time, so it should be another good weekend and hopefully the adventure will continue!