Mumbai Indians v Chennai Super Kings: Faf to start strongly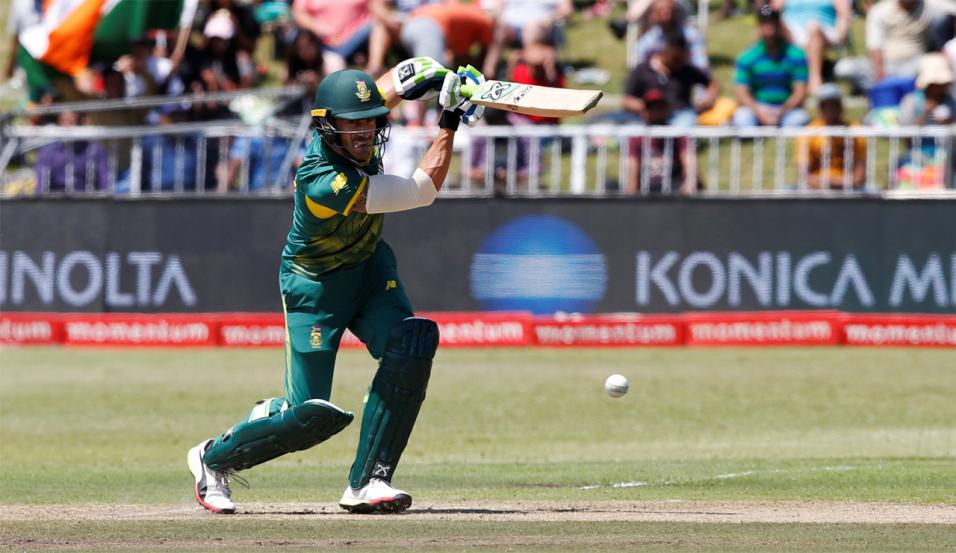 Faf du Plessis is fresh from a Test century in his last innings.
It's the opening match of the tournament between the defending champions Mumbai and the returning Chennai. All eyes on the South African skipper and an in-form big Aussie fast bowler, says Jamie Pacheco.
"Faf had a quiet Test series against Australia but signed it off with a brilliant 120 in the second innings of the Fourth Test. So he'll be feeling good about himself."
Mumbai Indians v Chennai Super Kings
Saturday, April 7, 15:30 BST
TV: live on Sky Sports Cricket
New-look overseas stars but Pollard still there
Mumbai are the defending champions but there's a new look to them this year in terms of their overseas players. West Indies opener Evin Lewis comes in to open in his IPL debut season, Australian fast bowler and useful lower-order hitter Pat Cummins finally gets a go at a top side and rubber-armed Bangladesh left arm quick Mustafizur Rahman has been brought in to display his bag of tricks.
But Mumbai have refused to end their obsession with Kieron Pollard. It may be a strange thing to say about the player who has played more T20 matches in the world than anyone else but maybe they should have let him go. Because despite being a genuine all-rounder who is also an excellent fielder, there are plenty of matches where he doesn't really contribute at all. But I guess the Mumbai management value his experience, knowledge of the team and many strings to his bow and think he'd be hard to replace. Besides, the fans just love him in that part of the world.
What's even more puzzling is the idea that Rohit Sharma might not open. Why would you not with a player who is one of the most feared openers in limited-overs international cricket? If he bats at three then ok but any lower than that (which has happened before) would be a huge waste.
Indian all-rounder Hardik Pandya was one of my five IPL players to watch this season and is pure box office.
Chennai old boys club
Chennai are back after their two-year ban and MS Dhoni will be welcoming back plenty of his mates from the good'ol days. Faf du Plessis, Suresh Raina, Ravindra Jadeja, Dwayne Bravo and Murali Vijay have all played for the Super Kings before. With the possible exception of Vijay, they're all likely to feature against Mumbai.
There's also room for the Marmite-like Shane Watson who will probably open and then a strong trio of India internationals in the middle order with Suresh Raina, Kedar Jhadav and Ambati Rayudu coming in ahead of Dhoni.
English quick Mark Wood is likely to be the fourth overseas player and he'll be joined in the bowling ranks by Shardul Thakur and remarkably...Harbhajan Singh. Yeah, he's still going. Imran Tahir will have to wait and see whether he gets a game.
As ever, they look strong particularly in their batting. But they also have plenty of veterans in that team and that might cost them in the field.
Indians understandable favourites
If you want to take Mumbai to beat Chennai at [1.78] then go ahead. I won't put you off. They're the defending champions, they're playing at home and they're up against a team who may need two or three matches to find their feet again: making the most of what worked well in the past as well as seeing where the new faces fit in.
Mumbai also look stronger on paper. But whereas Mumbai 'should' win, that's nothing the odds aren't telling you anyway and it's not a price that screams value, either. We can find better bets.
I think the traders at Betfair Towers have made a little mistake with their quote of 9/2 about Faf du Plessis being their top batsman. Maybe they think he won't open, but he probably will. That's where Chennai played him in the past and with their middle-order packed with strong Indian talent, it's hard to make a case for why he wouldn't bat up top.
Suresh Raina (11/4) is famously the players who has scored more runs than anyone else in IPL history but then again, he's also played more games than anyone else. He looks like his best days may be past him. Assuming Watson also opens, he'll have a chance of course but then again, he's considerably shorter at 16/5.
Faf had a quiet Test series against Australia but signed it off with a brilliant 120 in the second innings of the Fourth Test. So he'll be feeling good about himself.
There will always be an argument over whether you're better off going into a tournament like this rested after not playing recently or on the back of having played plenty. If you believe it's the latter, then you should look at Pat Cummins for top Mumbai bowler. The giant Aussie quick ended the South Africa v Australia series as the second highest wicket-taker with 22 and whereas I appreciate this is a completely different game in different conditions, it's proof of how well he's bowling.
Jasprit Bumrah is 3/1 and rates as the main danger but he hasn't played in a while and may be a tad rusty. Bangladesh star Rahman is 10/3 but he may not play at all if Mumbai decide they want an extra rounder, like JP Duminy or Ben Cutting.
It might be worth striking while the iron is hot and Cummins looks a decent bet at 10/3.