Indian Premier League: Five potential stars for IPL 2018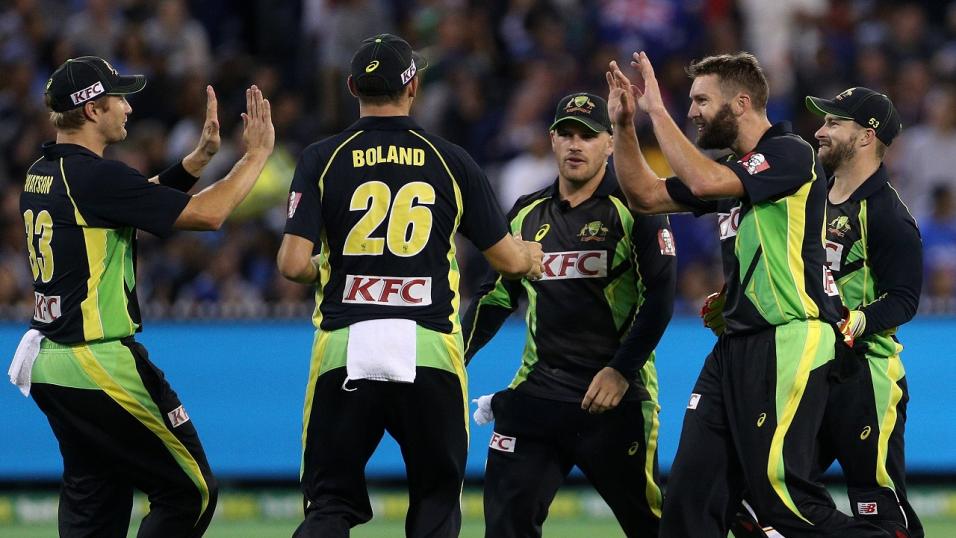 Andrew Tye (second right) could be a key man for Kings XI in this year's IPL
Ahead of the start of the IPL on Saturday, Jamie Pacheco has compiled a list of five very different players from very different backgrounds at different teams who have one thing in common: they could all be IPL 2018 stars...
"Few players have had more ups and downs in their careers than this man Karthik. You could say he's the David Bowie of Indian cricket, re-inventing himself as something different every couple of years."
Colin de Grandhomme (Bangalore)
To say the extravagantly-named Zimbabwe-born New Zealander was a late bloomer in top class cricket is an understatement.
He may have made his T20 debut back in 2012 aged 25 but it wasn't until he was in his late 20s that he finally established himself in New Zealand's side, where he is now an important player in all three formats and famed for his brutal batting.
The recent Second Test against England was also a reminder of what he can do with the ball. He took four third innings wickets, including those of 'proper batsmen' Ben Stokes and Dawid Malan with proper line and length bowling, which bears fruits in any format. And that was alongside knocks of 72 and 45, crucial in the Black Caps escaping with a draw.
But at heart he's a limited-overs specialist whose remarkable upper body strength and excellent eye has made him one of the most fearsome lower-middle order batsmen in the world. He strikes at a mind-blowing 167 in T20s. No game is over till he's out.
He didn't make much of an impact with the Kolkata Knight Riders last year but will get another chance this season at Bangalore. If Virat Kohli's side are to finally go all the way, a [5.1]chance, you'd think de Grandhomme will be at the heart of it all.
Andrew Tye (Kings XI Punjab)
They say that a captain's most important job is to win the toss but in the case of new Kings XI Punjab captain Ravi Ashwin, it's to make sure that Andrew Tye is one of his four overseas players when fit.
The squad also contains Chris Gayle, David Miller, Marcus Stoinis, teenage Afghanistan sensation Majeeb Ur Rahman and Aaron Finch and whereas you can see the merits of picking each of those, it can't be at the expense of Tye.
The Perth Scorchers bowler is as close as you'll find to a T20 specialist bowler, normally taking care of two overs at the top and then another two at the death. It's a mixed bag of yorkers, slower-ball bouncers, knuckle balls and stock deliveries and as a batsman, you could be facing as many as six totally different deliveries an over.
He's probably been the most important player the all-conquering Scorchers have had over the years and if he can adapt to Indian conditions as you'd expect him to, he's a lively contender at 14/1 for top wicket-taker honours.
Dinesh Karthik (Kolkata Knight Riders)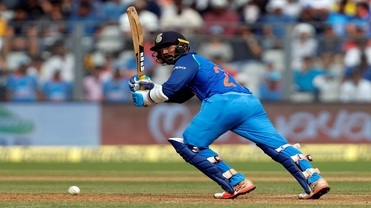 Few players have had more ups and downs in their careers than this man. You could say he's the David Bowie of Indian cricket, re-inventing himself as something different every couple of years.
At different times he's been opening batsman, specialist wicket-keeper, ace middle-order batsman and just recently for India, designated finisher. None more so than when he scored a barely-believable 29 not out off eight balls including a last-ball six to allow India to beat Bangladesh in the recent Tri-Series.
He's also spent the last decade or so being in and out of India's team in all three formats and is something of an IPL journeyman, now playing for his sixth IPL team, the Knight Riders.
But maybe now at 32 he's finally in his element. He's responsible for captaining the side and will relieve Robin Uthappa of keeping duties by taking the gloves himself. As skipper he'll also have the freedom to decide where he bats and it will probably be a horses-for-courses approach with him coming in anywhere between three and six.
The new added responsibility could just be the making of him, at last. Kolkata are [9.2] and with a squad packed with IPL specialists, that's not to be sniffed at.
Hardik Pandya (Mumbai Indians)
Traditionally, India haven't really done all-rounders. The closest you'd get would be MS Dhoni being an excellent keeper and gun finisher or Yuvraj Singh picking up a few cheap wickets to go with his batting when batsmen went after his slow left-arm teasers.
Bur Pandya (not be confused with brother Krunal, also at Mumbai) has changed all that. He's a genuine all-rounder with his medium-fast bowling, explosive batting and is also India's best fielder, bar Kohli. If you had to compare him with another player, you'd probably says he's similar to Ben Stokes.
Like Karthik, he's a 'floater', able to move up and down the batting order depending on the situation.
It all makes him a really tempting ongoing choice for man-of-the-match honours. He's 12/1 for the gong when Mumbai face Chennai in the opening game.
D'Arcy Short (Rajasthan)
Where has this bloke been up to now? De Grandhomme isn't the only one on this list to have taken his time to find his feet in cricket. And the Kiwi isn't the only one with the fancy name, either.
Short was the BBL's Player of the Tournament this year after scoring a remarkable 572 runs. All the more surprising given he's played just 25 T20s in his whole career. Given what we saw of him in Australia over the winter that's puzzling, given he's already 27.
But he looks set on making the most of his chances. For Hobart, runners-up in the BBL, he opened the batting and mixed brute power with smart shot selection and brilliant timing. It's a dirty word at the moment but he reminded us a bit of...David Warner.
His stats up to date make for some pretty impressive reading. Those 25 T2os have yielded one century, eight fifties, an average of 42 and he's hit those runs at a strike rate of 150. He hits an average of almost two sixes a match.
He'll open the batting for the returning Rajasthan Royals this year, He's 14/1 to be the tournament's top scorer at 14/1 and given it's his debut season, that might be a little too much of an ask. But he's 10/3 to be Rajasthan top bat and that looks pretty decent.