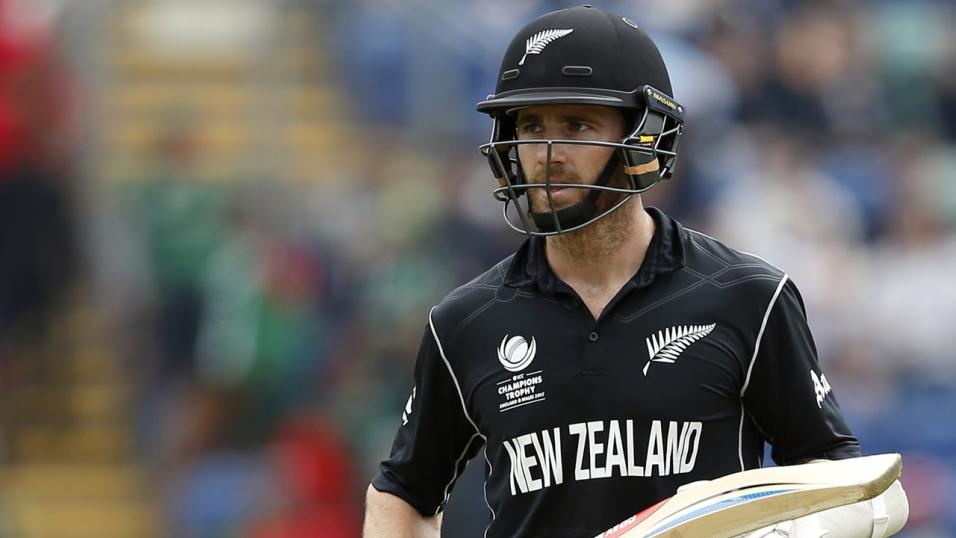 Kane Williamson has made some strange captaincy decisions as Hyderabad have lost their way
Ed Hawkins bemoans Sunrisers Hyderabad throwing away momentum in the title race and say it should cost them dear
"So now Sunrisers have been chewed up and spat out. They are on a four-game losing streak. They have gone from being revered, perhaps even feared, to being dismissed as one-dimensional"
Careless Kane loses 'Big Mo'
Momentum. That's one of those buzz words associated with modern sport, isn't it? Get on a winning streak, the crest of a wave, and it can carry an individual or a team to extraordinary places. So they say. Sometimes it's called 'the Big Mo' (although we think this is mostly by brash Americans at baseball games stuffing their faces with hot dogs).
You don't mess with momentum, though. Definitely not. It is something to be prized, cosseted and cooed over like a newborn baby. For Christ's sake don't drop it. Don't experiment with it. Just keep on doing the same darn thing that you were doing the last time you took to the field. That's because if you lose it, it can be devilishly hard to get back. And then, suddenly, you find yourself on a different sort of wave. The sort that flips you up and sucks you down to the depths. You can't breathe. Will you ever surface again? Gulp.
Sorry, got a bit dramatic there. But I'm feeling a little sore. Sunrisers Hyderabad, our outright pick for glory, have treated momentum with such disdain and impertinence that their Indian Premier League campaign is almost in tatters. The Big Mo had them on the cusp of the final following a league campaign of extraordinary discipline and consistency. They qualified with three games to spare. But then they believed their own hype. They got clever. They started mucking about.
Four defeats later Sunrisers are playing knockout cricket having been beaten in the qualifier by Chennai Super Kings in Mumbai on Tuesday. If they fail to beat the winner of the Kolkata Knight Riders-Rajasthan Royals eliminator Sunrisers would have thrown away a dominant display in the group stage.
It is a wonder as to why Sunrisers would play fast and loose. Particularly when the Oxford Dictionary of Sports Science - who knew one existed? - describes momentum in far more reverential/terrifying tones than I could manage. Check this out.
The positive or negative change in cognition, affect, physiology, and behaviour [sic] caused by an event or series of events that affects either the perceptions of the competitors or, perhaps, the quality of performance and the outcome of the competition. Positive momentum is associated with periods of competition, such as a winning streak, in which everything seems to 'go right' for the competitors. In contrast, negative momentum is associated with periods, such as a losing streak, when everything seems to 'go wrong'.
We doubt that Kane Williamson, the Sunrisers skipper, had read that description. If he had, he wouldn't have started experimenting or rubber-stamping the resting of key personnel. Having been jollies for a second IPL title at one stage, Sunrisers are now rated at [4.8] with the Super Kings [1.83]. Everything has gone wrong.
One-dimensional Sunrisers
Chennai are the bread in this bitter sandwich. Ten days ago their eight-wicket stroll against Sunrisers suggested that Williamson's team had decided to take a mental break. Having posted a stiff 179, Sunrisers' normally excellent bowling attack - probably the best the franchise era has ever seen - couldn't land it on the strip.
Fair enough. Maybe the sweat and toil meant that a quick checkout would do Sunrisers good. But no. Next up against Royal Bangalore Challengers they thought they'd have some fun. They won the toss and decided to chase. A decision which seemed bizarre for two reasons. Firstly, they were hugely unreliable chasers and anything more than 170 was often too much for them. Secondly, there was no toss bias at the venue.
Their bowling was razed again. They conceded a massive 218. To further cock a snook at the Big Mo, they gave Bhuv Kumar a rest. His replacement, Basil Fawlty, sorry Thampi, conceded 70 off four overs. Yes. SEVENTY. Off FOUR. Bowl him again, Kane.
They were thumped by Kolkata Knight Riders in their next outing as Sunrisers, previously strolling around the place as if they owned it, couldn't put a foot right. They had lost their rhythm and confidence. Defeat by Chennai on Tuesday, then, was hardly a surprise even if it came in thrilling, narrow circumstances.
They were also criticised for axing Alex Hales, who gave them much-needed potential for fast starts, for bits-and-piece Carlos Brathwaite. They changed their death bowling plans to accommodate Brathwaite against CSK.
So now Sunrisers have been chewed up and spat out. They are on a four-game losing streak. They have gone from being revered, perhaps even feared, to being dismissed as one-dimensional. Sure, they can bowl. But can they bat?
The 139 they posted against Chennai in the qualifier was way below par. And as Chennai showed, there are only so many times a stellar bowling unit is going to haul them out of trouble. The pressure the batters put on the likes of Rashid Khan and Sid Kaul is immense.
Sunrisers may well beat the Knight Riders or Royals to set up a showpiece against Chennai. But the Big Mo is no longer with them. Chennai have it. And one from Kolkata or Rajasthan will, too, in the 'semi-final'. Sunrisers' challenge could well be over thanks to their arrogance and bizarre refusal to respect the game.