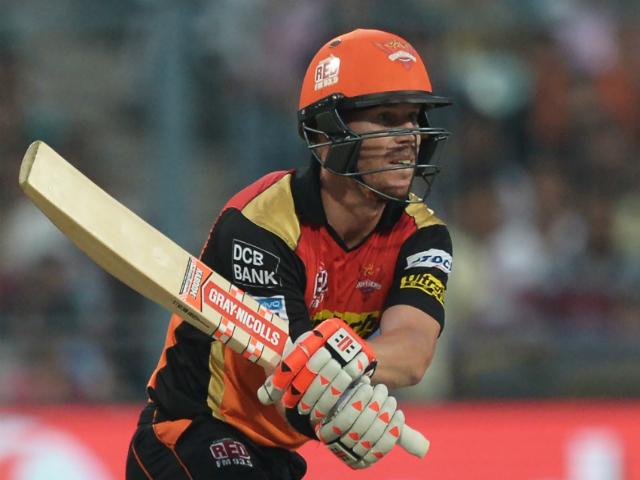 David Warner is a solid wager for honours
Ed Hawkins runs the rule over the batting markets and has two solid picks at decent prices before the tournament begins on Wednesday...
"The numbers suggest he (Warner) should take the spoils from Kohli with an extra innings or two."
One of the most significant punting trends will once again be put to the test when the Indian Premier League begins on Wednesday. Can the opening batsmen continue their stranglehold on top runscorer honours?
Virat Kohli notched last season to ensure that no one outside the Nos 1-2 berth has finished top of the pile since Shaun Marsh set the tone in the 2008 inaugural edition. In addition, 21 of the 27 top three runscorers for each year have been openers. It would be utter folly to look elsewhere.
There are, however, some minor complications this time. Kohli looked a shoo-in at [6.4] for a repeat until news broke that he was likely to miss some early matches with a shoulder problem. We don't want to be on a jolly when they will get fewer opportunities than others.
There are also doubts about David Warner, just behind Kohli at [7.4]. His confidence has been hit by a poor Test tour of India for Australia.
So it is worth perusing the possible openers for each franchise to search for unheralded value. Here's how we think they should line up...
Bangalore - Gayle [17.5], Kohli [6.4]
Mumbai - Rohit [13.5], Parthiv [50.0]
Pune - Rahane [17.5], Agarwal [70.0]
Gujarat - McCullum [22.0], Roy [27.0]
Sunrisers - Warner [7.4], Dhawan [17.5]
Delhi - Iyer [30.0], Billings [50.0]
KKR - Gambhir [23.0], Uthappa [25.0]
Kings XI - Vijay [27.0], Marsh [40.0]
There are some big numbers there, no? On the strength of some of those it would be easy to make a case for Chris Gayle. Sure, he had a lean time in the Pakistan Super League but he's not really a form player if you get me. He tries to tee off regardless so he will have horror runs. But in the next two he could easily notch back-to-back tons. The price available should be a couple of points shorter.
It is probably worth ruling out some of those names, too. Brendon McCullum, as we say every year, never threatens the big boys, Jason Roy is unlikely to play all tournament, while the same goes for Sam Billings. There is no evidence that Shreyas Iyer (injured anyway) at Delhi or Mayank Agarwal are about to finally live up to youthful promise.
At Mumbai Rohit Sharma is a class act and something of a forgotten man. Injuries have wrecked the last year for him so the price, annoyingly, looks about right. Just as irritating is the likely persistence Mumbai will show in Parthiv Patel. Lendl Simmons should be Rohit's partner. He has reliable pedigree in this format and is as big as [50.0]. If we knew Simmons would open, we'd be all over that.
We have huge admiration for Gautam Gambhir and the elegant Robin Uthappa with KKR and couldn't possible put you off so take your choice. Ajinkya Rahane looks underrated too and there are far worse bets.
Rather boringly we are going to stick with Warner. The numbers suggest he should take the spoils from Kohli with an extra innings or two although don't be surprised if Shikhar Dhawan reminds us all that he is no mug. We have been on him before.
Recommended Bets
Back David Warner top IPL runscorer [7.4] (1pt)
Back Chris Gayle top IPL runscorer [17.5] (0.5pt)

***

2016 - Top bat: 973 Kohli (RCB), 848 Warner (SRH), 687 De Villiers (RCB).
Top bowler: 23 B Kumar (SRH), 21 Chahal (RCB), 20 Watson (RCB)
2015 - Top bat: 562 Warner (SRH), 540 Rahane (RR), 540 Simmons (MI)
Top bowler: 26 DJ Bravo (CSK), 24 Malinga (MI) , 23 Chahal (RCB)
2014 - Top bat: 660 R Uthappa (KKR), 566 D Smith (CSK), 552 G Maxwell (KP).
Top bowler: 23 M Sharma (CSK), 21 S Narine (KKR), 20 B Kumar (SH).
2013 - Top bat: 733 M Hussey (CSK), 708 C Gayle (RCB), 634 V Kohli (RB).
Top bowler: 32 D Bravo (CSK), 28 J Faulkner (RR), 24 Harbhajan (MI).
2012 - Top bat: 733 C Gayle (RCB), 590 G Gambhir (KKR), 569 S Dhawan (SRH).
Top bowler: 25 M Morkel (DD), 24 S Narine (KKR), 22 L Malinga.
2011 - Top bat: 608 C Gayle (RCB), 557 V Kohli (RCB), 553 S Tendulkar (MI).
Top bowler: 28 L Malinga (MI), 22 M Patel (MI), 21 S Aravind (RCB).
2010 - Top bat: 618 S Tendulkar (MI), 572 J Kallis (RCB), 520 S Raina (CSK).
Top bowler: 21 P Ojha (DC), 17 A Mishra (DD), Harbhajan (MI).
2009 - Top bat: 572 M Hayden (CSK), 495 A Gilchrist (DC), 465 AB De Villiers (DD). Top bowler: 23 RP Singh (DC), 21 A Kumble (21), 19 A Nehra (DD).
2008 - Top bat: 616 S Marsh (KP), 534 G Gambhir (DD), 514 S Jayasuriya (MI).
Top bowler: 22 S Tanvir (RR), 19 S Warne (RR), Sreesanth (KP).
Ed Hawkins P/L
2017: +9.95pts
2016: +18.1pts
2015: +38pts
2014: +31.5pts
2013: +25pts
Based only on available prices. Does not include back-to-lay in-running match advice or commission rate. Figures 2013-2016 on 1pt level stakes. New points system (0.5pt-5) introduced for 2017.
*Follow Ed on Twitter @cricketbetting