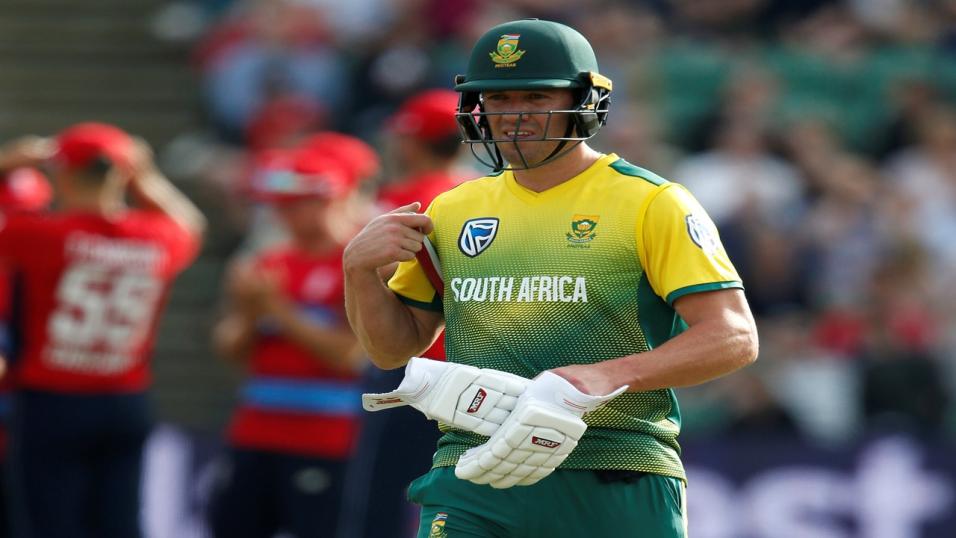 AB is in the running for top bat
Ed Hawkins talks pure numbers with Dan Weston who, as well as being the B.B tennis columnist, is a cricket data analyst who set up Sports Analytics Advantage in 2017. Dan advises pro teams and players how to make the most of their games...
"CSK have an ageing squad which is full of players with low expected batting strike-rates, as well as a bowling attack which will need Imran Tahir and Mark Wood to perform supremely if they are to do well"
The dynamics of a winning team
What does a title-winning franchise look like in your opinion? Focusing on a balance between batting power, pace and spin and whether any other combinations are important
Firstly I think it's pretty important to make a clearer definition of what we are looking for with regards to establishing which teams can win a title. I think that the goal for each team should be more focused towards qualifying for the play-offs. In an ideal world, they'd then be around a 60-40 chance to win subsequent matches, and I think that's as good as it can get - the rest is down to fine margins and variance.
However, in a recent study that I performed, teams coming in the top two in their league - thus getting favourable play-off scenarios - had clear dynamics.
To begin with, they used fewer players - around one player fewer on average compared to teams who did not qualify - so I prefer an approach focused around player quality as opposed to quantity. So a tight squad packed with decent players is preferable to those who have many 'bits and pieces' players who provide options.
Backing up this point, teams who qualified used 11.42 bowlers on average compared to 12.33 for teams who did not qualify, so it's important not to give bowling variety merely for the sake of it.
Other factors which have proven vital in franchise T20 competitions over recent years include batting average (26.01 for teams coming first or second as opposed to 23.33 for teams who did not qualify, and strike rate was less of a determining factor) and in particular team bowling averages and domestic player bowling averages, which were biggest drivers towards team success.
In short, it's virtually impossible for a T20 franchise to thrive without wicket-taking bowlers, and in particular, without having domestic wicket-taking options with the ball.
Which of the IPL teams do you like?
Having a good bowling attack is mandatory, so I quite like Kolkata Knight Riders (they also have the upside of two excellent young bowlers in Nagarkoti and Mavi), as well as Mumbai (depending on the bowling attack they choose), RCB and Sunrisers to an extent (although I'm less enthused with their ability to post/chase large totals with the bat).


KKR are currently [7.0] on the outright. And who could struggle?
Chennai Super Kings. They have an ageing squad which is full of players with low expected batting strike-rates, as well as a bowling attack which will need Imran Tahir and Mark Wood to perform supremely if they are to do well. Captain MS Dhoni is probably going to need to get them out of a lot of sticky spots as a finisher with the bat.

Players to watch, and avoid
Interesting. CSK are [10.0] to finish rock-bottom, folks. What about most overrated/underrated batter?
Some names for over-rated batsmen - Sam Billings, Yuvraj Singh, Ajinkya Rahane (from a strike rate perspective), Ben Stokes, Kane Williamson. Under-rated batsmen - Evin Lewis, D'Arcy Short, Ishank Jaggi, Prithvi Shaw, Shubman Gill, Lokesh Rahul, Colin Munro.


Most overrated/underrated bowler?
Over-rated bowlers - Ravindra Jadeja, Shardul Thakur, Mohammed Shami, Trent Boult , Tom Curran, Mitchell McClenaghan. Under-rated bowlers - Zahir Khan, Kamlesh Nagarkoti, Mark Wood, Sandeep Lamichhane, Rahul Chahar, MD Nidheesh, Washington Sundar.


Who will 'burst onto the scene' this tournament?
Some of the Indian Under 19 World Cup winning players have data which translates very well to future success - I mentioned Shaw, Gill and Nagarkoti above as players who are under-rated. It wouldn't surprise me at all if they become future superstars, potentially as quickly as this season if they are given a chance.
Of the overseas players, I'm surprised the West Indian opener Lewis wasn't more popular in the auction and he has the ability to put his name in lights. South African bowler Lungi Ngidi also has high potential but can be a bit expensive from an economy perspective, but he has age on his side and will improve. If Jofra Archer can continue his improvement, he can justify his price tag also - my algorithm has him as a better all-rounder than Ben Stokes already in T20, for example.
Two areas we often have to decipher is most runs and most wickets. Who do you think will go close in IPL?
To top the run-scoring charts, a player will need to score around 550 runs, at the bare minimum, in a minimum of 14 innings. This roughly equates to an average of 40 (assuming they bat every innings) and my algorithm gives the following players an expected average of this mark or above: Virat Kohli, Ishank Jaggi, AB de Villiers, Chris Lynn, Lokesh Rahul, D'Arcy Short, MS Dhoni, Lewis.
We'd probably rule out Jaggi (may not get a regular game, rightly or wrongly), Dhoni (bats too low down) and Lynn (injury prone) so we have a pretty decent shortlist with the remaining five. It wouldn't be a shock if Kohli or de Villiers was top batsman, given that they will play their home games at the high-scoring Chinnaswamy stadium.
For most wickets, the leading wicket-taker tends to bowl around 60 overs and take around 25 wickets, which works out at a wicket every 14.40 balls. No bowler in the IPL has an expected strike rate nearly that good, according to my algorithm (it takes extreme short-term over-performance to be a tournament top bowler) but the following are among the best expected bowling strike rates (sub 22 balls per wicket): Kamlesh Nagarkoti, Mark Wood, Bhuvneshwar Kumar, Rashid Khan, Ben Laughlin, Mitchell Johnson, Washington Sundar, Andrew Tye, Chris Woakes and Jaydev Unadkat.
Of these, Kumar, Khan, Sundar and Unadkat will almost certainly bowl their full quota of overs in every match and should be a decent shortlist, and Tye and Johnson probably will as well.
Great stuff Dan. Considering Rahul's fast start - a half-century in the opener - and a confirmed opener position we can happily wager him at 12/1 with Betfair Sportsbook on the top runscorer market. As for Woakes, he has made a fast start with the ball (three wickets) and 14/1 is still available on the Sportsbook.
Hawk-Eye P-L
2018 - points p-l: -5.39 (32 points staked)
2017 - points p-l: +5.29 (26 points staked)