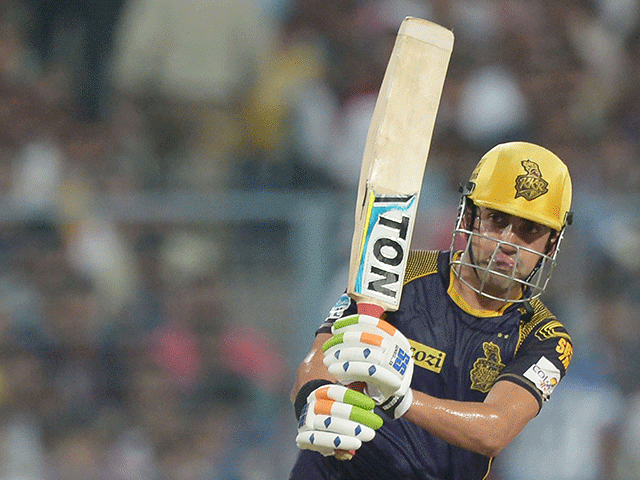 Gambhir will reform his partnership with Uthappa
Ed Hawkins analyses how KKR will adjust as soon as their destructive opener is ruled out of the tournament with a shoulder injury...

"What Lynn does is give a franchise an x-factor. An ability to dismantle attack in the way he does means a game can be out of reach by over six in the first innings and no target is ever safe"
When considering the potential impact on Kolkata Knight Riders of the almost certain season-ending injury to Chris Lynn, it is hard not to recall an episode from Alan Partridge. Emotionally traumatised and comfort eating, Alan had driven to Dundee without any shoes. "Lynn! Lynn!" he cried plaintively, wishing for his problem-solving sidekick.

As soon as Lynn is ruled out of the tournament, which could have happened by the time you read this, KKR management and the punters that gobbled up big prices like poor Alan consumed Toblerone bars, may well cry out in a similar vein. A dislocated shoulder will take a "substantial" time to heal while there will be pressure from his home Brisbane team to get him back on the plane as soon as possible.

Jacques Kallis, KKR's mentor (whatever that is), was already opining the injury. And far be it from us to suggest that in his post-game days Kallis might resemble a bloated, drained Partridge.

"We are awaiting the results of the scans to Chris Lynn's shoulder which he dislocated on the field," Kallis 'wrote' in his column for Times of India. "It is a notoriously difficult area of the body to heal, so these are nervous times. He will undoubtedly need a substantial period of rest, and may even miss the rest of the tournament, which would be desperately disappointing for him and our fans after seeing what he is capable of doing during the first two games."

It is a savage blow to KKR's title ambitions. This column is not in the business of knee-jerk reactions. And it certainly does not trumpet an outright wager on the basis of what one man can do. But Lynn was a cornerstone on which rationale was built for tipping them for a third championship.

After only two matches Lynn had managed to strike fear into every bowler. His blistering 93 off 41 balls left Gujarat Lions in tatters while he followed that up with a dangerous, but ultimately futile, cameo of 32 off 24 balls against Mumbai Indians.

Such has been his form, however, that Lynn marched into the season with a big reputation. In the Big Bash League he hit an incredible 309 runs in just five innings before another shoulder injury ended his campaign. It also dampened Heat's hopes of the title. Eventually they were found wanting.
In the Caribbean Premier League he had finished as top runscorer, striking at 133 and hitting 27 sixes and only one more four. In his last seven T20 innings he has amassed 434 runs at a strike rate of 181.

What Lynn does is give a franchise an X-factor. An ability to dismantle attack in the way he does means a game can be out of reach by over six in the first innings and no target is ever safe. He takes poor teams and turns them into good ones. That's what he did with Heat.

So what he could have done to a Kolkata outfit who were experienced, had terrific plans in the field and had every other base covered (from terrific spinners to death bowlers and late-order hitters) was tantalising. Now we may never know. Unbelievably, Lynn has never played more than two games in any of his four IPL seasons.

Where does this leave KKR? It is tempting to think their challenge will go the same way as Heat's. But that is surely overly pessimistic. Of course it weakens them but they have benefitted from Lynn's strength for just two matches. They will have to revert to type - the one which saw them lift two gongs - and wait for next season as the one for their evolution as the team that can do it all.

Gautam Gambhir and Robin Uthappa will reform their successful opening partnership. They are still dangerous. And in Lynn's place will come Shakib-al-Hasan. He will bat at No 4 with Manish Pandey moving up to No 3.

If you want to be ultra positive, the absence of Lynn actually solves a problem. KKR would have been desperate to get Shakib into the side but to do it they would have had to lose the services of Chris Woakes, who they are enamoured with, or Trent Boult.

It remains to be seen whether KKR will go out into the market to pick up a replacement for the irreplaceable. Hell, the cupboard of opening thrashers looks pretty bare. Delhi Daredevils, for example, are desperate for extra batting talent but the best signing they could manage was another bowler - Ben Hilfenhaus. The mind boggles.

Before their meeting with Kings XI on Thursday, KKR were priced at [7.8] on the outright. It is a price which suggests the market is not quite sure what to make of them. Yet it will surely grow once Lynn's absence in confirmed.
Ed Hawkins P-L
2017: +10.45pts
2016: +18.1pts
2015: +38pts
2014: +31.5pts
2013: +25pts
Based only on available prices. Does not include back-to-lay in-running match advice or commission rate. Figures 2013-2016 on 1pt level stakes. New points system (0.5pt-5) introduced for 2017.
*Follow Ed on Twitter @cricketbetting