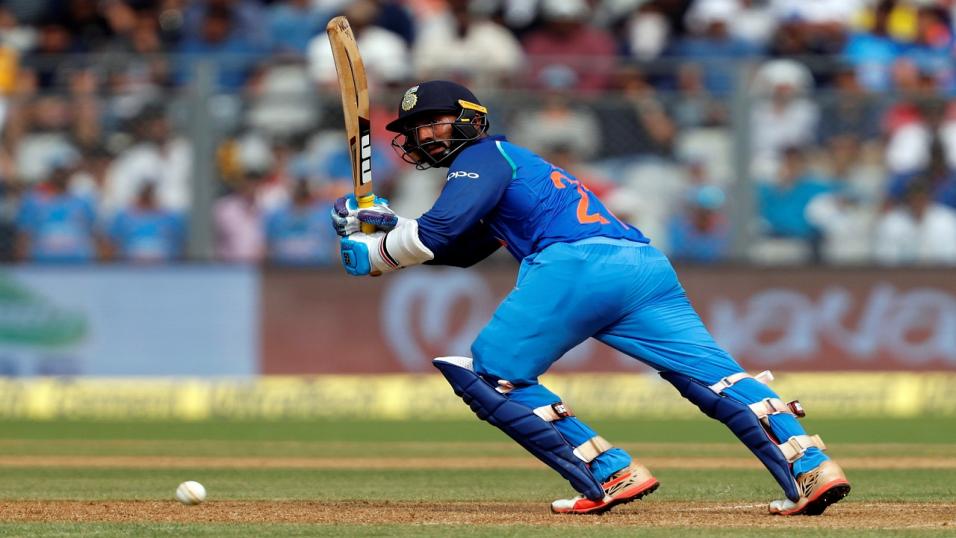 Kolkata skipper Dinesh Karthik has been a steady hand in their middle order.
The change of skipper at Delhi shouldn't make much of a difference and with Kolkata stronger in just about every department, Dinesh Karthik's men can get themselves closer to a Play-Off spot, says Jamie Pacheco.
"It's hard to see where Delhi's strengths lie and though it's unlikely things can get any worse under the new skipper, their problems run deep."
Gambhir out, Iyer in
Gautam Gambhir resigned the captaincy of the Delhi Daredevils after their Monday loss to the Kings XI. It was the honourable thing to do and hindsight is a fine thing but he was a somewhat strange choice to start with. Yes, he captained the Kolkata Knight Riders to a couple of IPL titles and was pretty good with the bat during those campaigns but that was a while ago and neither his leadership nor his batting has been any great shake for the past three seasons or so.
For some reason he was allowed to nominate his successor rather than it being down to the management and he went with 23 year-old Shreyas Iyer. It will be interesting to see if Gambhir stays in the side now that he's no longer in charge because a total of 30 runs from his last four knocks certainly don't justify him being in the team.
During his resignation speech he claimed that all was not lost and that the team could still make the play-offs if they won their next five or six games but odds of [34.0] on them winning the whole thing suggest that he's not fooling anyone.
Russell and Rana have been excellent
It's been a strange campaign for Kolkata and three wins from six games points to it being very much a mixed one. They're currently fourth but this game is a big one for them. Win it against the bottom side and they'll be a shade of odds-on to finish Top Four; lose it and they will have missed taking advantage of easy prey and may well seem themselves overtaken by at least two sides over the weekend.
It's been a long break since their last match on Saturday but they won't mind that. Their superstar all-rounder Andre Russell pulled up lame when bowling, left the field and they'll be thankful for the long rest so the big Jamaican can be patched up. Yeah, he really is that crucial to them.
As is Ntish Rana. Not only has he contributed 165 runs at a strike rate of 135 but he's also something of a golden arm, taking four wickets. His runs and dismissals have already brought him two man-of-the-match awards.
Normally one finds reasons to side with the outsider in T20 cricket and if we can't then we move onto side markets. Normally. Kolkata have admittedly twice made a mess of defending big totals in matches they went on to lose but they're a good side with two or three impact players who can turn a match, have one of the better Top Six batting line-ups in the tournament and seem to have good team morale under skipper Dinesh Karthik.
It's hard to see where Delhi's strengths lie and though it's unlikely things can get any worse under the new skipper, their problems go deep.
It's round about now that the wickets start to get a little tired and that would very much play into Kolkata's hands, who have in Sunil Narine, PP Chawla and Kuldeep Yadav a triumvirate of threatening spinners. Better still, they're all quite different to each other which makes life harder for batsmen.
Kolkata will be extremely disappointed if they don't win this. So will I. They're worth backing at [1.74].
Glenn Maxwell may well look back at his career and the wasted opportunities that littered it. He's been given plenty of chances with Australia in all three formats and with IPL teams and rarely made the most of any of them. It's one thing being say Shahid Afridi in the twilight of his career and being up there with the best spinners in the world and viewing batting as fun where every run is a bonus. But when you're a middle-order batsman you can't be getting out the way Maxwell does to ill-judged shots time and time again. Yet somehow, despite just 47 runs from five knocks, he's 3/1 favourite to top score for Delhi.
Jason Roy (who may not even play) is 7/2 and that man Gambhir 16/5. But the value is undoubtedly Rishabh Pant.
He has 76 more runs than anyone else in the team and hit his 227 runs at a remarkable strike rate of 170. Yes it's a gamble to side with a player coming in at 4 or 5 but from what we've seen of Delhi so far, he should be at the crease sooner rather than later. He's excellent value at 9/2.
If you're going to side with Kolkata to win the game maybe you won't want to put all your eggs in one basket by going with a Kolkata player for MOM honours as well.
But if bigger prices are your thing then here are three to consider. Narine, who should carry on opening the batting and is the team's best bowler at 8/1. Rana, who as mentioned has won the gong twice already and looks in fine touch, is 14/1. And of course Russell, who can do anything in all three disciplines. He's 12/1. On the off-chance he doesn't play, you'd obviously just get your money back.

Staked: 12 pts
Returned: 13 pts
P&L: +1 pts