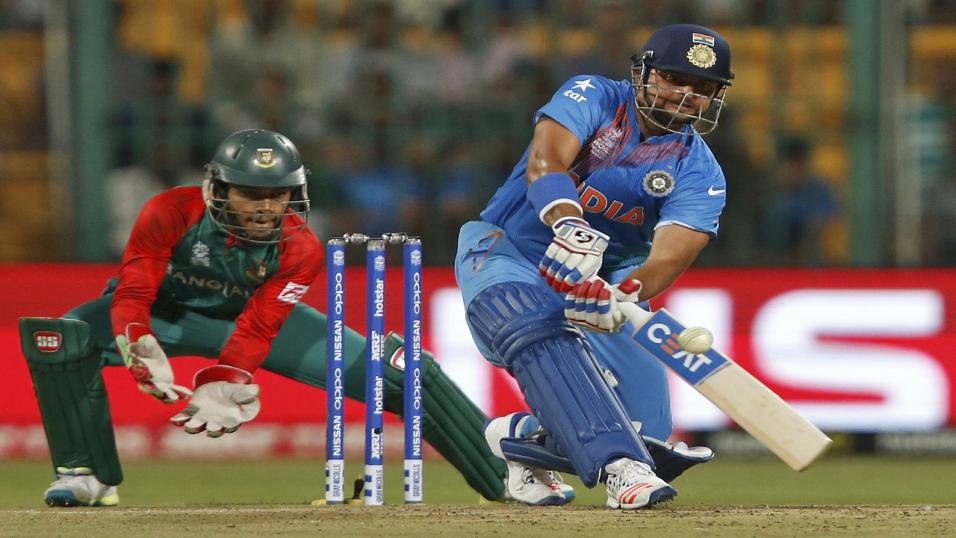 Raina and CSK have been back to their best
Ed Hawkins analyses the showpiece from the Wankhede Stadium on Sunday and thinks the sun has gone down on Hyderabad's challenge...
"Although Sunrisers have given us a great run for our money, we feel their lack of batting power will cost them here"
Chennai Super Kings v Sunrisers Hyderabad
Sunday 27 May 14.30
TV; live on Sky Sports
Super Kings the strongest
Chennai Super Kings have proved everybody wrong this season. Their collection of old stagers were not supposed to have the youth or exuberance to mount a serious title bid. Nor were they supposed to have the front. After a two-year ban for corruption Chennai were supposed to be happy just to be back.
The competitive juices have flowed, possibly because in a shrewd move they got the old mob back together, sensing that they wanted to right a 'wrong'. MS Dhoni, Dwayne Bravo, Suresh Raina and Dwayne Bravo are Super Kings through and through.
And while they may not have been exactly athletic in the field, Chennai have shown that nous and smart can count for a hell of a lot more. They have beaten Sunrisers Hyderabad three times already this season. They will expect to make it four.
Despite not finishing top of the group the head-to-head makes it pretty clear Chennai have been the strongest team. Sure, they can't match Sunrisers' bowling prowess. But few can. And, besides, they are not as one-dimensional. They have a reliable batting unit.
Rashid the key for Sunrisers
Sunrisers Hyderabad were our tip for glory after watching Kolkata Knight Riders bowling disintegrate against the Chennai attack early on in the tournament. They have done well to hold their nerve for one final crack against the Super Kings.
Prior to their 'semi-final' against Knight Riders on Friday, the Sunrisers had lost four in a row. They had played fast and loose with the momentum generated in the group stages and their lack of respect for the game looked like giving them a nasty kick between the legs.
But they were vintage at Eden Gardens. Or rather, Rashid Khan was. He blasted 34 off 19 balls to help post a stiff target and then took two wickets and two catches. A one-man team?
Probably not. Sid Kaul and Bhuv Kumar, his bowlers in crime would have something to say about that. Kane Williamson, the top runscorer in the tournament, likewise. Rashid, though, is 8/1 for man of the match. He's so consistent it's never a mug bet.
Despite Williamson their batting is weak. If they have to chase anything more than 170 they are taken to struggle. But maybe they won't have to with Rashid and co.
Wankhede pitch fair
The Wankhede has proved a terrific wicket this season. Batsmen and bowlers have enjoyed fair contests and there has been something for everyone. The first-innings scores read: 139-1/186-1/168-2/181-1/118-1/213-1/194-2/165-2. There is a slight toss bias. We expect both teams to be keen to bat first. Chennai should back themselves to post 170-plus and then rely on Sunrisers' lack of acceleration. Sunrisers will reckon they can defend 150 here. They won with 118 on the board against Mumbai Indians. And although they were beaten by Chennai in the eliminator this week, it was a mighty close affair. They almost defended 139.
Sunrisers too reliant on bowlers
Chennai are 1.82 and Sunrisers 2.16. Given that Chennai have won all three this term it is possible to argue they should be shorter. Indeed, in two of those games they had no trouble whatsoever with the vaunted bowling attack.
Last time out was different, though. They got up from a seemingly impossible position at 113 for eight with seven balls left thanks to masterful hitting from Faf Du Plessis. At the start of the tournament Chennai won from a similarly impossible position on this very ground.
After that win, and then another against KKR, it was ventured that Chennai were going to be found out. They couldn't put performances together for more than half of the game. They were streaky. Not so. They just never know when they are beaten.
It appears the cup has their name on it. And although Sunrisers have given us a great run for our money, we feel their lack of batting power will cost them here.
Rayudu still the main man
Ambati Rayudu is the third-highest runscorer in the tournament and has not got quite the credit he deserves. He is 11/4 for top-bat honours for Chennai with Betfair Sportsbook. A decent price considering Du Plessis is the same. Rayudu is 8/1 for top match batsman. Considering he has top scored twice against them already, including an unbeaten ton, it's not a bad bet. Shane Watson and Dhoni have had terrific campaigns. Watson is 3/1 to outscore his team-mates and Dhoni 13/2.
Williamson's final hurrah
Williamson is 11/4 for top Sunrisers bat, 6/1 for top match batsman and 8/1 for man of the match. All with Betfair Sportsbook. Shikhar Dhawan is 11/4 for top bat. Williamson has two fifties (one top-bat) against Chennai. Dhawan and Carlos Brathwaite notched in the others.
Ed Hawkins P-L
2018: +16.86
2017: +12pts
2016: +18.1pts
2015: +38pts
2014: +31.5pts
2013: +25pts
Based only on available prices. Does not include back-to-lay in-running match advice or commission rate. Figures 2013-2016 on 1pt level stakes. New points system (0.5pt-5) introduced for 2017. Includes Hawk-Eye stats column p-l
Recommended bets
Chennai Super Kings to win final [1.88] (2pts)
Already advised - Sunrisers to win IPL [6.00] (1pt)