India v England Second ODI Betting: Chaser has the advantage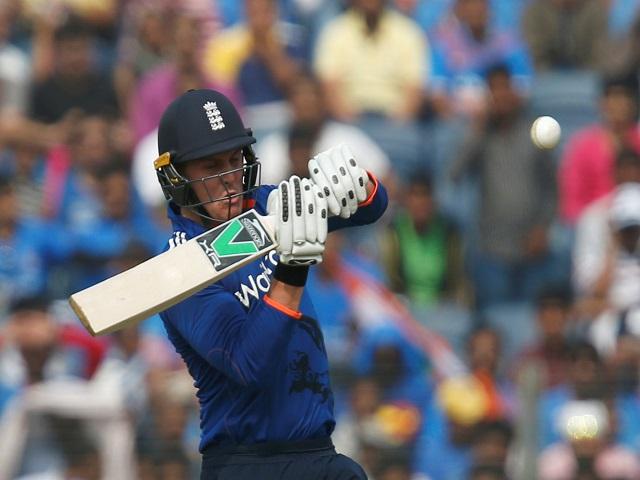 Roy found form in Pune
India successfully chased down 350 in game one and Ed Hawkins expects the team batting second to have the advantage again on the second ODI in Cuttack on Thursday...
"Before game one we were convinced this was going to be a series where the toss was crucial. We have two teams who are both superb with the bat"
India v England
Thursday January 19 08.00
TV: live on Sky Sports

India
What was amazing about India's come-from-behind victory in Pune was that they did it, essentially, with just four players. Everybody else was irrelevant.
Virat Kohli and Kedar Jadhav were as blistering as each other with the bat, while the latter's economy rate of 5.75 was also priceless. Only Ravi Jadeja and Hardik Pandya were more miserly.
It's a huge confidence boost for an India team who had even money record at home in the previous ten. From now on in this contest they will not know they are beaten.
To recover from 63 for four is also testament to the length of their batting. Ravi Ashwin is mighty useful at No 9. Still, they could improve.
Ajinkya Rahane is unfortunate to miss out to old stager Yuvraj Singh, particularly if he is only going to bowl two overs.

England
England will now realise they were 20 runs short and will rue the wickets of Joe Root and Jos Buttler just when they were supposed to be really hitting the accelerator. The batsmen cannot be blamed, however.
Their inability to defend is becoming an issue. They must learn quickly to avoid being cast as a team with all brawn, no brains.
There is nothing smart about smashing the ball to all parts. It takes guts and, in fact, a lack of self awareness. The real art of ODI is with the ball where traps needs to be set, bowlers can vary their pace and length with subtlety and they hunt in packs.
The latter is almost certainly eluding England. Adil Rashid and Moeen Ali were cannon fodder in Pune and, as we said in the series preview, we can't see how they will tie down one end.

There have been five ODI played at the Barabati Stadium in the last ten years. The first dig scores (most recent first, 1-2 denoting match won by team batting 1st or 2nd) read: 363-1/211-2/239-2/270-2/189-1. In domestic T20 a year ago, the surface was not biased to bat or ball and looked a fair cricket wicket.

Match odds
India are 1.548/15 and England 2.829/5, which is about bang on what the two teams were before the contest in Pune. The market has seen nothing to change its mind. Neither have we.
Before game one we were convinced this was going to be a series where the toss was crucial. We have two teams who are both superb with the bat. And two teams who are so-so (although that is perhaps being generous in England's case) with the ball.
India, however, have set a benchmark. It would appear that anything below 350 is not going to be enough for England if they bat first. We could say the same if India were defending although their record with a score of 300 or more on the board in the last two years is vastly superior.
The value question is tricky when you are sure that the chaser has the edge. When should you bet? India drifted steadily to 1.910/11 with about 20 overs to go in Pune. Then they were approaching 2.77/4 before the close of innings.
You pays your money and takes your choice. But the advice would be: don't make things more complicated than it needs to be. Waiting for a certain price could be folly as it is akin to having two bets - one to predict when they will come and then another for them to land.
We could load our recommendation with caveat after caveat if we were being too smart for our own good. Back India if England make more than 330. Back India at any price from 3.02/1 in a chase. It's a great trading game, for sure.
We'll stick to what we know is value. And that is England in a chase. You'll still get the 2.829/5 or thereabouts.

Top India runscorer
Dhawan and Rahane both notched centuries in the last ODI at the venue, against Sri Lanka three years ago. Both are 9/2 with Sportsbook. Kohli, not surprisingly, is jolly at 9/5. Kohli averages 65 when chasing compared to 42 when batting first and 91 in winning chases. He is 10/3 to score most runs in the match and 13/2 to be man of the match.
Top England runscorer
Jason Roy looked in good nick with a rapid 73. He is 7/2 with Sportsbook, 13/8 to score a 50 and 5/4 for 43.5 runs or more. Root, after notching with honours in Pune, is 11/4. Buttler and Stokes look big at 6/1 and 8/1 respectively.

Recommended Bet
2pts England if they bat second
Ed Hawkins P-L
2017: +5.22
2016: +12.5
2015: +38
2014: +31.5
2013: +25
Based only on available prices. Does not include back-to-lay in-running match advice or commission rate. Figures 2013-2016 on 1pt level stakes. New points system (1pt-5) introduced for 2017.
*Follow Ed on Twitter @cricketbetting
Discover the latest articles