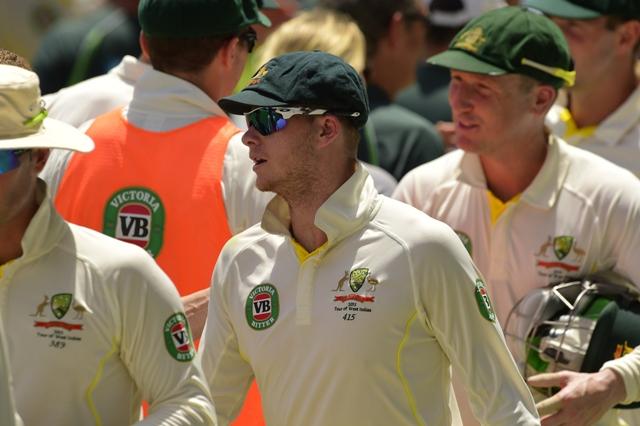 Smith read the pitch wrongly
Ed Hawkins reckons Ranchi could end in a bore draw and he also cats his eye over an early show for the imminent IPL
"Maybe their knickers got so tightly twisted at the indignity that it stopped the blood flow to the brain. Again, we're kicking ourselves for not seeing through this show of Aussies insecurity"
So reports of a conspiracy against Australia have been proved wide of the mark. The pitch at Ranchi for the pivotal third Test looks like a road. A brown muddy one but a road nonetheless.
We wonder if Australia feel a little foolish for claiming that India were out to get them. Let's remember that they argued that Virat Kohli had been offered a choice of three wickets, that there were clearly footmarks present to assist Ravi Ashwin and that there was no grass on it to speak of.
Certainly we feel a little foolish for buying their assessment of the pitch. If it was only half as bad as they believed, then Australia rated the value bet if they were afforded the luxury of batting first. However, they batted so well that it appears obvious that this Test will end in stalemate. Unless something drastic happens to the wicket.
Steve Smith's century was sublime. But the real clue that the surface is as lethal as the Easter Bunny was Glen Maxwell's innings. The man is a flat track bully. And he here he swaggered about the shop as if he owned it. Get this, he was so cocky and confident that he barely bothered to play an aggressive shot. His was a quiet menace.
"It is a good pitch so we will need all the runs we can get," Smith said. "The bounce was consistent, and it hasn't really spun." Hadn't really spun. It's not often you hear that about an India wicket. It is true that Ravi Jadeja took five wickets but considering he bowled 15 overs more than anyone else it would be pushing it to claim Smith had, once again, got it wrong.
It is curious as to why Australia were so outraged. Common sense would dictate that they should be happy to play on a lottery. Think about it. They were a [4.0] chance to win in Ranchi. But with a raging burner and the toss utterly vital, if their reading of the pitch was to be believed they were considerably shorter than that.
Maybe their knickers got so tightly twisted at the indignity that it stopped the blood flow to the brain. Again, we're kicking ourselves for not seeing through this show of Aussies insecurity. Why do they do it? It's like when Glenn McGrath predicts a 5-0 every Ashes series. Yes, we're sore about it if you hadn't guessed.
And the market is wise. Australia finish day three at [3.8]. The draw will surely head into insignificant numbers by the end of day four from [2.18] so for big hitters there is a profit there. India are [3.5]
Cricinfo reported that their "ball-by-ball commentary described six balls as coming slowly off the pitch, eight deliveries as keeping low and just four balls as bouncing more than expected. The description 'no turn' was used almost as often as 'turn'."
It all means that we could be in for a bit of a dull finale in Ranchi. As ever we look for bets to liven up proceedings and we wouldn't be in the least bit surprised if Smith was able to go big again. You might want to check out his price for top Australia second-innings bat and to score a century.

Market unimpressed by Stokes signing
The Indian Premier League is creeping up on us again. It begins on April 5. So it would be remiss not to discuss the early show below.
There seems to be a collective 'meh' about what Mumbai, Hyderabad, Gujarat and Pune might achieve. Just 0.2 points separate them. This could be early-season disinterest but it would not be surprising if it was something more genuine.
Each of these teams appear to be mighty tricky to work out. Hyderabad, the champs, don't actually seem to have improved their squad that much while Mumbai have not grasped that their batting needs work. The reliance on Kieron Pollard seems strange.
And no one is impressed by Gujarat's hiring of the gun Brendon McCullum. He's the golfer who drives for show but can't putt in the hole for dough these days. Ben Stokes's big-money move has been exposed as what it is. Grandstanding. The guy will not play if they go deep in this tournament so what's the point of him?
One interesting snippet is Maxwell's ascension to lead Kings. What a bizarre call. He has never captained in pro cricket and is considered a better choice than some bloke called Eoin Morgan and another called Darren Sammy. I wonder if either of those two have had any experience?
Of course Kings routinely hand leadership duties to someone wholly unqualified. Last year it was David Miller who won one of his six games in charge.
IPL 2017: [4.7] Bangalore, [7.6] Mumbai, [7.8] Hyderabad, Gujarat, Pune, [8.2] Delhi, [9.2] Kolkata, [13.5] Kings XI.