Graeme Swann: South Africa a tough Test but England have previous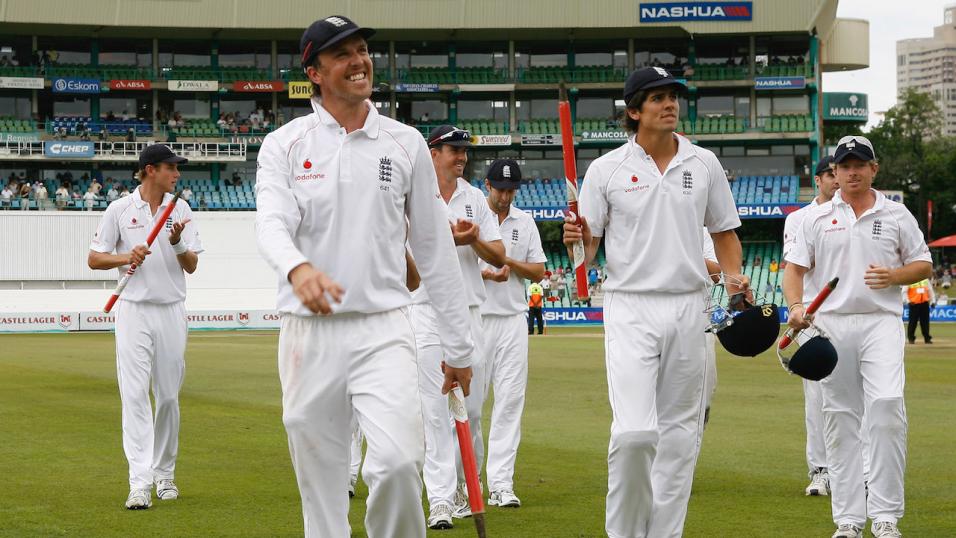 I enjoyed bowling in South Africa but they made us work hard for everything
England face a tough four-Test tour in South Africa but Graeme Swann believes they have all the tools to succeed...
"There's not much worse than having to take the field and not knowing whether you're going to make it through the session with white clothing on…"
I had a dream series in South Africa in 2009/10 - I took nine wickets in the Boxing Day Test, got my highest Test score at Centurion and ended up top wicket-taker: it was magic. I love the way the cricket is played there because they are good cricket wickets with pace, bounce and spin, but they're good for batting on.
South Africa experience special and important
It helped that I had played a lot of cricket in South Africa before - my Under-19 World Cup was out there (which we won!), I played an Under-19 Test series there and I had been on an England A team tour too.
Once you've played in a country quite a bit, you get comfortable. You understand the lines and lengths you need to bowl and you are more aware of the players you're going up against. If you come up through age-group and A-team cricket, you tend to play against the same sort of guys. That's the key more than anything, not just having played in the country but understanding your opponents better.
I took five-fer the only time I got ill before a Test!
If you're on tour and someone gets ill, it's awful. You don't go near them, you lock them in their room and they're banned from all Fifa competitions for a few days. You used to expect it when you went to places like India and you'd hear the horror stories but these days when you go there the hotels are incredible and the food is out of this world - you don't get the old-fashioned 'Delhi Belly'.
But bugs are bugs and if someone gets ill, when you're on a coach together every day and living in each other's pockets, it's going to go through the camp. But there's not much worse than having to take the field and not knowing whether you're going to make it through the session with white clothing on...
The only time I remember getting really ill before a Test match was at Old Trafford in 2013 during the Ashes. I spent the night before the game with the doctor in my room trying to cool me down with wet sponges, while I was desperately trying to crawl under a duvet because I felt like I was freezing.
I was on so many painkillers the next day that I floated through the day and I can barely remember playing - but I got five wickets. I hadn't even had a shave - which actually led to getting a mention in dispatches from the Beard of the Year because this wispy ginger thing started appearing. I was probably more proud of that than anything else in my career!
Moeen has bravely done the right thing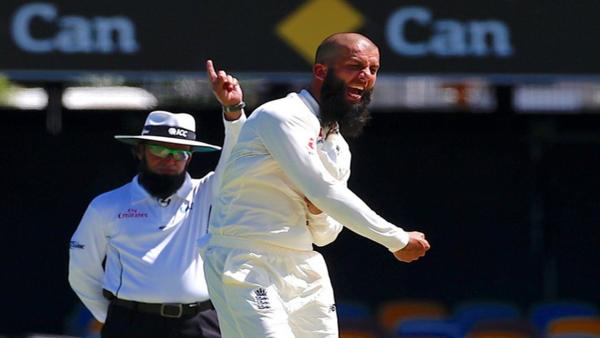 We all know that Moeen Ali hasn't enjoyed Test cricket for a long time and that he doesn't seem to enjoy the pressure of the role that he has to play. You have to respect that. We're in a day and age that if he feels that he can't benefit the team because he's not in the right place mentally to do so, then bravo to him for being brave enough to say it.
It's a difficult thing to come out and admit because of the stigma that can be attached - but I think the modern set-up is much more accepting. There is more than one form of the game and Test cricket wasn't working for him at that point in time. Good on him for recognising that - but it is a shame for England because he still is their best spinner.
He's talked about wanting to tour Pakistan - potentially due to happen in 2022 - which shows he is still thinking long-term about Test cricket.
I never got the chance to play in Pakistan. Politics and sport invariably have to mix when you play sport international but it was sad that I didn't get to go there. Mushtaq Ahmed was my spin coach and he spoke so glowingly about it - but he also understood why it was a no-go while I was playing. I loved playing against Pakistan with their mercurial game - and laissez-faire approach to defensive stroke-play suited me!
Philander's last dance
How does Vernon Philander take so many wickets? He doesn't bowl any bad balls. It's almost as simple as that. He does move the ball both ways too, he's not express pace but he's just quick enough that when it does move you can't adjust and he's a very good bowler. Highly skilled bowlers who stay fit and bowl all day will get wickets. I've got a lot of respect for him as a bowler.
I don't think this South African vintage are as good as the ones we played against but they have dangerous men. I played against two very different Hashim Amlas in my career - once in that 09/10 tour when he was low on confidence so I enjoyed bowling at him and then he came to England the summer afterwards and I would give my left arm never to bowl at him again. He was absolutely brilliant. But that's true with most players. Someone who has got to international cricket has got talent and if they're in good nick, they're tough to bowl at.
The guy who made them tick in those days was Jacques Kallis, a world-class all-rounder and the most laid-back, phlegmatic batsman I ever saw. We were lucky that Stuart Broad had a little bit of wood over him but there rest of us could never get him out. I got him out once and I was more surprised than he was! He's now part of the dressing room again as a batting consultant, and that's massive for the team. Even just having him there, if they can pick up some stuff by osmosis, he was a truly brilliant player.
But England went there and won last time so I don't see why they shouldn't look to emulate that performance. I'm looking for a big series from Ben Stokes, he's obviously got plenty of happy memories from South Africa to draw on and all-rounders over there do really well. I'm going to back England to bounce back from the disappointing New Zealand tour and win - but I think it's going to be very tough.
See what happened when Graeme live traded a cricket match on the Exchange alongside Ed Hawkins...
Recommended bets
Discover the latest articles
Read past articles