Graeme Swann: Tendulkar hit a hundred on my debut but bowling at him became easier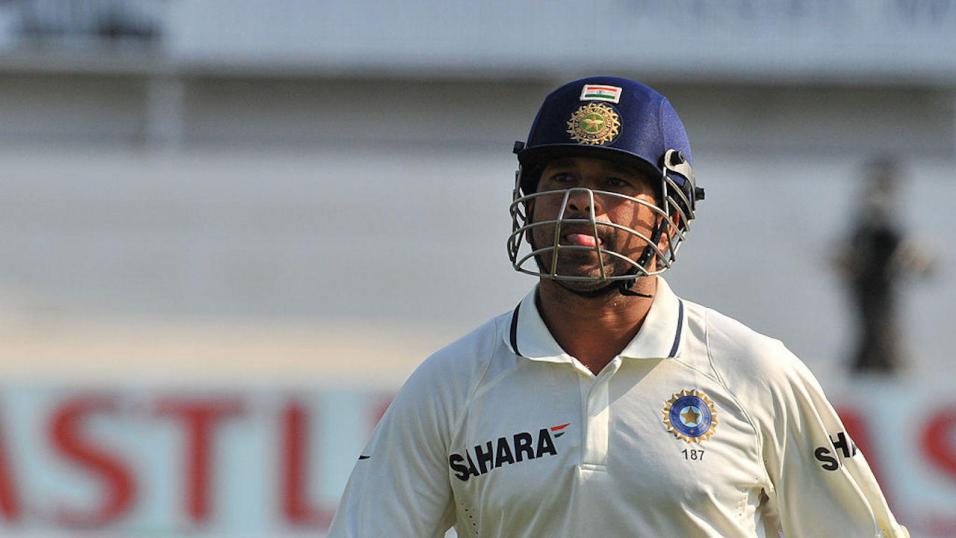 Graeme was making his Test debut the first time he bowled against Tendulkar
Betfair Ambassador Graeme Swann discusses how he prepared for individual opponents, recalls some of the best moments in his career and backs cricket behind closed doors when it's safe.
On the Farhat wicket: "It turned miles! But that is the only time I remember that happening, when I tried to bowl an audaciously stupid, comic book ball and it came off."
It's always hard when people ask you to pick the best batsman you bowled against. For example, I saw Monty Panesar saying last week that Sachin Tendulkar was the batsman he feared the most as a bowler. I played against him a fair bit too.
Sachin was plagued by demons at the end of his career
It's tricky for me because I faced Tendulkar lots towards the end of his career when he was going for his 100th hundred and that was weighing on his mind. It changed his game.
But the first time I bowled against him - alongside Monty - was on my Test debut at Chennai and it was the most amazing knock I've ever seen on a really turning wicket. He hit 103 not out on the final day and India chased down 387 with six wickets in hand. It was pure genius. But in some of the subsequent games, it preoccupied his mind because he put a lot of pressure on himself. He just wasn't as difficult to bowl at.
We didn't spend too much time preparing for him specifically, because with a team like India there's no point in getting tied down planning for Sachin. If you take up all your time in a team meeting planning for the best player, you're basically going to go for 600 because you've taken your eye off the ball for the rest of them.
They're all Test players and in the end, everyone knows how good Tendulkar is. So our plans were very, very simple to him: bowl the top of off stump and try to get the ball to move laterally. We were lucky because Jimmy Anderson has got an amazing record against him. Jimmy used to snick him off a lot.
Plans are great - but it was handy to bowl the odd comic book ball too!
As an individual too, you need to have a game plan for everybody you come up against. No successful spinner ever just went into a game saying: "If I bowl good balls, I'll take wickets." A good ball will only get a wicket one in 20 times maybe. A wicket in Test cricket is the result of a game of chess. It might take you four or five hours to build the plan and drag them slightly wider, and that's why it's the best form of the game. So I would forever be thinking about what my plans were for a batsman and listening to my gut instinct, which I generally trusted.
That said, for all the planning that goes into bowling in Test cricket, every now and again you do just get someone with a magic ball out of nowhere. They are really satisfying too, like when I bowled Ricky Ponting through the gate at Edgbaston or the one I got Imran Farhat with.
That Farhat wicket was only my third ball of the Test match. I remember being at the end of my run-up thinking: "Should I just try to bowl one ridiculously turning ball here?" Nine times out of 10 I'd have said to myself: "Don't be stupid, it's your third ball, it's not going to turn that far." But this time I said: "Screw it, I'll give it a go." It turned miles! But that is the only time I remember that happening, when I tried to bowl an audaciously stupid, comic book ball and it came off. I tried to do it a lot but it never happened.
Matt Prior didn't even believe that I'd meant to do it. How unfair is that? It was the best ball I ever bowled and even my wicketkeeper thought it was a fluke.
Bring back some cricket even without fans
I think it's a good idea to bring cricket back behind closed doors when it's safe. Yes, you wouldn't have the atmosphere and the excitement of the crowd there but cricket is cricket. I love the game and I miss it terribly.
The sun is out and even a Test match that is sold out only, in person, entertains 100,000 people. On TV, it could entertains millions. It's for the greater good. Plus I've heard that all the broadcast team would have to go into quarantine and, if it gets me out of home-schooling, then I'm all over it. It's driving me bonkers!
And the players won't find it hard to get up for Test cricket, even without the crowds. It's Test cricket. It's the pinnacle. I've played in the odd County Championship game where I've struggled to find the inspiration but actually that was after playing for England and then going back because of the disparity between the two, rather than the crowd itself.
Actually, my brother who I played with at Northants, texted me saying that he couldn't believe they were going on about this and they hadn't contacted anyone who played for Northants in the 90s because no one ever watched us - we're experts on it! We had a hardy bunch of spectators at Northampton, but there weren't very many of them.
See what happened when Graeme live traded a cricket match on the Exchange alongside Ed Hawkins...