The Betfair Big Interview: Matthew Hoggard on the challenge facing England in Bangladesh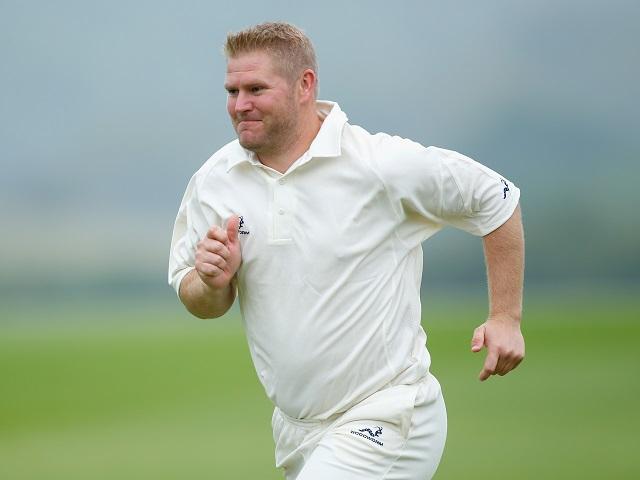 A Gareth Batty style comeback? Matthew Hoggard in a recent charity game
England bid to follow up their one-day series win in Bangladesh with success in Test cricket too this week. Betfair met former Ashes winning fast bowler Matthew Hoggard to ask what we can expect...

"Trevor Bayliss has helped Alastair Cook by telling him: 'It's your team. When it is time for team talks, and something needs to be said, you will be saying it.'"
Hi Matthew. England are odds-on favourites both for the first Test and to win the two-match series. Will it be that simple?
I don't think anything is ever so simple, especially when you go to the sub-continent and play in their own conditions. I think we'll find it tough. Oddly there has been a bit of rain about which might help England. They might want to play on turning wickets but if you haven't had the hot dry weather it will be a struggle. It's more likely though that we will see flat, slow, turning wickets and that will play into Bangladesh's hands. I think we will still come out on top, but it won't be as easy as you might think.

Is that because England's batting is still fragile?
If you look at the top five, apart from Joe Root and Alastair Cook, then you are looking for other people. There's no Alex Hales because he's chosen not to tour, so that opens the door to somebody else to have a go at the top of the order.

Has Ben Duckett done enough?
He's put up a good claim to the place, not only scoring runs but scoring them fairly quickly. That's a good asset for an opening bat, especially where Alastair tends to grind you out an innings. Even Hales, who is a shot player, in Test cricket went back into his shell. I think the form Ben has been in he can have the confidence to go out and strike it from ball one, so I think he has a massive stake on that place.

What about Haseeb Hameed?
It was good for him to get runs in the warm up game, and people are ranting and raving about his promise, but it depends on what it would mean for Gary Balance and who the captain and coaches see as the best players of spin. You have to have an eye on the future, but we go to India next which is a trial by spin. I think they have to settle the line-up and tell them you have the Tests in Bangladesh and then India.

How will Alastair Cook cope with the drama of flying home to be at the birth of his daughter and then flying back again?
That won't trouble him a bit. Look at his very first Test match, he was in the West Indies, he had to fly to India via the UK, and he scored 100 the day after he landed.

You were playing in that one?
I was and it was amazing. When you have a new player in the dressing room you always want to make them welcome, especially if you don't know them, and I didn't know Alastair Cook from Adam. But he came in, settled straight in, nothing was a problem for him and he's such a lovely chap that he was at home straightaway. What's more the team instantly liked him, and he's been well liked by the dressing room ever since.

Has that helped him grow into the job as captain?
He does have the respect of the dressing room because of his personality. He's come on leaps and bounds in the last three or four years. I think Trevor Bayliss has helped by telling him: "It's your team, you run the team and I'll sit in the background and help you get what you need to be successful. When it is time for team talks, and something needs to be said, you will be saying it." That's helped give him the confidence to impart his personality and individuality onto the team.

You talked about the importance of spin, what about this young boy Gareth Batty?
(Laughs). Yes, I grew up with him. It's horses for courses, you want the best spinner in the County Championship in your side, and he's among them, if not the best. You have to reward people who play well, and he has the experience to go out there and do the job.

You're the same age at 39, is your comeback round the corner?
There's life in the old dog yet, but whether that much life I don't know! I'm enjoying my life doing speaking engagements now.

Will Batty play?
I don't know, but he's a personality, he's a great character but he's also a very experienced bowler and I think he'll improve the squad.

What can you tell us about Zafar Ansari who is the other option after taking four wickets in the warm up game?
Not a lot, if I'm honest, he's come through a bit under the radar, but I do know he's very highly rated. He was very unlucky to break his thumb on his last tour, and didn't have as good a season this year, but there's terrific promise there. We'll see.

How much will Jimmy Anderson be missed?
You'll always miss somebody of that ability, he's not the leading wicket taker of all time by luck. He can pick up wickets in all conditions - but again it makes it an exciting time for the youngsters who have performed well around the circuit. There are opportunities everywhere.

Who will be England's key men?
Ben Stokes and Chris Woakes. To have two all-rounders, because I think Woakes can class himself as that, helps the balance of the team immensely. Stokes is pivotal, he can bat in the top five and can hold down a spot as a bowler himself, and Woakes is in the same category. It gives the selectors so many options.

Thanks for your time and we've a free £50 bet in aid of a favourite charity.
Brilliant. I'm a patron for Rainbows Hospice, and I'll back Joe Root at 3.55/2 to be the top first innings run scorer.

*Matthew Hoggard is one of the country's leading after dinner speakers. If you are interested in booking him contact Champions Celebrity
Discover the latest articles