India v England: Spinners more important than ever to weakened home team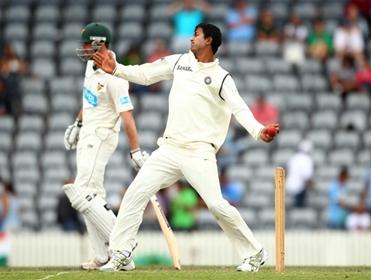 Ojha is key to India's chances
India's fall from the top of the Test rankings has been spectacular. As they prepare to face England, Andrew Hughes analyses their strengths and weaknesses.
"England should expect to face nothing but dry turners on which Ashwin and Ojha, supported by Raina, Kohli, Sehwag and possibly Yuvraj, do the bulk of the bowling."
Current Form
India's Test decline in recent months has been dramatic. A couple of years ago they had the best Test batting order in the world, were next to invincible at home and had a crop of young seam bowlers coming through. But now three-quarters of that stellar middle order has gone, their seam bowlers have fallen away and crushing defeats in England and Australia have dropped them to fifth in the Test rankings. 
Who's in and who's out?
Having failed to replace Sourav Ganguly, the retirements of Rahul Dravid and VVS Laxman created two more batting vacancies. Virat Kohli, Cheteshwar Pujara and Suresh Raina are the men in possession, but of the three, only Kohli is secure. Cancer survivor Yuvraj Singh is back in contention and there are plenty of young IPL stars waiting to get a chance, notably Ajinkya Rahane and Manoj Tiwary.
At home, India invariably go with two spinners and Harbhajan's Twenty20 resurgence isn't enough to return him to the Test team ahead of Ravichandran Ashwin and Pragyan Ojha. When he's fit, Zaheer Khan still bears the brunt of the seam bowling burden, supported by Umesh Yadav or the young quick Varun Aaron.  
Strengths
India's strength remains their batting. On Indian pitches, where the ball doesn't get above knee height and rarely deviates from the straight and narrow, Indian batsmen are hard to beat. Virender Sehwag, Gautam Gambhir and Sachin Tendulkar have all looked vulnerable in the last 18 months, but on their own patch they remain a formidable trio. Even overseas failures like Raina and Yuvraj are a different proposition at home. The top run scorer in this series will be an Indian. 
Weaknesses
With the frequently injured Zaheer their only world-class seamer, India are almost back to the pre-Kapil Dev era, when the job of the fast bowler was to wear the ball out for the spinners. Their lack of depth in the fast bowling department leaves them with little choice. Yadav, Aaron and Ashok Dinda are inexperienced, whilst the likes of Ishant Sharma, Sreesanth and RP Singh have failed too often to be trusted. 
In recent years not every Indian pitch has conformed to the subcontinental stereoptype; there has even been the occasional seam friendly track. But the Indians have been fairly open about their intentions this time. England should expect to face nothing but dry turners on which Ashwin and Ojha, supported by Raina, Kohli, Sehwag and possibly Yuvraj, do the bulk of the bowling. 
Key Player
With a batting order deeper than any other Test nation, runs won't be a problem for the hosts, but taking enough wickets could be. India are 1.511/2 series favourites in the Series Win market and with the pitches set to suit spinners, the pressure will be on Ashwin and Ojha to skittle their opponents.
Ashwin took a pile of wickets against New Zealand in his last series, but Ojha could be the man India look to. His left-arm spin will carry the most threat for the predominantly right-handed England batting line-up and he will be expected to prise out key batsman Kevin Pietersen, who is vulnerable to the ball turning away from the bat. 
Discover the latest articles